The number one question: When should we take photos?
Every photographer will tell you that the best time of day to do photos is starting/ending within 1-2 hours of sunset or sunrise. Of course, this is based on the assumption the sun is visible. Since I am a Boston photographer, it's pretty hit or miss if we manage to get a sunny day. As a safety measure, I tell all of my clients we aim for the hour before sunset (google is the best resource when trying to find out when sunset is. Or you can use a specialty tool like timeanddate.com) and in the days before the session I touch base with each family or couple to firm up the session start time based on the forecasted weather. The following suggestions are for outdoor sessions. For indoor sessions I suggest within 2 hours on either side of noon depending on the time of year.
Example
So this means if sunrise is 5am, I would want to start our Signature Session latest by around 6:20am so that we end by 7:40am which is close to the 2 hour cutoff from sunrise time. Make sense? We don't start at 7am because by the time we end it will be 3 hours + from sunrise. Caveat READ THIS.
Golden Hour
Golden hour is a thing and the reason it's the best time of day to photograph is because the light is less harsh during sunset/sunrise than during the middle of the day. This is because the sun's rays have further to travel when they are low on the horizon. Because they have more atmosphere to penetrate to get to you (the subject) it's less intense and is more easily offset by the indirect light that will also hit you. This makes it easier to balance and also looks more flattering.
The worst light of the day is between the hours of 10am and 2pm when the light comes from overhead. This creates terrible and unflattering shadows where we don't wait to see them (under our eyes, under our noses to make them seem bigger … no one wants that). When the sun is out in full force we all have a tendency to squint as well. No one is attractive when they're squinting into the lens unless they're Paul Newman, or Chris Hemsworth.
What time of day is best for lighting?
So basically the light gets worse as you approach noon from either direction (sunrise or sunset). The followup question I always get is "Can we shoot mid-way between?". Everyone loves to negotiate but Mother Nature is unfortunately set in her ways. Sure, we can shoot at 9am or 3pm, but do know there is a tradeoff with the quality of light. We may get lucky and have clouds roll in, but if we have cloudless skies, we will have to duck for shade, and it will affect the quality of light in your images. I would love to say "Sure! We can shoot whenever you want", but in order to create the images I'm known for, you have to understand that light plays a very large factor. So just trust the photographer.
My favourite weather apps
The two apps I recommend are WeatherUnderground and Dark Sky . Over the past 5 years I have watched the weather every single day. If I would choose one app, Weather Underground/Wunderground is my recommendation. I download the apps from the app store. I tend to balance two or more weather apps (3rd choice is weather.com to see the average and I do not trust one app solely. If there are other apps you would recommend me to check out, please reach out!
Exceptions?
There are always caveats and details that should go along with these blanket statements. For example, if we are doing an urban setting where there is a lot of open shade and reflective concrete and surfaces, I can photograph families closer to 'danger zone' of bad lighting. On the opposite end of the flexibility scale, if you are on the beach there is no other time except for sunset or sunrise.
But my baby naps/feeds/is cranky during that time
Witching hour is definitely something we have to balance out. Usually kids are as happy as a clam first thing in the morning. It's the parents (and me) that are usually groggy before the caffeine hits the blood stream. I tell parents that it's worth it. You only do photos a couple of times a year (if you are enrolled in my baby 1 year program) or once if you have older kids. The combination of great light, a happy baby, and an empty park (no traffic and parking issues to contend with either – yay!) will make it all worth it. Undoubtedly, sunrise and sunset are the best time of day for photos.
If you can't do sunrise, sunset is the best. It's the warmer of the two options. The parks may be busier, but I love to photograph with this light and also when the sun dips beyond the horizon even. Dusk is peaceful and moody and dramatic. Most babies don't last until this time of day, but it's great for engagement sessions or maternity sessions. Seriously look at the images below and wouldn't you agree that sunset is the absolute best time for photos?
Some samples images for comparison
This session was taken during the harsh midday sun. This is not my preferred lighting condition and this is precisely why:
Check the light bleed on the left side of the handsome dad's face. The Flowers are also very bright and overexposed compared to the adorable daughter and mother duo. I love these photos of course, but these aren't representative of my brand.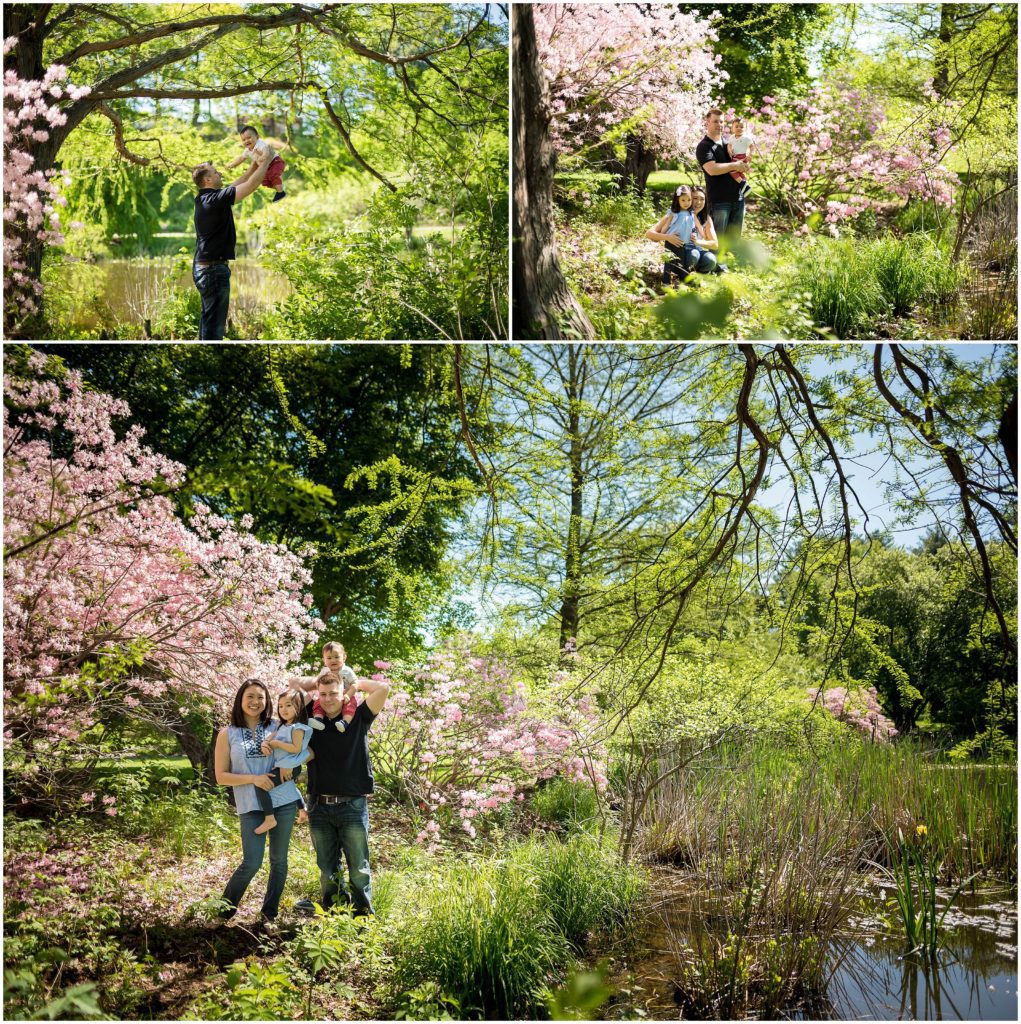 Yes the Arboretum is gorgeous any time of the day, but in order to make best use of it, I need the light to cooperate. I can use flash to overpower the sun, but let's be honest… the kids are not going to cooperate for that nonsense. Flash? Ain't got time for that! They're out of there.
Now look at the image below. This was taken at the exact same location, just a different angle. Do you see immediately what I mean? The light is warm and wraps softly around the family. Their hair is highlighted by the setting sun. There are no harsh highlights on the dad's face. Everything in the foreground and the background are properly and evenly exposed. The background is not competing with the family.
Below are some more examples in case one image isn't enough to hit home the message.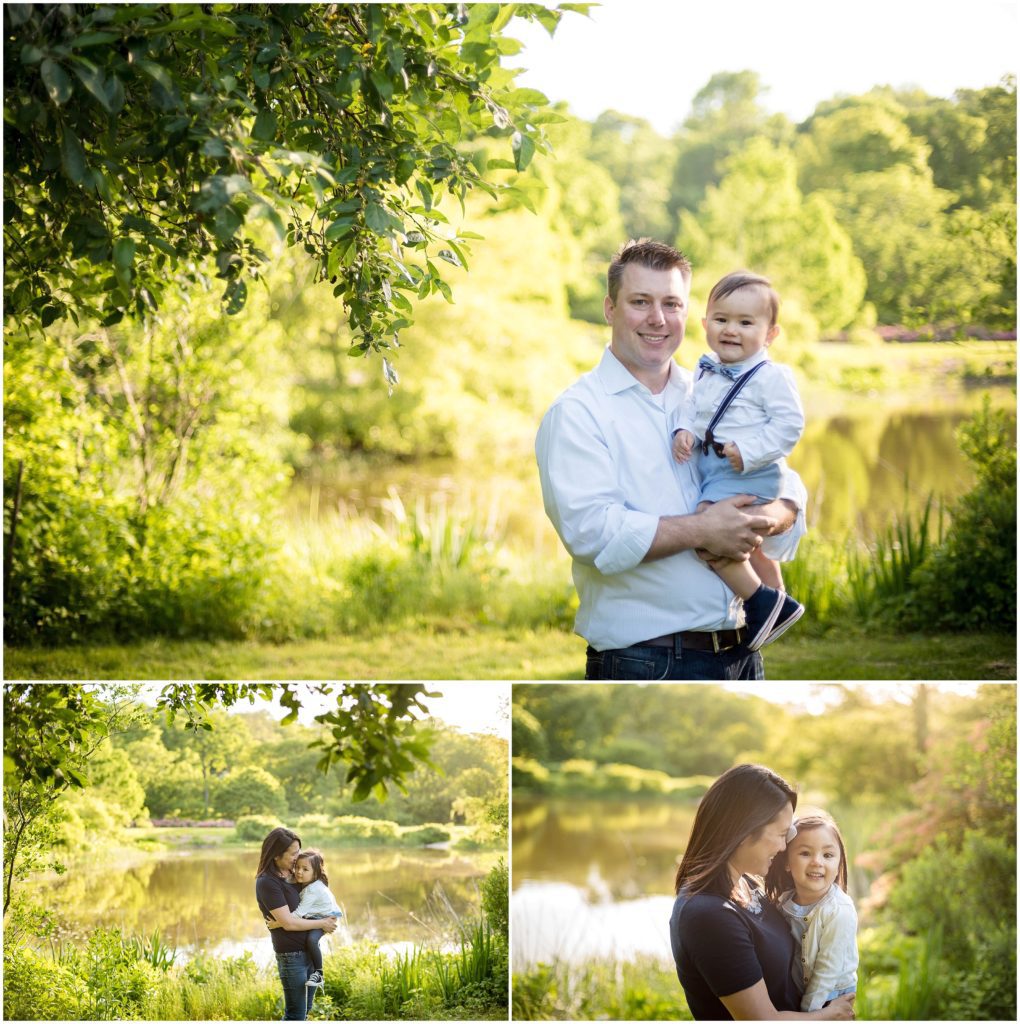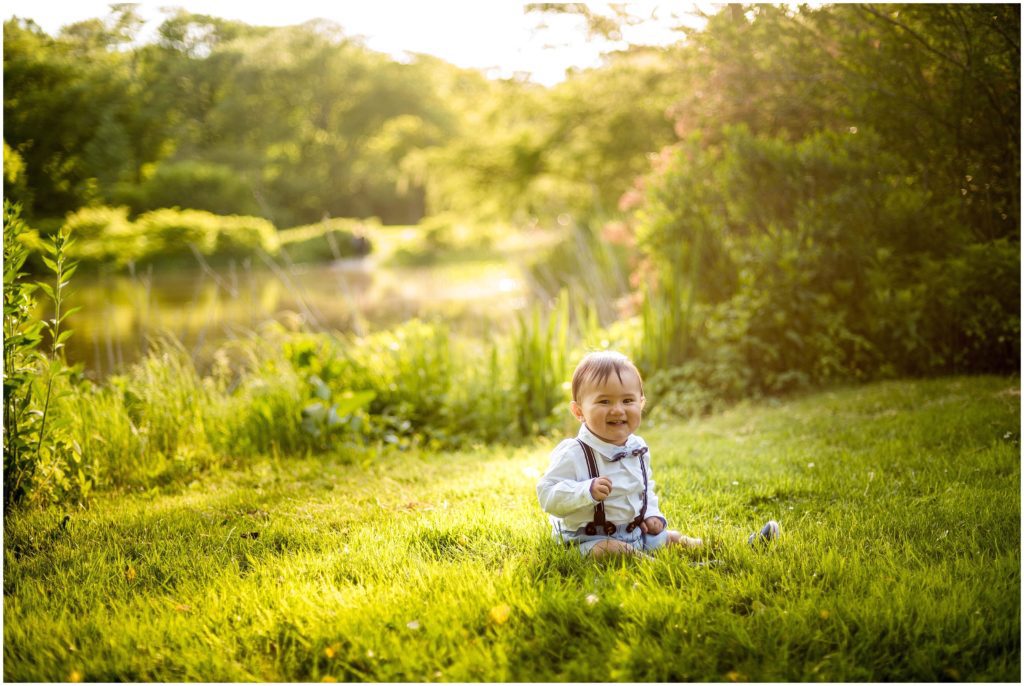 You just cannot beat the warm glow of a setting sun.
Additional images for sunset and dusk
Sometimes Boston really shows off and creates the most glorious sunsets. It isn't fair, but this family really lucked out with the light. We maybe get 3-5 of these types of sunsets per year. Just look at that sky on fire toward the end of the session.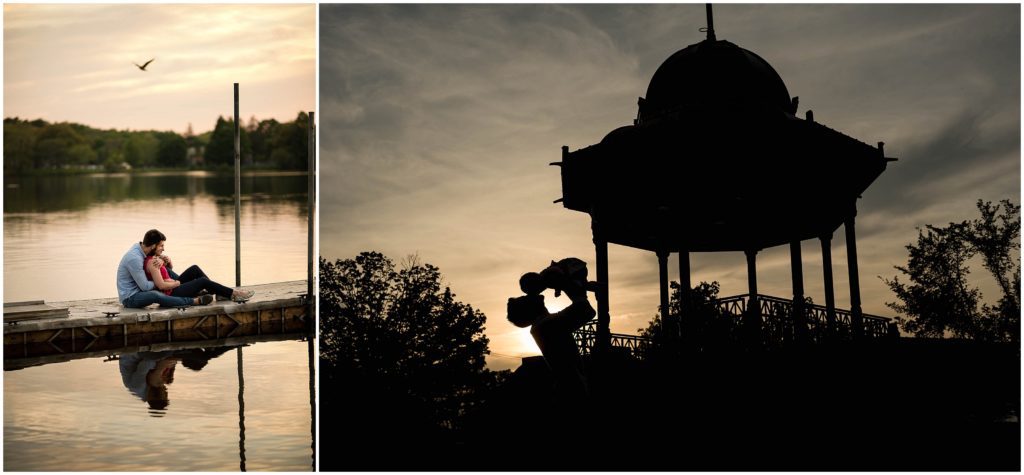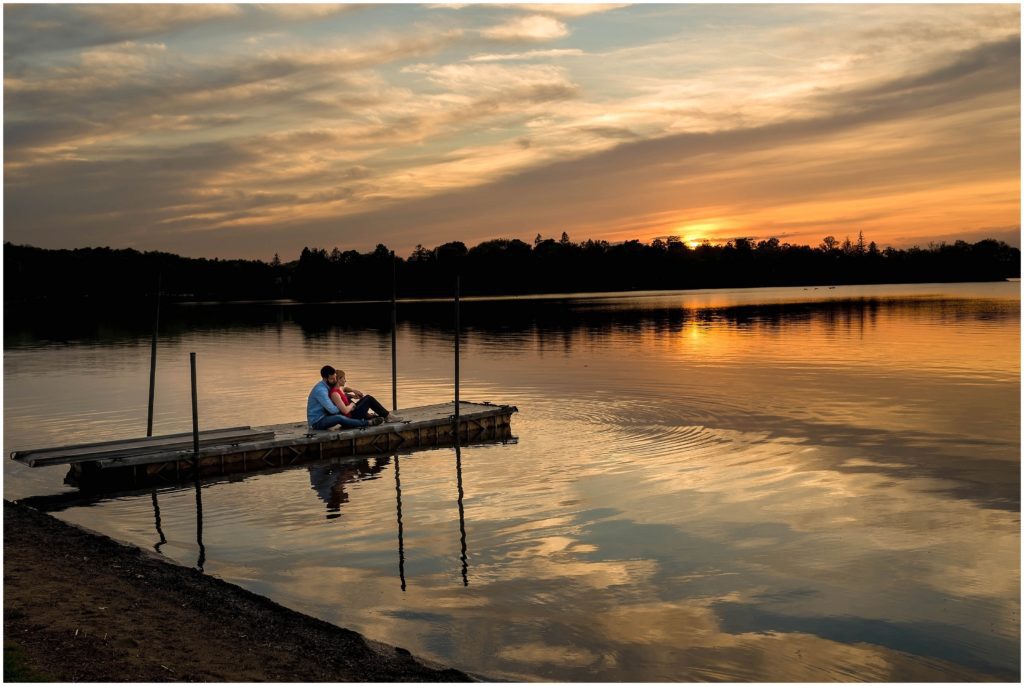 Summary
So if you are looking for great light, you now have the answer. Sunset or sunrise is the best time for photos. Of course Boston is full of surprises and often you are not going to be guaranteed glorious sun. I will be doing another post about rain or post-rain photography sessions so please stay tuned. I'll post a link to it in this blog post once that post goes live. One thing to keep in mind is that the sun rises and sets at different times throughout the year. If your baby sleeps early, a good tip is to do a winter/early spring session so catch the good light before your baby falls asleep. Again, to find the time for sunset, pop your date into google and it'll give you a ballpark time to aim for.
Bella Wang is a Boston family and newborn photographer based in Davis Square. One of the most loved family photographers because of how children engage with her as well as the most important thing – final product delivery. For more information, head to the website