Getting married at Boston City Hall? This expert-written guide explains how to plan your Boston City Hall elopement, from understanding the booking process through what to expect the day-of.
Packed with helpful tips, you'll be able to plan the City Hall wedding of your dreams. This guide is the best, most comprehensive Boston City Hall planning resource!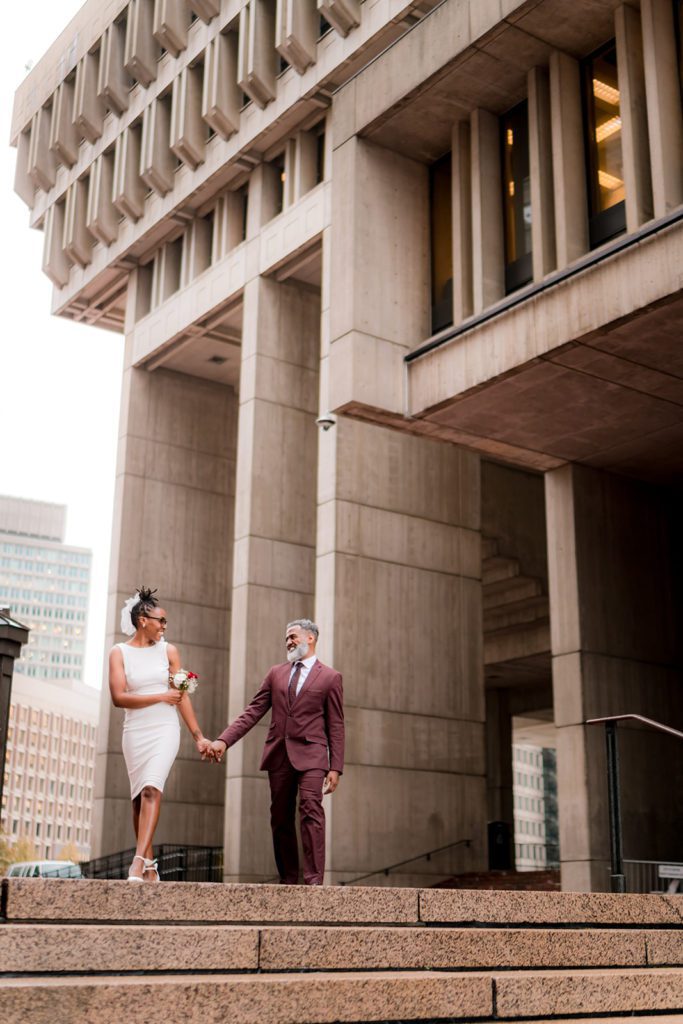 Civil Ceremony and what to expect
This is also known as the commitment ceremony. It's the most cost-efficient and simplest way to get married. The way to book your ceremony slot is to visit the Boston City Hall website. I should note that the marriage license is only valid for 60 days from the day you apply. Ceremonies are often held at : 1 City Hall Square, Room 213 Boston, MA 02201-2006
What to expect when applying
If you apply in person, then you need to bring your government-issued ID and also $50 (as of the writing of this blog post). This is your license fee. I've often seen the office only take cash even though they say they take credit cards. I'm not sure if it's because the machines are down, or whatnot, but it's best to bring cash or a check. There are ATMs on-site as well if you don't bring cash. Your marriage license will be issued and put in the mail three days later.
To apply, you need to fill out your pre-intention form with the following information:
your legal names, and what last name you will use after marriage
where you both live now
your dates of birth and where you were born
the names of your parents, including maiden names, and whether or not your parents were married when you were born
if you were previously married, we will need to know how many times, and
if you were previously married, we need to know the date you were divorced or see your annulment papers.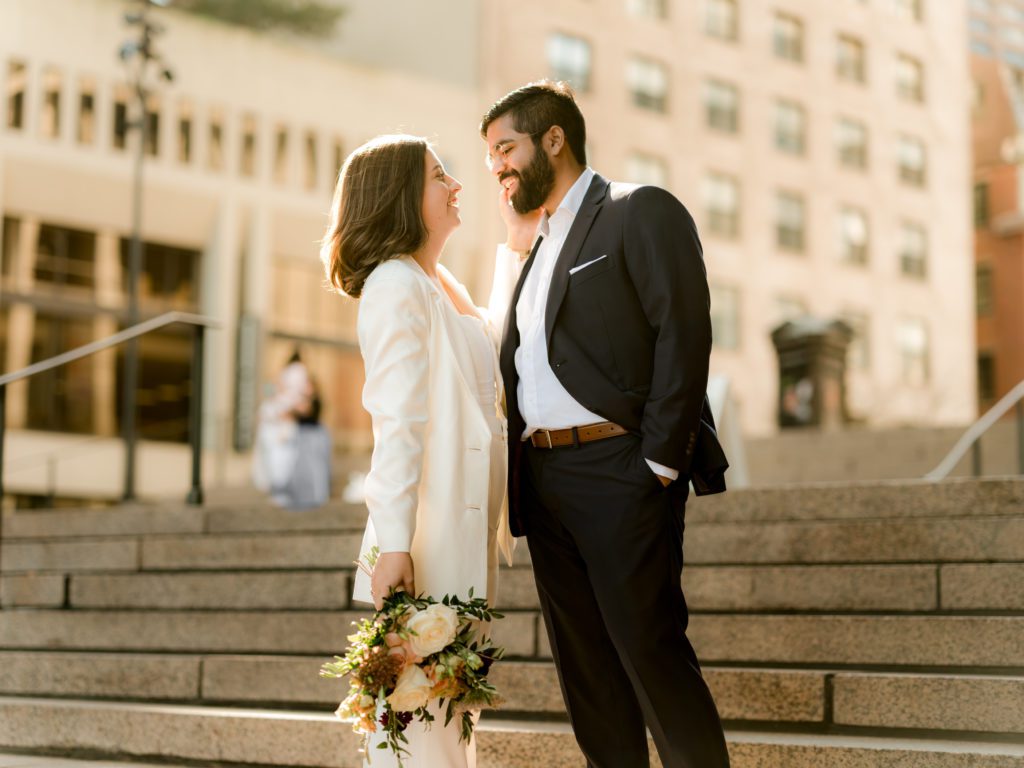 Wedding Ceremony
Wedding ceremonies at City Hall can be scheduled in Room 601 on Mondays, 2 – 3:30 p.m., Tuesdays, 2 – 3:30 p.m., Thursdays, 10 – 11:30 a.m. and 2 – 3:30 p.m. and Fridays, 10 – 11:30 a.m. and 2 – 3:30 p.m. This is per the Boston City Hall website as of 12/19/2022. Due to COVID, only four (4) guests will be allowed. ALL guests must wear masks at this time. I'll wear a mask for all civil ceremonies for the foreseeable future.
Ceremony location:
1 City Hall Square, Room 601
Boston, MA 02201-2014
Please note that sometimes, the ceremony takes place in the basement level and it depends on where you book it on the website and what is available at that time. Please note that the basement level is not very attractive. It's best to aim for the 6th-floor ceremony space as it takes place in an office. Plan to arrive about 15 minutes early. You should also expect that your ceremony may not start on time. I've often photographed ceremonies that were 20-30 minutes late in starting. I like to use the time by doing family photos ahead of time if you have guests. Many couples are nervous though, so I will be patient and we'll just wait until after the ceremony.
An officiant is provided by the City. Civil ceremonies usually occur in an office on the 6th floor, or hallway in the basement. However, your officiant will have the final say. You are often allowed to say your own vows during this time.
Ways to make your ceremony special
Personal vows
Personal vows are my favourite way of making your ceremony your own. It's a time to express how you feel about your partner and to make lifelong promises. You can also purchase little vow books instead of using your phone, but I love the time capsule of a phone because it will help you remember the technology and your personality in the years to come!
Extra time needed: 5 minutes
Cost: $0-$15
Streamers
I am anti-litter, but fairy wands are a fun way to add some spice to your ceremony and photos afterward. You can pick up some on amazon. They also have biodegradable ones that I adore these days! Just watch out as they can get slippery when wet. Also ones that are "easy cleanup" because they're still attached to hands after usage.
Extra time needed: 5-15 minutes (handing them out, taking photos outdoors with them after)
Cost: $25+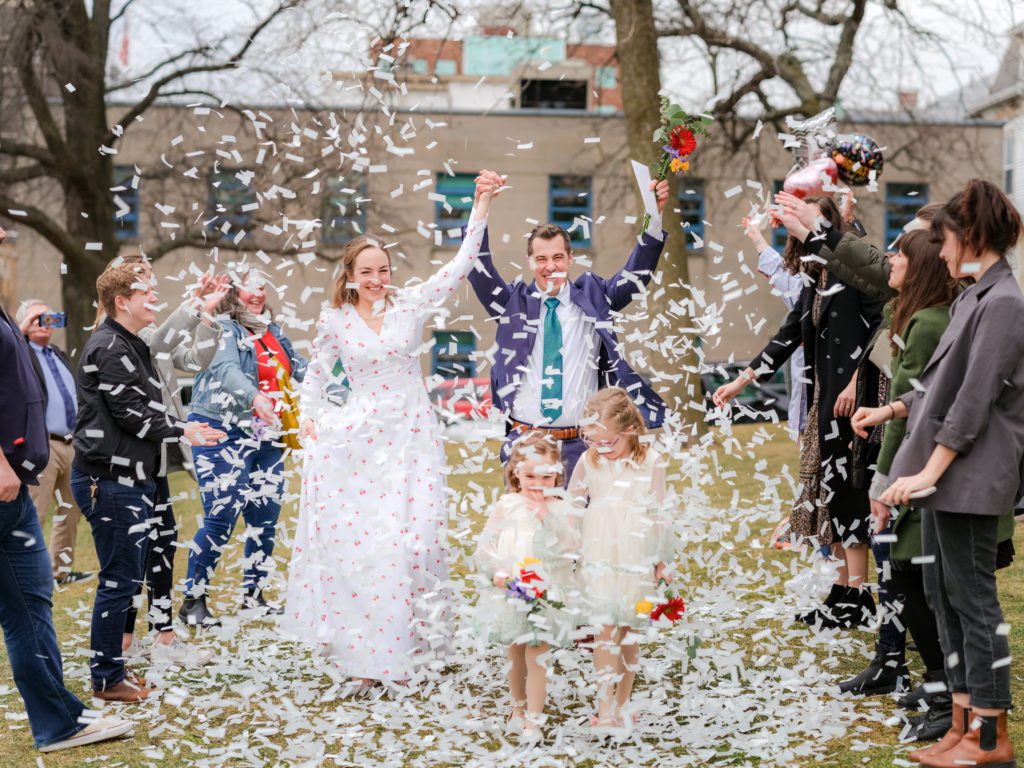 Florals
Some couples like to add colour to their day by adding a bouquet or boutonniere. It's a beautiful way to inject your style into your ceremony. There are a lot of local florists to choose from, including: Forevermark Flowers, and Table & Tulip.
Cost $100+
Hair and Makeup
For a polished look, many brides may opt for professional hair and makeup. Since you're saving so much on your wedding ceremony, why not pamper yourself? There are hair bars and artists around the city, including Dry Bar for a blowout, or something fancier like Maricruz Hairstyles. You can also opt for an app like Glam Squad and have them come to you (check reviews).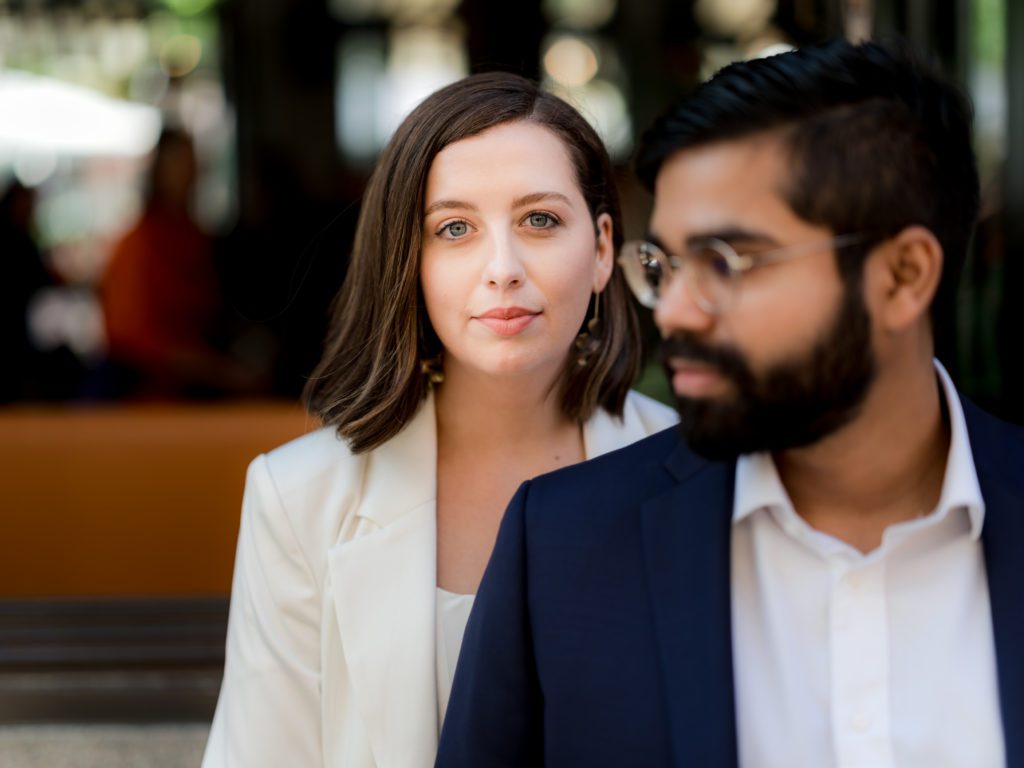 Outfits
You can go high-street or low-end for a civil ceremony. There are no rules! This is your chance to express yourself. BHLDN has great options, including pantsuits. You can even design your gown with Anomalie. Other online retailers include Azazie, Rent the Runway, ASOS, or Shein. Guys can get a custom suit off Indochino and use them for occasions to come!
Why not inject your culture into your wedding outfits? There are so many choices these days, so don't feel restricted. East Meets Dress is a great option for Asian wedding outfits.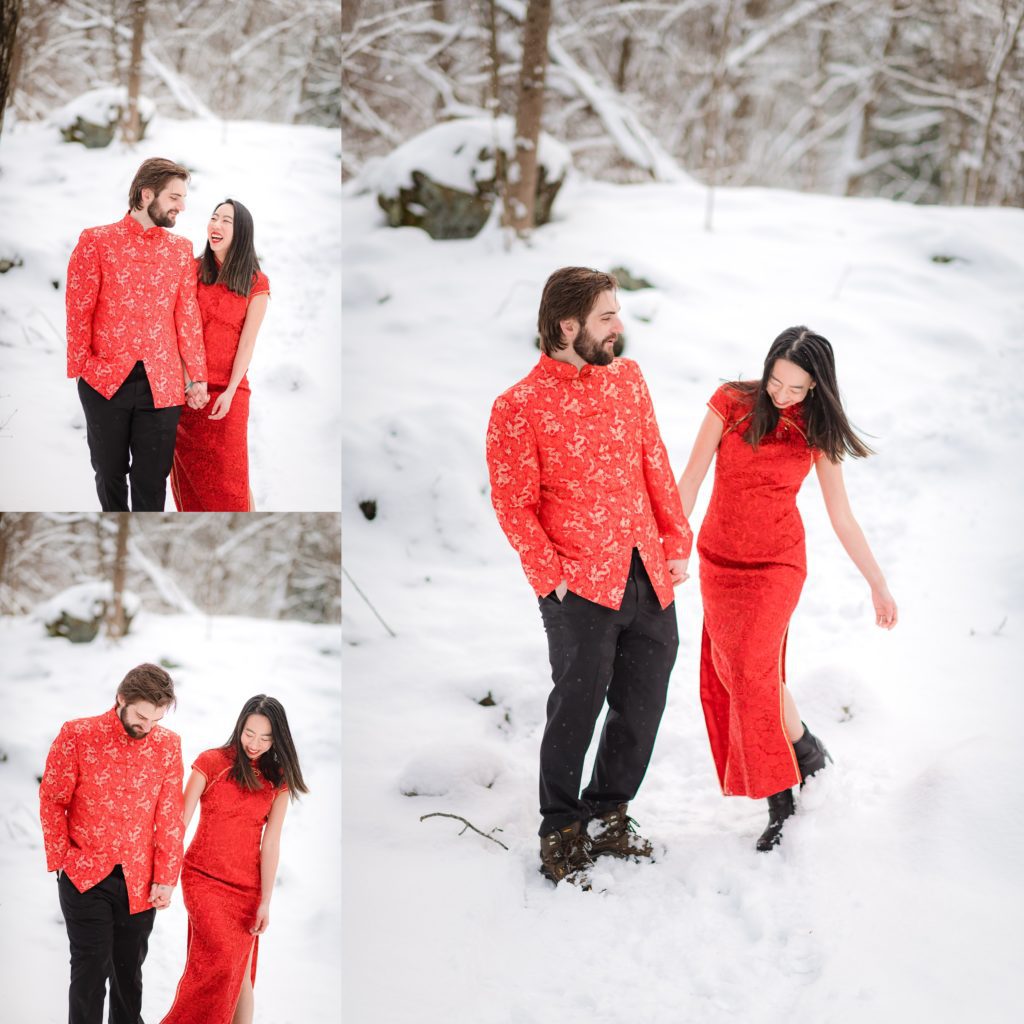 Cute shoes or accessories
These adorable shoes and the matching ribbon in her hair pulled her look together! And I love how their outfits were both adorable and practical. They had matching aubergine outfit accents. And just embrace the rain! It's your day and I love couples that are just so in love the weather doesn't even bother them.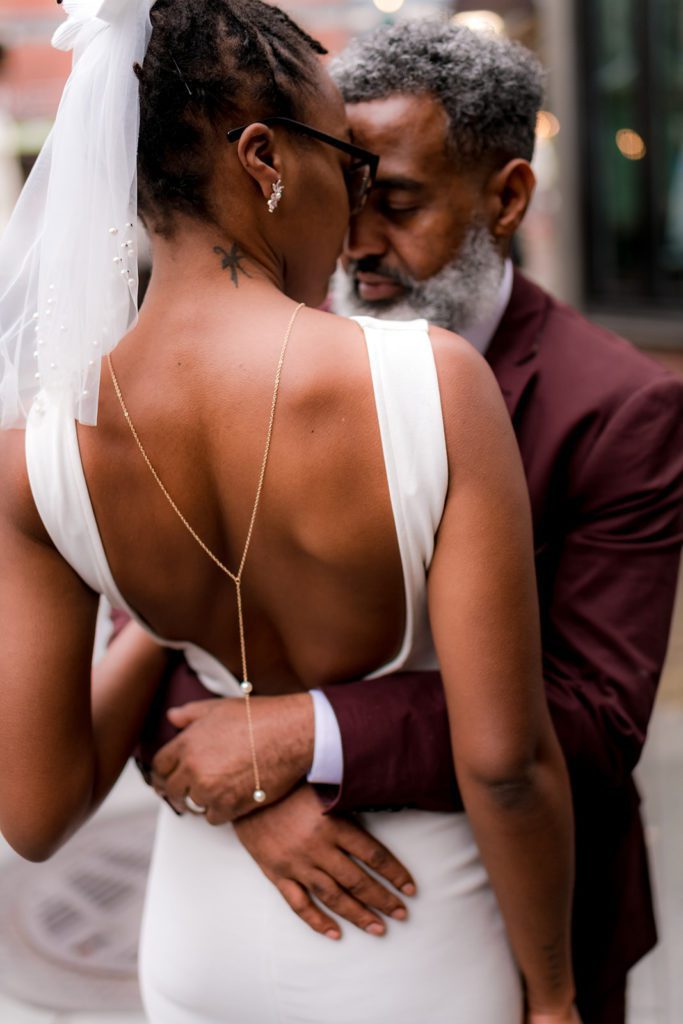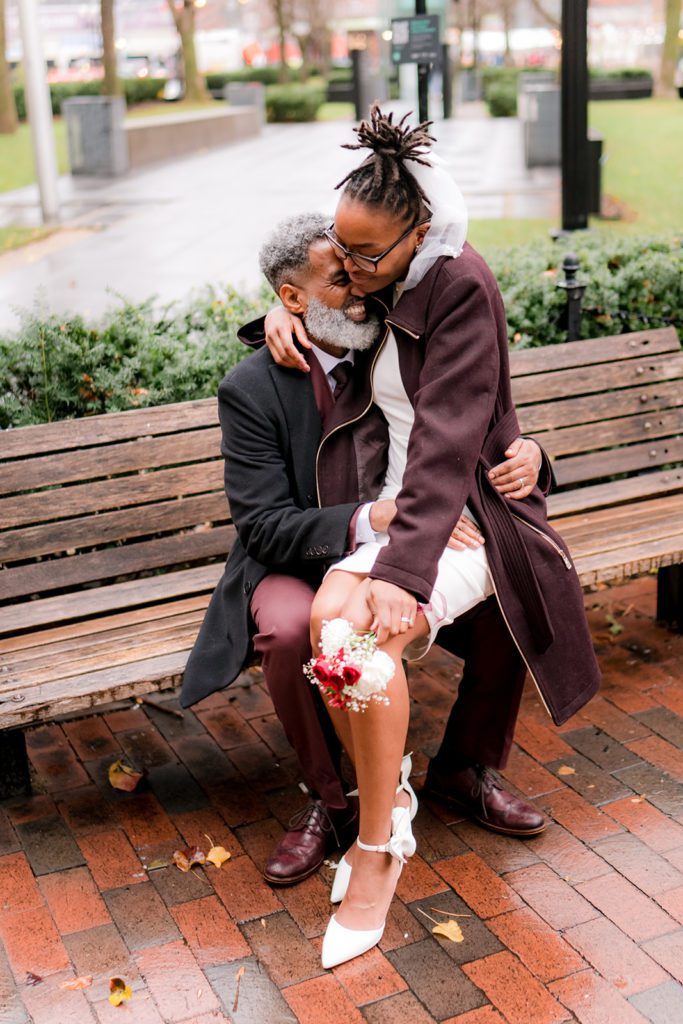 Examples of couples that have had Boston City Hall Elopements
Here is a link to a fashionable summer Boston City Hall Elopement
Head to my City Hall Pricing and Packages page for more information.