How to begin
You've found the right partner. Now's the time to ask the question. This is a moment you never want to forget so you definitely want to hire a photographer to capture it so you can also share it with family and friends after the fact. I've been honoured to be chosen by several couples and they gave me insight into how they chose me, and what they were looking for when searching for a Boston proposal photographer. How do you find the right photographer? Where do you start to look for a photographer? By the end of this post, I hope I can shed some light on the criteria to look for when hiring the right photographer for your surprise proposal and engagement session.
5 Things to look for in a Boston proposal photographer
Shooting style
First things first: I would suggest looking for a photographer whose photography style you are drawn to. It's a gut feeling. There are several different styles. Some are more classic photographers that get the moment and then some posed portraits afterward. Others are the more documentary-style photographers that approach it with a photojournalistic style. This includes the between-the-moments images so that the gallery tells the story and the complete picture of the event. This is less of a polished end look, but it tells the whole story. It really depends on what you're looking for and what speaks to you as a person, as well as can capture you two as a couple. Go with your instinct when selecting a Boston proposal photographer.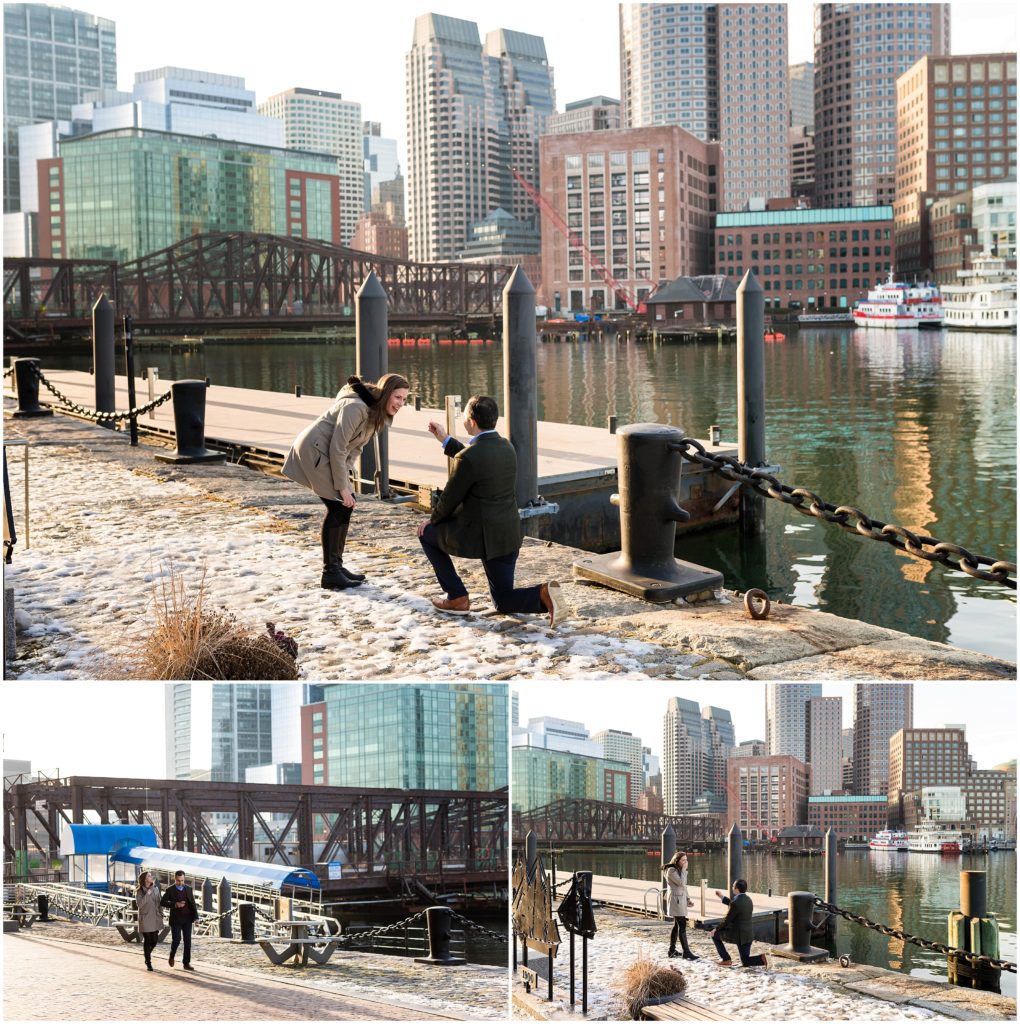 Editing style
The second thing to look for is the editing style. There are light and airy photographers where the whites are really white (though ensure you don't choose one where the skin looks washed out and it loses the detail of the features of the face, or the outfit). There are photographers that do dark and moody tones where things are purposely set really dark and the tones of the outfits should match this editing style. Then there are those that alter the skin tones.
I personally am not a huge fan of this style because we all know how we feel about sepia a couple of decades after the trend died. Just look back at your old Instagram posts. How do they stand up to the test of time today? Apply that to how you want to look back onto your photos 30 years from now and how you want them to feel. The photo below was actually how the sunset looked like in person. I wanted the vivid colours to stay true so that they could hold onto that memory forever.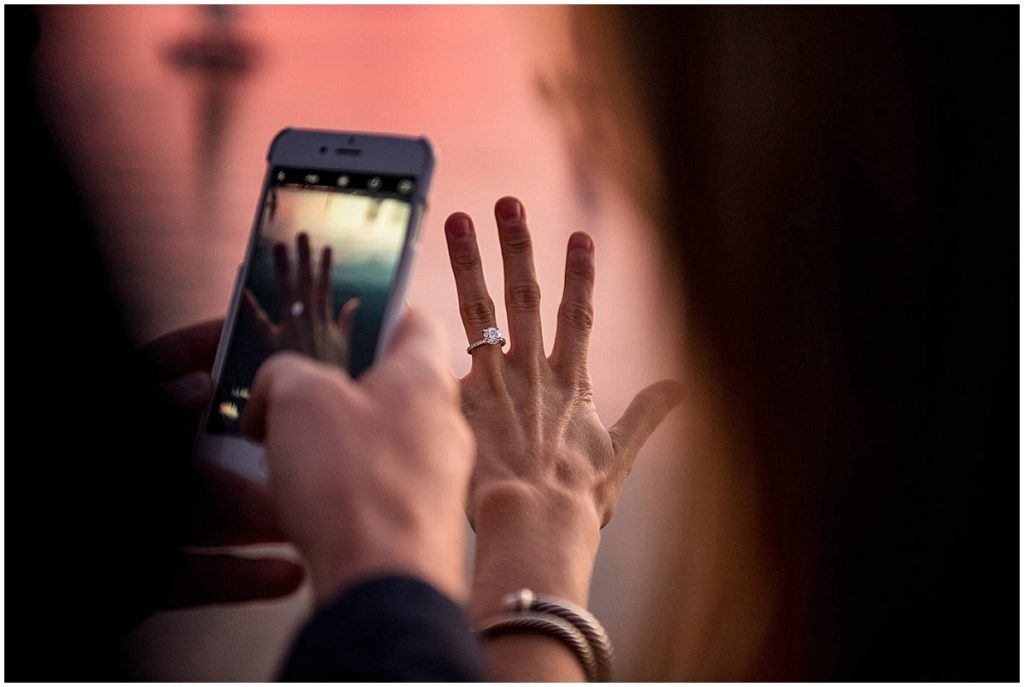 Personally, I tend to gravitate to true colours that are natural. I used to follow the trend and hated my photos after a few months and kept changing my style to follow the style of the moment. After a few years of this, I became exhausted and decided natural was best. I don't want my photos to look signature 2015, or 2019. I want them to be timeless. That's what I looked for in my wedding photographer back in the day, and I still love my photos to this day. If that is what you're looking for, I hope you'll reach out to me.
Expectations for the number of images
Any professional photographer will know how many images it will take to tell your story. You just have to ensure your vision aligns with the photographer you have chosen. This is something that should be discussed with the photographer if you had something in mind. I emphasize communication is key. I do not guarantee a specific number of images with my packages just because I do not understand how something will unfold. With candid storytelling, there is an element of surprise with things out of our control. Just know that I am there to capture your truth and your story to the best of my ability. I have never had a client ask for additional images and I aim to delight and please with every single one of my sessions. There is a reason why I have built such a successful business with so many glowing reviews.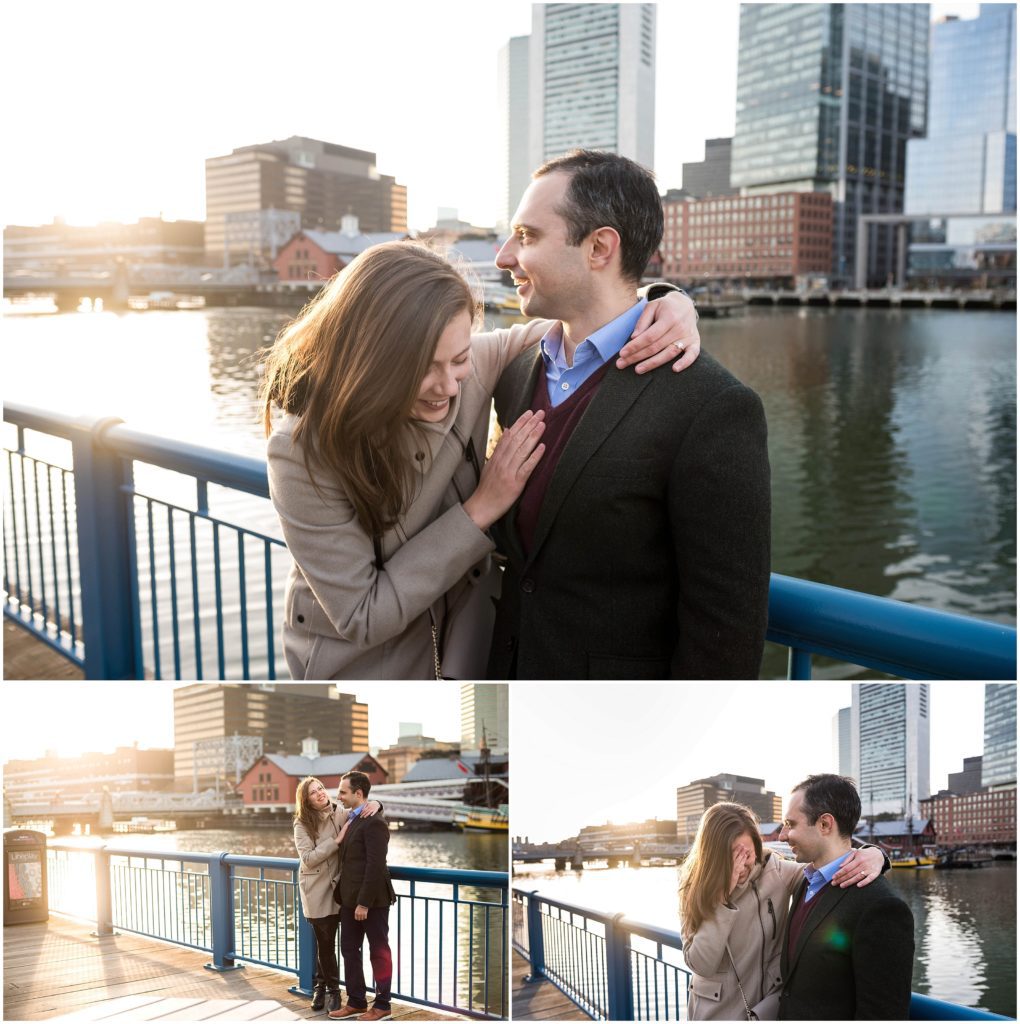 Discretion
The reason you should hire a professional and not ask a friend is that your fiancee/fiance may become suspicious if they recognize the mutual friend. A friend that isn't a professional may not have the right equipment for the job. In this sunset proposal, I used a very long zoom lens. This allowed me to be 50 m away from the scene, but also pull everything that was important into the frame. If you are shooting with a kit lens that comes as a default, you are limited by the distance you can shoot at and still get a great image that puts you in the action.
If your photographer uses flash, that is also something that in my opinion would be a no-no. Unless the proposal takes place during pitch black settings, flash would be a dead giveaway and also be distracting to the moment. My style is to rely on natural ambient light that is available by discussions with you to ensure you choose a location that would work well with photography. As a photographer in the city for over 7 years, I am very familiar with locations as well as unexpected variables that may pop up that a less experienced photographer may not anticipate. This brings us to my final point: Experience.
Experience of your Boston proposal photographer
Depending on where you're planning to propose, a photographer should be familiar with the conditions of the location. That doesn't mean that the photographer has to advance scout or have photographed there, but it does mean you should hire someone that has photographed in a densely populated area before.
When I first started photography there were certain things that I would not be aware of when taking the photo, only seeing in editing that I should have avoided. These items included having garbage cans in the background, not cropping images to eliminate unsightly signage, or not anticipating the crossing of elements such as pedestrians or buses that may block a critical moment. When I photograph, I always have an awareness of the background, surrounding elements and constantly am anticipating movement that may affect my photo. It comes from years of training through the photographing of sprinting children and manoeuvring around tourists in the Public Gardens. There are no do-overs.
Things I have learned by being a Boston proposal photographer
One big thing is that I should ask for a photo of the couple. I find it awkward to ask for a photo of people ahead of time for my regular sessions as I can usually pick them out as they arrive just by reading body language. However, with a surprise proposal, I am not getting the same queues I normally would. If you're planning on asking, I would love if you would share a recent snapshot so I know who to keep an eye out for. It was funny when I accidentally started stalking the wrong couple before my other couple arrived. Good thing I bailed on that first couple in time when I realized it wasn't the exact fit (outfit descriptions were a touch off)!
I love giving my couples a moment to be alone. It's their time. I do the same thing when I am a wedding photographer and the ceremony has just ended. Sometimes you just need to let a moment sink in. I love to just wait by the sidelines until I get a signal to approach. It's not my moment so I never make it about the photos.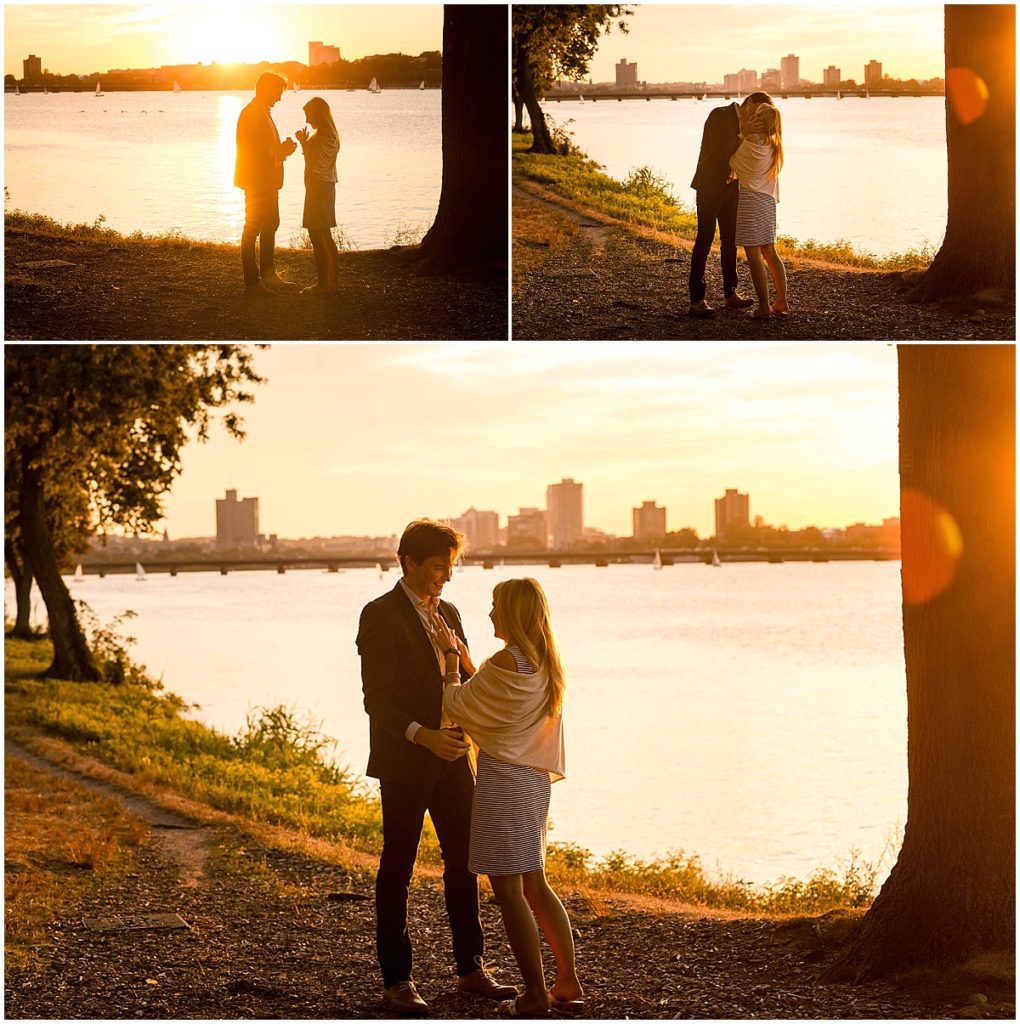 Couples love getting a few sneak peeks right away to share the good news with family and friends. After the session, I immediately head home to backup the images and load them onto my computer. I send 5-10 teaser images within 24 hours of the proposal so they can share the excitement. I love delighting my couples with a first look. It's always better than they could have imagined and I am always so proud to share. The entire gallery is done in about 2-3 weeks from the session date depending on the workload of the season. If you need a timeline guarantee, please reach out to discuss this when booking and I can see what's possible.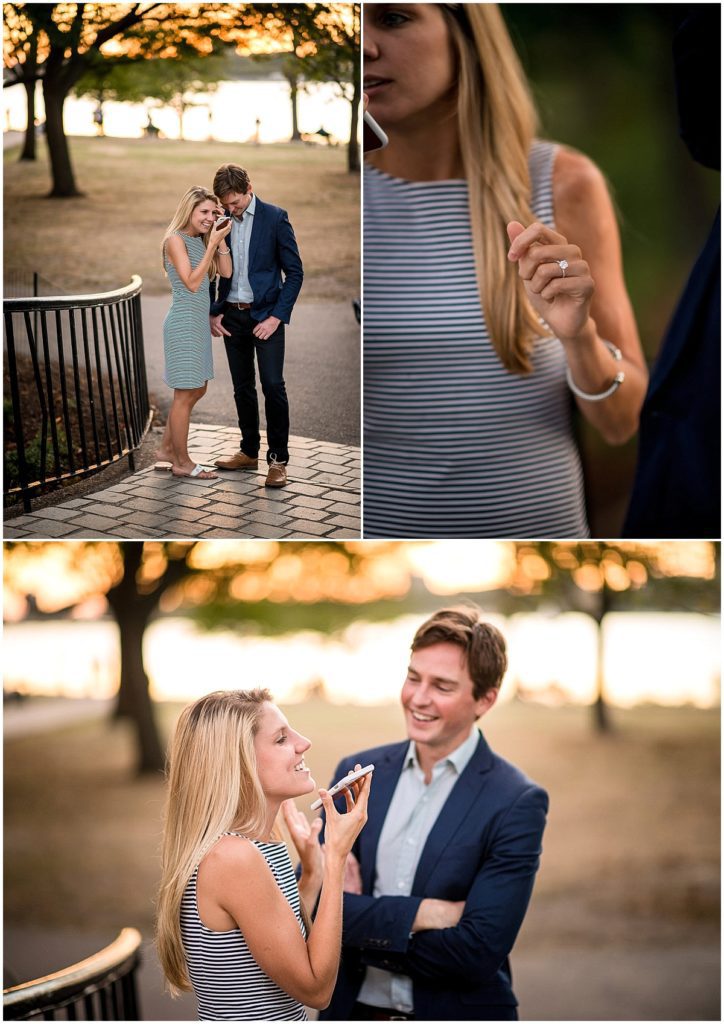 Found the right Photographer?
I hope I've helped to shed some light when searching for a Boston proposal photographer. There are a lot of things to consider. If my style aligns with your vision, please reach out via my contact form.
I'll leave you with some samples of surprise proposals taken around the city of Boston. If you have any questions, feel free to post below or reach out. I monitor my blog regularly for questions.
My current wedding package includes a mini-engagement session. If you decide to hire me for your big day, I will credit a portion of this session toward your package if you book within 3 months of your proposal.
Fan Pier Surprise Proposal as featured on The Knot – How they asked : HERE
Charles River Sunset Surprise Proposal: HERE