It takes teamwork and preparation for successful getting ready photos on your wedding day.
Getting ready photos set the stage for the rest of your day both in tone and in timing. Here are the key elements to make the start of your day successful!
Time
Emotion
Details
Setting the scene / Tidyness
Location and Lighting
Understanding your priorities
Time is everything
I always tell couples that time is needed for creativity and moments to happen. If you want this part of the day to be documented in the best way possible, I just need enough time to create the imagery you see in my portfolio. If this part of the day isn't important, then, by all means, don't feel the need to allot time to this.
Time allows for moments to develop. If you're rushing, then we won't have time to do a father-daughter/son first look, we won't get time to create space for mother-daughter/son portraits full of emotion. Without time, we won't have a buffer in case someone forgets an important detail and someone has to run home to grab it. If you're rushed, it'll be a recipe for clutter to be tossed everywhere in your getting ready suite leading to not-so-pretty photos. My job is as a documentarian so how you present your space and yourself will impact what is created that day. So just make sure the space is presentable.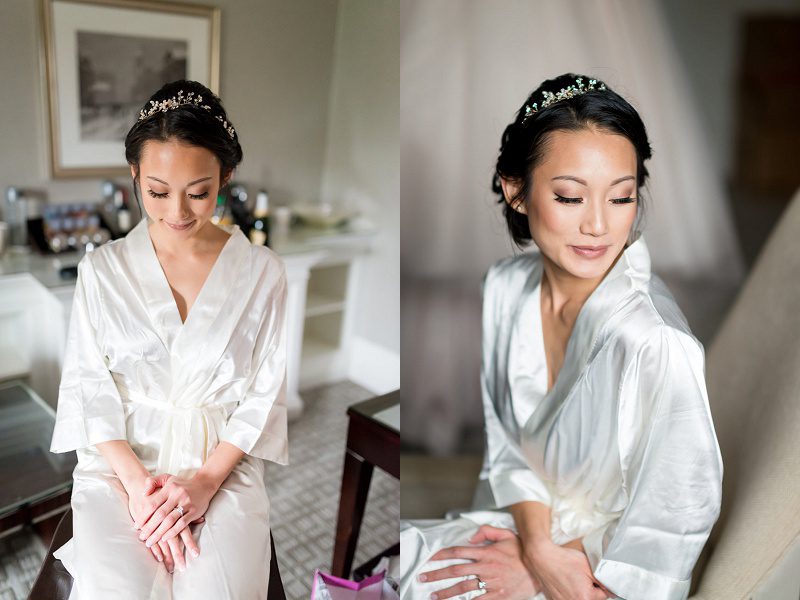 Videographer
If you hire a videographer, I love to work when they're off documenting the other partner. This gives all of us enough space to be creative and move around. Having another team in the room limits the angles I can get without having them in the photos. They will also need time to direct some of their shots so that just has to be worked into your schedule.
Hair and Makeup Artists
Hair and makeup should be brought into the discussion on timing. Oftentimes, the day is running behind straight away because of hair and makeup. Communication is key that you have to be ready for a certain time. If things are running behind, the priority is the bride(s).
The order of application is often a point of contention for hair and makeup artists (HMUAs) and the photographer. HMUAs want the bride(s) to be as fresh as possible so they want them done last and at the very last minute. Photographers want to ensure you have beautiful preparation photos, portraits, portraits with your mom and your girls. Guess what happens if you're the last one to be done and the schedule is running behind? You forfeit all of those important photos in order to stay 30-45 minutes fresher.
Of course every professional prioritizes their work, but you need to make the decision about what's important to you. As a photographer, an extra 30-45 min of portrait time for you can result in a beautiful selection of portraits and allows for some creativity and play and important emotional photos with your loved ones. The best makeup artists will ensure your hair and makeup will be fresh for an extra 30-45 minutes so there's no point to sacrifice that important time while you wait for your girls to get ready.
I generally like to photograph the bride about 20 minutes before you're done. This allows me to get some 'prep photos' but you're at a point where you want to be photographed. Most ladies don't want photos before makeup is ready. This applies also to your mom if she wants any "getting ready" photos or mom-daughter/son portraits. Ensure her hair and makeup is ready if she wants to be a part of these images. If she's last and we are rushed, these important images may be missed.
Please also let everyone know that if they are helping you or near you, they will be photographed. So if they don't want to be in any photos without their hair and makeup done/dressed, then ensure they are ready to be photographed when I arrive.
Emotion is the most important element of the day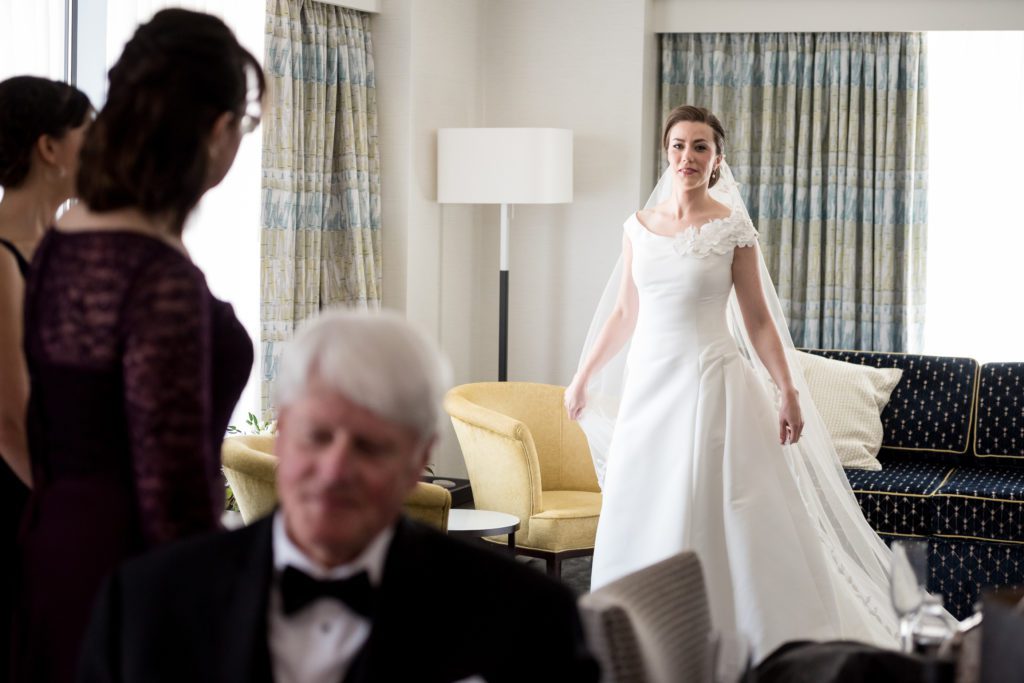 I know I said that time was paramount, but that's because it affords you the space to absorb what's going on around you! By removing stress and deadlines, you're able to enjoy time with your loved ones and to allow for unexpected moments to happen. These moments are what make your day special – not pictures of your shoes, or something you found on Pinterest. How your mom looks at you as she helps you get ready on your wedding day, or when your best friends see you in your gown for the first time. You want some time to just take it all in.
Details
Ideal Time allotment:
60 minutes
Ideal Location:
Natural daylight lit room (hotel suite, favourite room of your Airbnb or home)
Key Items:
Rings (engagement + wedding bands), dress, shoes, perfume, jewelry, inivitations, flowers or anything sentimental that will be incorporated into your wedding day. For men: cufflinks, shoes, bow tie/tie, pocket squares, watches, cologne, etc.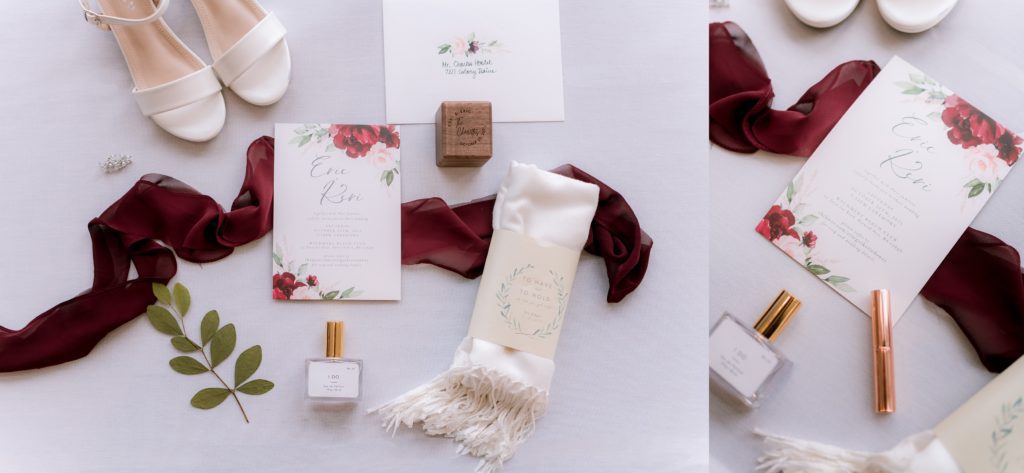 One way to make the day move quickly is to have a box containing all of your important wedding details to hand to your photographer. This way, everything is together to create a flatlay or to style your wedding details. I like to spend about 30-45 minutes capturing detail photos and setting the scene of your wedding day.
Setting the Scene of you getting ready photos
Type of room:
lots of natural daylight. Curtains to control the light if you like moodier images (groom photos, artistic bridal portraits). interesting deco/architectural elements/fun wallpaper. Bathroom is a great groom prep photo area so keep that counter clean as well if you have a nice bathroom with cool lighting/mirrors.
Location and Lighting
Light is a central ingredient to photography. The location and lighting will affect how your images look. When doing prep photos I like to use natural light to be as unobtrustive as possible. If the lighting is terrible, I'll turn to flash but this is a much less organic experience. Photography is an art, but it's also truthful. If the room you're getting ready in is a church basement, the photos will look like your images were taken in a church basement.
Tidyness for your getting ready photos
Keep the room as tidy as possible. When the room is super crowded with people and plastic bags and purses, it really detracts from the beauty of the space and makes it harder to document your day. Visually, clutter is just unappealing. I love sentimental keepsakes around your home like ornaments or photos, but plastic hangers and bags that you just dumped on your bed shouldn't be there. It can take time to clean up your space, but the results are worth it!
When you enter the room, try and put any bags right near the door or a closet that can be hidden away. Better yet, keep the main suite clear of clutter and leave bags in a nearby room. I tend to photograph near windows, so the best thing is to keep that area clutter-free and clear.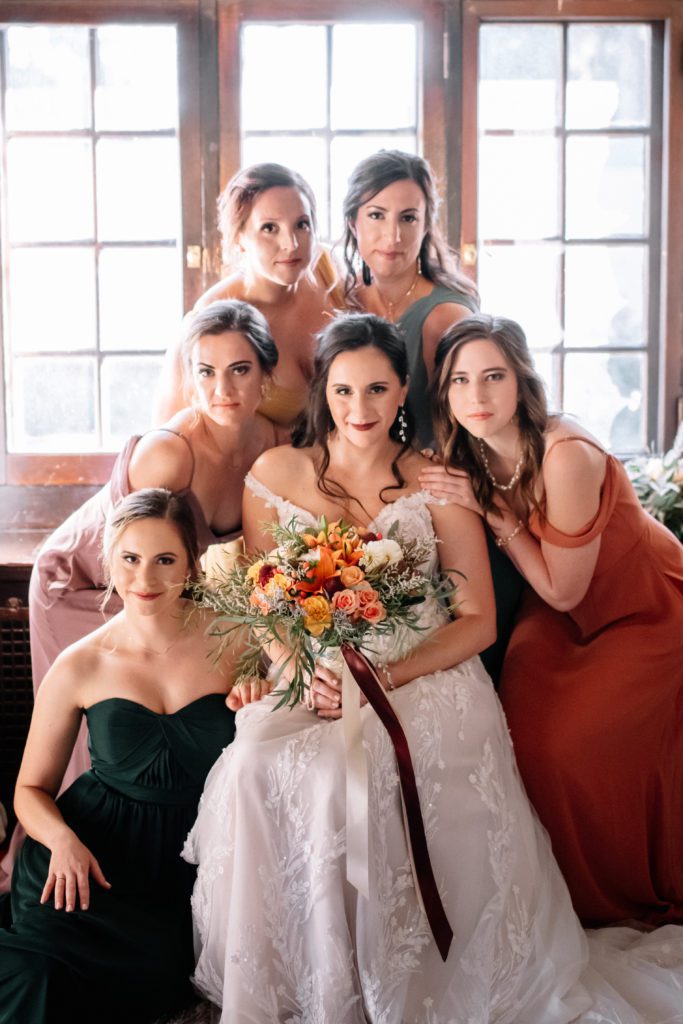 Preparing the scene
If you have purchased a special hanger, just make sure your dress is hung onto that hanger. I know many brides are very precious about their gowns, so please transfer it for me so that it's styled just as you want it to be. Trains are often difficult to style well, so try and communicate to me how you envision your gown if this is important to you. It takes a good 10-15 min to transfer hangers and remove any packaging, so help me to use my time efficiently by having your friend prep your gown.
Understanding your Priorities
Your day should be designed around your priorities first and foremost. We don't have to do Prep photos if you don't care for them. We don't need to do detail photos if you won't look back on them. If you want to do a father-daughter/son first look moment, we can make time for that. If you really want photos with your mom during the getting ready portion of the day, align the elements so she's ready, present and dressed to have those photos taken. Preparation and communication is key for ensuring we make time to create the images you will cherish the most in the decades to come.
More Planning Tips to Come
I'll be adding another informational blog post about how much time I will need for each portion of the day soon. For now, please refer to your questionnaire for some basic timing suggestions. Ensure you fill out your questionnaire at least 3 weeks prior so that I have time to read it and give you feedback. The key is to be realistic. But also to just enjoy your day. It will be what it will be and the most important thing is to focus on the love and happiness surrounding you. 5 years from now, you won't remember about the vase your mom forgot to bring, or that they put in primrose instead of violets.
More Reading
Should my pro have photographed my venue before?
Featured Wedding: Cape Cod Stormy Beach Wedding