Coronavirus Concerns
With big events being postponed due to government restrictions and safety concerns for family members, 2020-2021 weddings will look very different from prior years. The mandates put forth are constantly changing. For the most up to date information, please see MassLive. Per Governor Baker, Phase 3 will stay in effect until a vaccine is found. It's an interesting time for weddings during Coronavirus.
The guiding principles set forth by the CDC can be found HERE. Gatherings have always been of concern because they could be super-spreader events. Since weddings are with large groups and for prolonged periods of time in close proximity, it is important to stay prudent and cautious in these times. Findings about the spread of the Coronavirus seem to indicate viral load as the main determining factor in infections. Viral load is the amount of virus a person is exposed to. This can come from the amount of time the person is exposed to an infected person while simply talking, as well as something like a sneeze or cough whereby a large amount of virus is projected at once.
Unique Ideas to Help
I can't wait to share what the bracelets will look like for my first big wedding in 2020, but I saw an idea twirling around the interwebs showing coloured silicone bracelets indicating comfort levels of those wearing the bracelets. I think it's a great idea to use for any weddings during coronavirus.
So for example, Green might mean I live with you so we can hug it out. Yellow is I'm friendly and OK with taking a group photo and waving at you from a slight distance. RED might mean.. keep your distance and I'm OK without being in group photos, but I just want to be here to support you because I love you!
Everyone feels very differently about the virus and this way guests don't have to ask or feel each other out and can wear it on their sleeve. Another option my bride was considering was coloured ribbons so that they wouldn't be as unattractive and would also be at eye-level. I can see guests struggling to safety pin this on though, so plan accordingly.
This way everyone can feel comfortable that they are being respected at your joyous event!
Healthy Practices for weddings during Coronavirus
Have an outdoor ceremony + reception
Wear masks inside churches
Provide hand sanitizer for guests near all entrance-ways and bathrooms
Open all windows and have as much circulation as possible
Keep prep room clean by keeping refuse away from the windows, artwork, sofas and beds
BWP will not be touching items of the client's to keep everyone safe.
Have a helper for dress/hair/accessory adjustments
Make announcements/have signage visible to guests about masks, safety protocols and other protective measures you may be enacting for your wedding
Modify layouts
Zoom weddings
Makeup artists / hair artists
Keep things outdoors
Keeping wedding events outdoors will minimize the potential for spreading an infection. Since New England's weather is unpredictable, the best thing is to plan for rain with tents as backups for ceremonies and receptions.
Wear a mask
If the ceremony is to take place in a church, ensure that people are safely distanced from one another and are not required to congregate in areas awaiting to be seated or for any other reason. Masks should always be worn when indoors to lower the risk of transmission. I know that accommodations are being made for the procession to be mask-free for those in the wedding party and for the bride and groom. If the rest of the guests can protect the wedding party members by wearing masks, we can still enjoy a beautiful ceremony in comfort knowing we are keeping our loved ones as safe as possible.
Hand Sanitizer at least 60% alcohol
Hand sanitizer should be made available at entrances and bathrooms so that guests can easily sanitize when entering the room, or after using the toilets.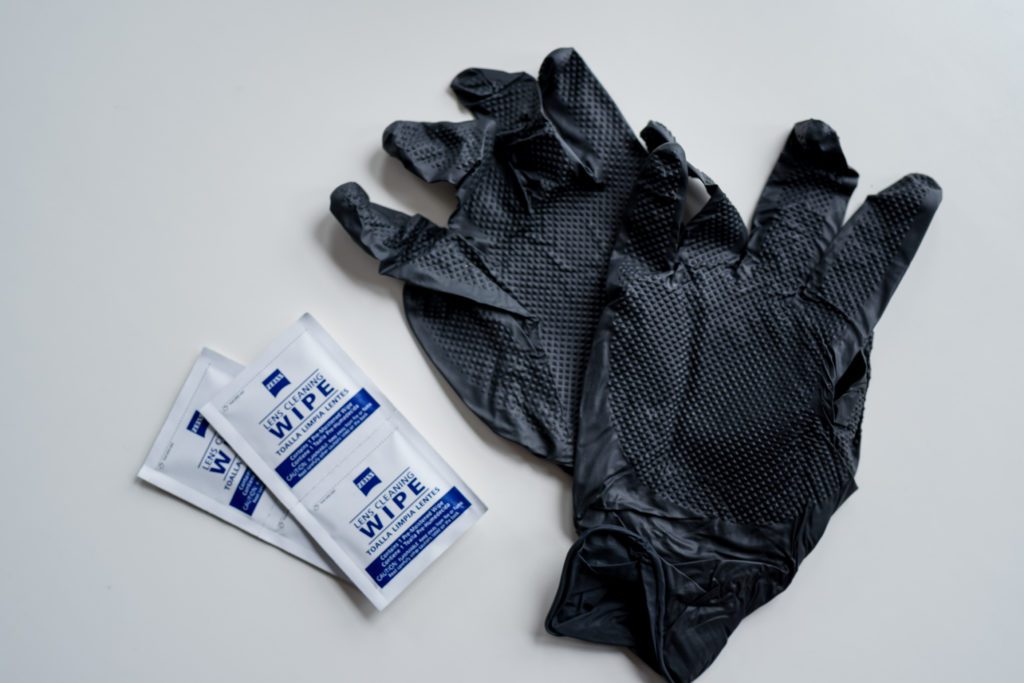 Have all windows and doors open
Good practice is to have windows and doors open to the outdoors to allow for as much fresh, clean, outdoor air to circulate indoors as much as possible.
No Touch
Prep rooms will look different in 2020/2021 until a vaccine is found. When I used to enter a hotel room, it would be filled with empty plastic bags, hangers all over the bed, makeup bags and bras tossed about. I would quickly clean things up to make sure the photos would look their best. However, due to COVID-19 I can no longer clean up a space. Please do your best to throw all of the unneeded items against a wall furthest from the windows or any features of the room (such as a nice sofa, the bed, or artwork). This will also ensure photos with everyone in enclosed spaces will take place as quickly as possible to minimize exposure. A little bit of prep can go a long way for weddings during Coronavirus.
Have no-touch trash cans to gather used disinfectant wipes, tissues and empty bags easily.
Please note that prep room photos must be discussed ahead of time with BWP to ensure this can be done safely. If masks aren't being worn, other vendors will be present and the room is anticipated to be packed, BWP will photograph other parts of the day and wait for the space to be less busy so that social distancing of 6′ can be safely achieved. Exposure in the prep room will be kept at a minimum in 2020/2021 but I'll get creative by taking objects out of the room to photograph. Have your wedding invitations ready, shoes, jewellery, and a friend to hang onto your wedding rings so that you always know where your valuables are! These will be taken to a safer area to photograph that is further away from the crowded room.
Once the room has emptied a bit and it has been cleaned up, I'll pop back in to take the classic prep photos, bridesmaid robe photos, mother of the bride zipping up the back of the dress photo, etc. These images and what you want will be discussed ahead of time so that I can get them as efficiently as possible and not miss any of your 'must-have' photos! Nothing has to be sacrificed with enough planning and communication ahead of time.
For more information on my safety practices, please click this to this BLOG LINK.
Helper/Adjuster for safety
Since I will no longer be able to touch my brides and grooms, please have a friend to be your helper that day. Just have them adjust the train of your dress, straighten your necklace and tuck your hair correctly if it comes down as needed. I'll point out where I need adjustments made as well. Please choose a friend that is in your household or someone that will wear a mask near you so that you stay as safe as possible.
Modified Layouts for weddings
Talk to your venue and caterer to modify your layout. One of my brides is installing a second tent at her wedding venue to allow for social distancing. Tables will be spread out further and only those living together will be sitting at tables together. Ensure seats are blocked off to space people out at least 6′.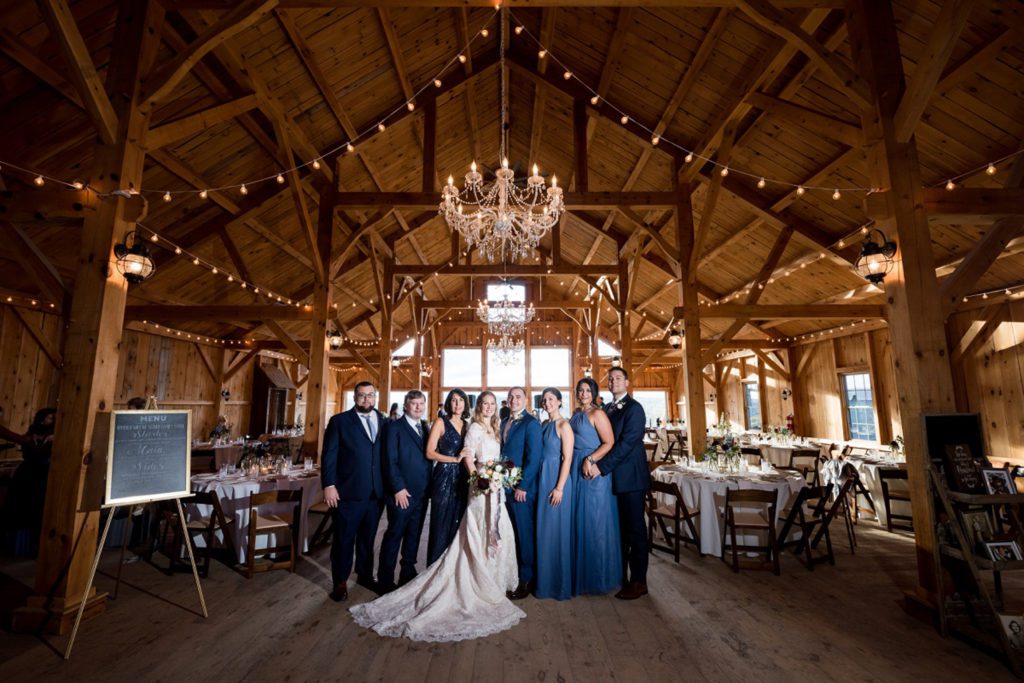 Livestream/Zoom your wedding
Another thing to consider is to livestream your wedding so your guests can enjoy the ceremony virtually! Have someone set up a phone or iPad somewhere to live stream the ceremony. Maybe improve the sound by adding a mic for quality.
Makeup and Hair Artists
Hair and makeup artists (MUAs) should already have their own safety practices in place. I have seen many post about new certifications they are earning in order to prove they can practice their craft safely. This isn't my wheelhouse, so I'll leave it to them to inform you of their safety measures. Ensure you ask any questions you might have so that you feel safe. Ask about how they are sanitizing their makeup, their tools and using as many one-use items as possible to decrease the risk of cross-contamination.
Places not to overlook as spots for gathering
Sign-in books
Guest sign-in books have always been popular. It's a good thing now instead to have cards at each place setting that guests can fill in (have them bring their own pens to the wedding so you don't share!) and then drop them in a basket so that you can enter them into the guest book after the wedding is over. Make sure you quarantine the cards for at least a few days just to be safe!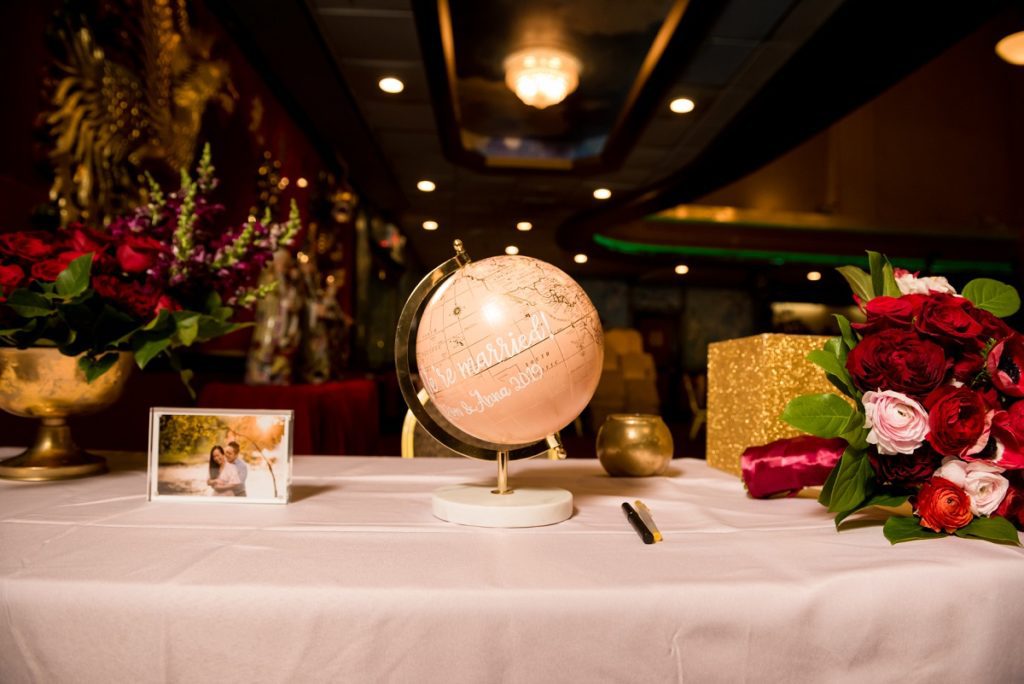 Bar
Bars are generally not allowed anymore specifically because this is where a lot of guests will gather and linger. I believe most venues are now requiring table service and no longer offering bar service. Please double check with your vendor team and caterers.
Buffets
Same goes for buffets unfortunately! The safest bet is for plated meals. No need to provide a meal for the team of BWP in 2020/2021 as we will be bringing our own meal to weddings this year just to be overly cautious. We want to control as much of what we're exposed to as possible so that we can stay healthy to keep photographing weddings for all of our couples! Bonus – you save $$$!!
Restrooms
Talk to your venue about restrooms and how that will be managed. You should consider limiting the number of people in the restroom. You should also prevent lines from forming outside if possible. Another thing to consider is higher-risk guests. Perhaps designate one bathroom for them so that they aren't put at risk of exposure to the rest of the many guests in attendance? Again, it's hard to segregate people since many can be asymptomatic carriers. It's best to limit restroom usage if at all possible. If you need additional advice or considerations, feel free to reach out to me as this is a more private matter, but I have other suggestions.
Please talk to the venue to ensure that high-touch surfaces such as faucets, countertops, diaper changing tables, toilets, stall doors and doorknobs will be wiped regularly. Provide hand sanitizer with at least 60% alcohol in the restrooms and wipes to open the door with if possible. Maybe they can hire someone to just clean the bathrooms after each usage/every 15 minutes and you can talk about what that would cost. I can't imagine a venue wouldn't be willing to sell you an extra service! This way your guests can feel safer too.
Entering the church or reception space
Talk to your friends to help, or the venue space to have staff guiding guests by making an announcement ahead of time about staggered seating times. By staggering arrival times of guests you can space people out so that people aren't gathering at once at single entrances. Another option is to have multiple entrances to allow guests to enter a space. Ensure guests know ahead of time which entrance they should be using to eliminate congestion. This is a great way to minimize exposure at weddings during Coronavirus.
Ride-Share / Party-bus
Limos, trolleys and just Ubers have been great ways of moving large numbers of guests between venues. However, due to COVID-19, it's safer for guests to travel individually to their destinations. I can definitely grab a photo of the wedding party in their limo/trolley but then hop into my own car for transportation between locations.
Group Photos
This is going to be tricky. It all depends on how comfortable you feel personally with your guests and how comfortable they feel with you. These should be taken outdoors regardless if at all possible. Groupings should only be made with immediate family that live together, or if they are mixed groups, consider masks for the photos. If you want mask-less images, please tell guests to leave on their masks until everyone is situated properly. I will give a countdown and instruct people to lower their masks for the photo only. Then instruct everyone to put on their masks again. This will be discussed with you during our week-of the wedding consultation.
I will require a photo-helper for this portion of the day. The most organized way of doing this would be to enumerate every group photo that you need. Then tell the guests which numbers they should be present for. That number will be announced and they should be ready to be next for their photo. I have a longer post regarding stress-free family photos HERE, but I will update it with this new idea ASAP.
Safety/COVID-19 Point of Contact
The CDC recommends that one person be designated the point of contact for COVID-19/Coronavirus concerns. I think this is a good idea. Guests should be informed who this person is ahead of time so that they can bring up safety concerns to them throughout the day. This person should be allowed the authority to handle any issues so that the bride and groom aren't pestered throughout the day.
Communication
The most important thing is communication. This will be with your guests, your family members, friends and vendors that you will be working with throughout your wedding day. Ensure that everyone keeps you up to date (or your designated COVID-19 Point of Contact) about any health concerns leading up to your wedding day. If anyone is concerned with exposure, or has come into contact with someone who has since tested positive, please instruct them to quarantine for 14 days in accordance with health regulations. Anyone with symptoms should be told to enjoy the event via Livestream. If there will be guests of a diverse range of languages, please provide signage in multiple languages.
So what if someone feels sick the day of?
The CDC recommends that the person immediately be isolated and taken home or a healthcare facility for testing, depending on how severe their symptoms are. Individuals who have come into close contact with that person should be informed immediately so they can take the necessary precautionary steps. Any areas the sick person has been in contact with should be immediately disinfected and cleaned. It's better to be safe than sorry so that everyone can rejoice in future happy family celebrations together.
Need Masks?
So I've been doing a lot of research and I have a lot of clients that are doctors. They gave me a huge list of resources. I have linked them all at the bottom of this BLOG. Click through to purchase masks for your friends and family, especially those at higher risk. There's even a link to an N95 (not surgical, so not to worry that you are taking away PPE for medical personnel) which needs 3 weeks turnaround to ship to your door. If you're a BWP bride, I have some Halyard600 fabric and can make you a mask or insert for a pretty bridal mask. Just reach out.
If you just want something pretty and not necessarily top of the line for protection, then click into these bridal mask options.