Toddlers Concerns
When parents reach out to me for bookings either they bring up their concerns about an active toddler, or I ask them in my questionnaire as pre-session prep. Kids are kids and the best sessions are when we allow them to run free and be themselves. I love prompting families but prompts do not work for kids under the age of 3. You just have to with the punches and adapt quickly to changing circumstances. I would say this guy was one of two of the fastest and most active toddlers I've ever photographed in my many years. He was 2 years old that day and could lap me on a track no doubt.
My other active toddler session was a private set, otherwise I'd love to show another example of a session where we still get awesome images given challenging circumstances. I'll see if I can get a testimonial from the mom of the behind the scenes of this session and will add it here to the post. Once you've photographed people for a while, you know that nothing is quite as challenging as being a Boston child / toddler photographer.
Boston Public Gardens
Nothing is more classic than the gardens in Boston. It's a great place to run free as well without worrying about cars, or bicycles. Being in the city, my main concerns are always safety as well as ugly backgrounds. The Gardens is thankfully free of any hazards and is the most beautifully landscaped place in the city. If you're looking for manicured gardens, this is the place to have your photos taken. I'm here every week as it's everyone's favourite spot. Personally I'm into street art, architecture and derelict buildings, but hey.. that's just me. I've tried a number of years to get people to shoot in alleyways, but I've only tricked five people so far – ha! I will be sharing a set from a more urban setting soon.
When parents choose a location or ask for suggestions, I always just tell them to pick someplace that's meaningful or someplace that is their vibe. To me, location doesn't matter as much as the dynamic of the family themselves. My photos from session-to-session are always driven by the family. It's all about the light and the personality and even the outfits chosen. For a set that includes a more flowy, peaceful and less energetic vibe, have a look at this LINK. Same location and also at sunset, but it's completely different. You never know what you're going to get as a Boston Child photographer.
Boston Child Photographer
I hope you'll love the images captured by me. I have to emphasize that this session was successful because of the parents. They kept up with their child and knew how to play and adapt. It was 100% teamwork throughout the hour. Only then could I get the images I am known for. Without their help there would have been no chance for these images. I love how it captured who they were as a family unit at this time in their lives. I have no idea how they keep up with him 24/7 but kudos to them. Please enjoy their images!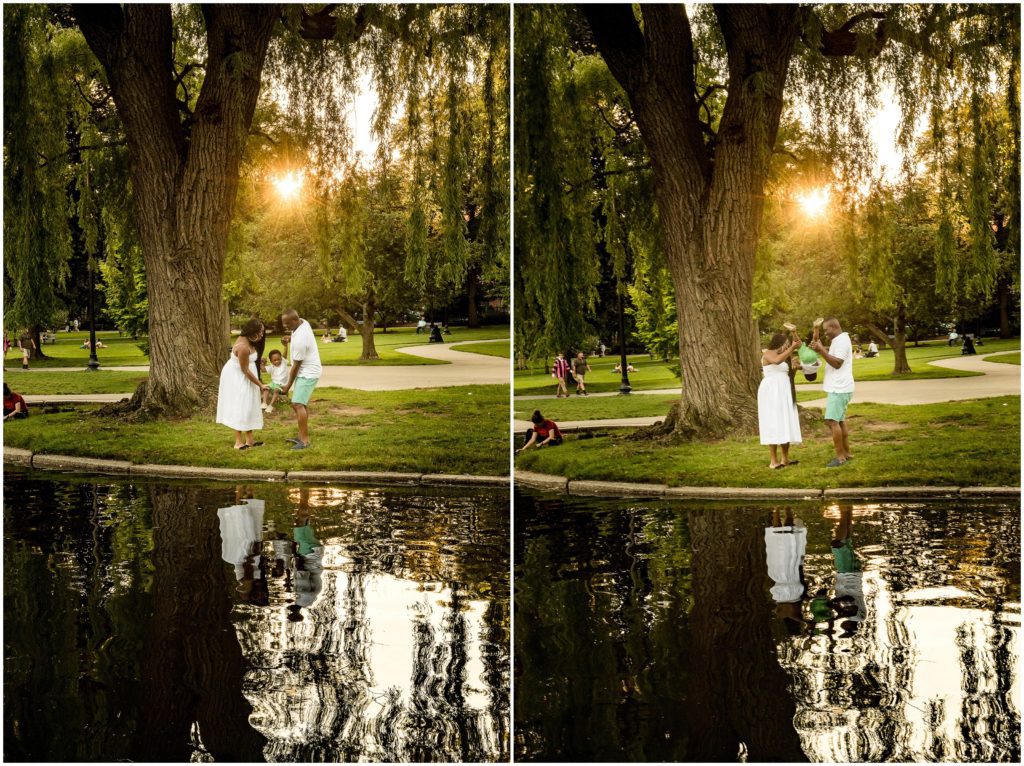 Magic Light
Favourite Family Photo
So it turns out the hero images for this set all happened in the last 15 seconds of the session when I think we FINALLY tired him out. Let's say I slept well that night (and every night since I photograph toddlers almost every day). I never know when the moment will happen but I will be forever thankful for the trust these parents placed on me to capture their son in all his glory for his second birthday. They found me through a friend that also had an energetic toddler and knew that I was able to capture her light and energy. It's definitely a skill to think fast on your feet with composition, camera settings and directing.
I love the make posts on sessions with a teaching angle so you can see the many variables I'm often presented. I don't share only those peaceful, happy, posed sessions because those are maybe 5% of my sessions. It is best to share what sets me apart from the rest. So much goes into being a Boston Child photographer.
If you would like more information on booking a session with me, please check my pricing page and contact page.
Parking at the Gardens
Please note that parking is hard to come by near the gardens. The best bet is to arrive 20 minutes early and look for street parking, or underground parking. Please know sometimes the entrance is tricky (it's on the right on a one way) so if you miss it, allow 7 minutes to circle the garden for another attempt. Once you're underground it still takes about 10 minutes to walk out of the garage. The link to the Boston Commons Parking garage is HERE.