As a Canadian, winter is just such a huge part of our lives. It's cold for almost half the year. I love how beautiful the winter can be given the right circumstances. I get the question every year about how to prepare for a winter photo session. These are some of my tips for making winter work for our photo session together.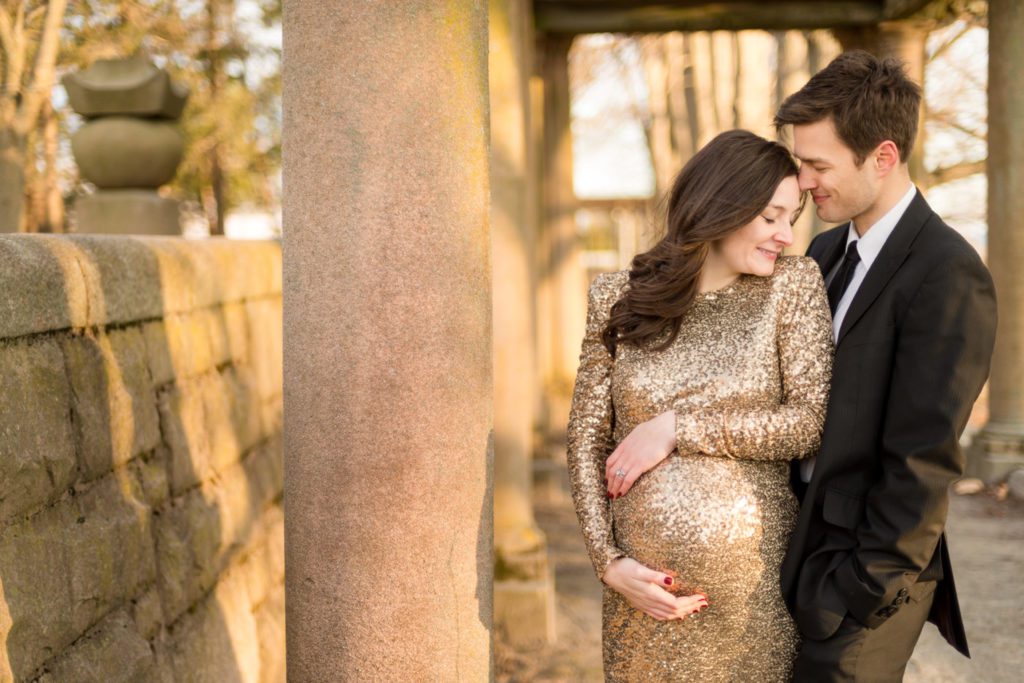 Preparing outfits
Outfits are a huge part of planning for a winter session. The main thing to consider is warmth. How warm do you want to be during your session vs how close you want to come to creating a vision you see in your mind. Being practical and honest with oneself is very important right off the bat.
If there are children involved in the session, warmth is paramount. If you know your child hates the cold, there's no point in dressing them in something cute you saw on a website that dresses children for Southern California "winters". We live in the Northeast. It can get very cold. If your child ignores the cold, then feel free to dress them how you like. But be realistic. Having happy, cooperative kids trumps cute outfits any day.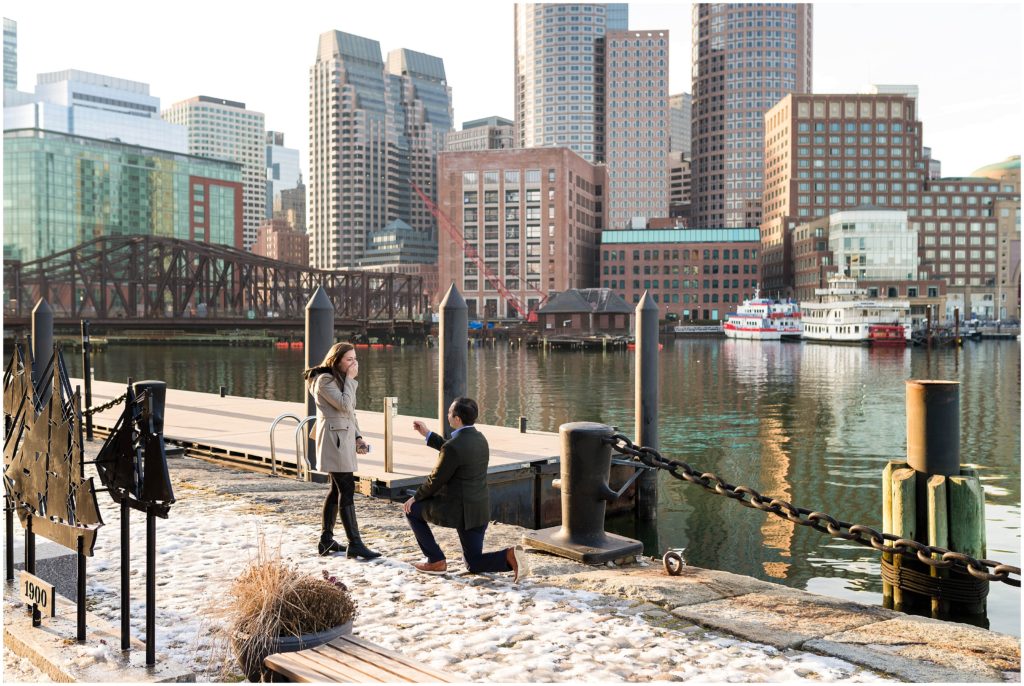 For adults, you have a bit of leeway. Adults can pretend to be happy and warm (at least for a little while). I can be a great actress for some great photos but I'm pretty sensitive to cold. I've learned the key to warmth is layers. When preparing for a winter photo session, I recommend long underwear. It's a great way to keep your core temperature up, without adding too much bulk. Some great value pieces I've found are at UNIQLO for mens' and for womens'. For under $30 a piece, you can get some great winter warmth that will last past this photo session and keep you toasty for the slopes as well. I have both the tops and the leggings. When you layer a chunky sweater over this and even a wool coat, you'll stay relatively warm.
Coat Suggestions for winter sessions
Depending on your personal style, things to consider when shopping for a coat are: 1) what colours photograph well 2) what's the 'line' I'm aiming for / style I'm trying to communicate to best match the location I've picked.
Pro tip: Go to your favourite retailers' websites and storefront displays – they will often teach you how to style the outfits from head to toe. If you aren't good with style, trust the experts that get paid the big bucks. Don't get creative by going piecemeal from different suppliers if you don't know how to mix and match.
Location of photo session: City/urban/architecture
The best coats for an urban landscape are thinner wool-type coats. The straight lines work well with the surrounding architecture. They look chic and blend in well. Go with neutral colours (such as camel, or black). Or if you are a risk-taker and want to stand out against the architecture, feel free to go bold red. One of my favourite brands is Club Monaco.
If you want to go bold, you can do that both with the colour choice, as well as the coat style itself. I love military style coats, or something fun like a dramatic bow, hood, or cape.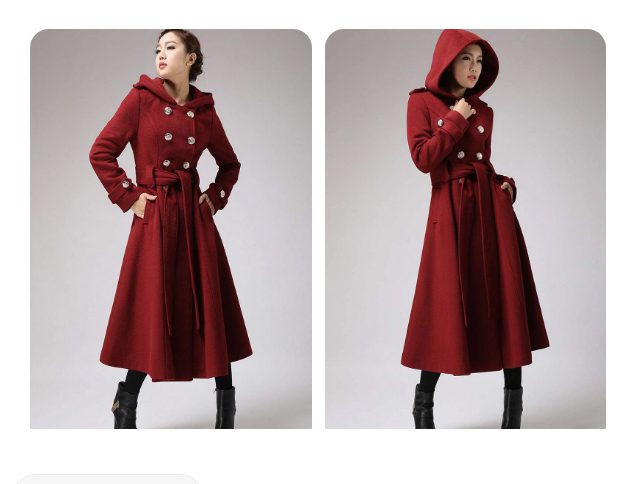 One of my brides for a winter elopement wore this bold and dreamy cape. Her now-husband said it reminded him of Narnia. It was practical and beautiful. The most important thing is that it has to fit your personality.
If you want to go for the puffer jacket look in the city, it can definitely work. Just look for texture to make it really pop, such as this slick option:
The ideas are endless. These are just some that popped into my head when planning this outfit planning resource. If you have any questions, feel free to just reach out!
Location of photo session: The great outdoors, nature, elopement, adventure
When you're hiking, you are generally more laid-back and casual. This is when you can think about exposing layers of sweaters, wearing puffy jackets and working in giant mittens and hats.
It's all about the layering with this look. Chunky sweaters, coats that are unzipped but chunky so you can play in the snow and just roughhouse. Warm but mobile is the name of the game. Colours should also be inspired by nature. Don't wear something you wouldn't naturally see in the forests (ie DO NOT go ski-jacket neon).

Sweater layers
I love sweaters, however sweaters hate me. I tend to avoid wool as a result, and opt for cotton, but if you can rock the wool this is where you can introduce lots of fun textures to your outfit. Acrylic is a cheaper option if you want that textured look, but can't afford wool. For me, texture is everything when it comes to a sweater. Don't opt for something like a thin cashmere that just hangs on you. It's not flattering on anyone except for the thinnest of supermodels. Chunks hide all of our rolls and soft parts as well as the thermal underwear I suggested you layer underneath.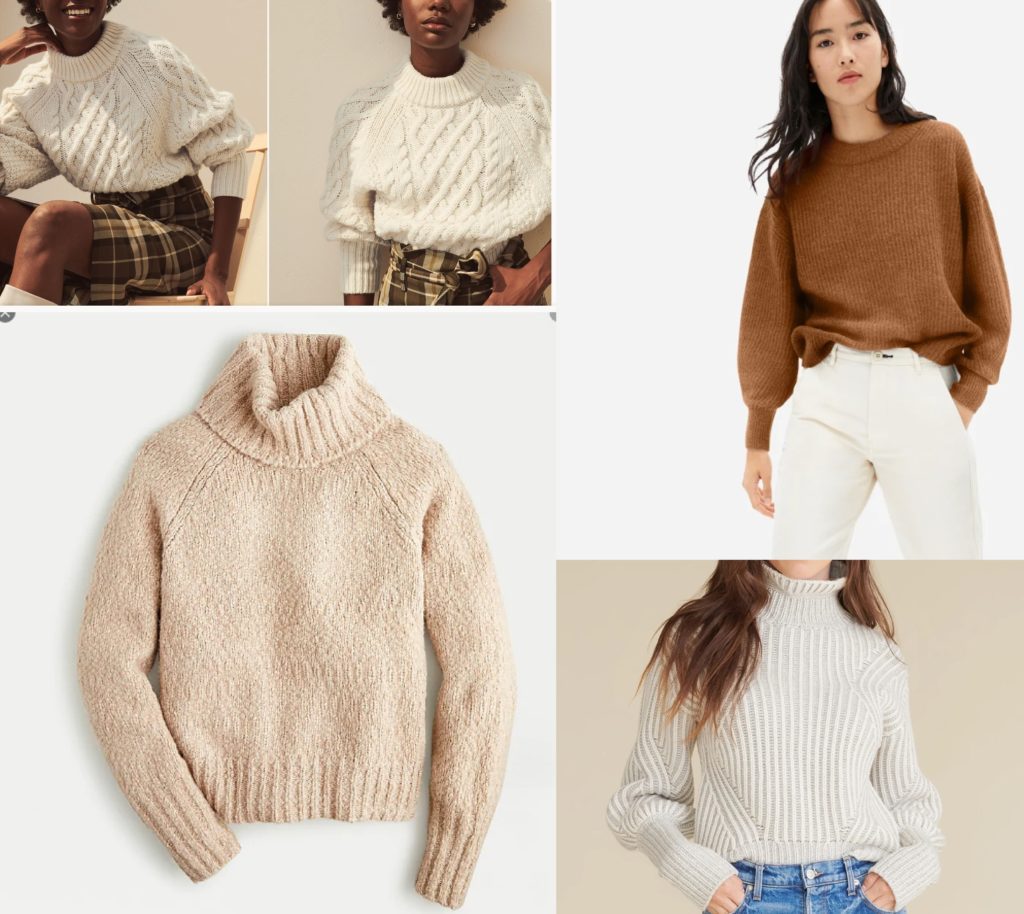 Accessories to consider
Urban Location:
A thin wool or leather/vegan gloves, hair wrap/wool cap.
Escape Session
Chunky mitts and beanie hats
A warm blanket
Wrap yourself up in a warm layer, but also include it as a prop for the session. It'll be great for piggyback rides, hugs, lying down and more.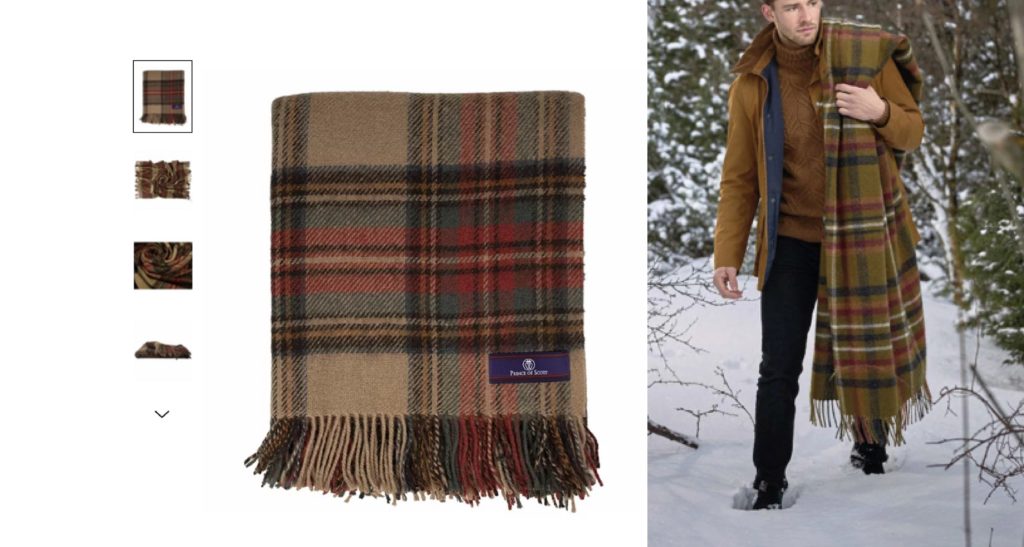 Practical footwear for your winter session
You want to be warm. When the snow is deep, consider if these will just cover your shoes all together. Be practical. It won't make sense to wear stilettos in the forest covered in snow. I also don't want anyone to injure themselves. Being mobile allows you to play in the snow, pose, walk and adapt to changing terrain. I always recommend winter boots/ hiking boots. If you have a long dress, it'll be covered anyway or buried in the snow.
Outfits for babies
Is it just me, or do I love babies in mini-versions of adult clothing. Or perhaps dressed up in those snowsuits that make them look like little bears? The main thing to consider when dressing kids is to make sure their faces show (ie not covered by outfits that they are swimming in/will eat constantly), and to avoid pastel or neon colours. Neutral is always best (creams, whites, browns, navy blues, etc).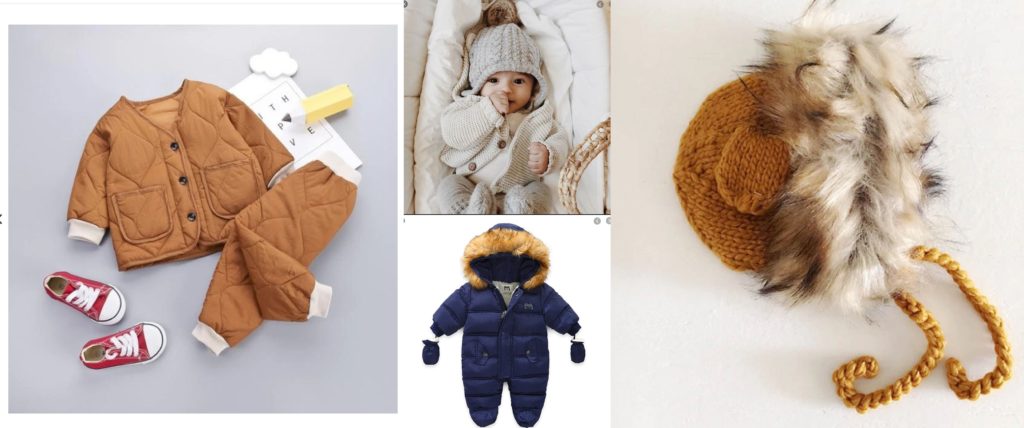 Winter outfit planning strategy overview
To prepare for a winter photo session, the main thing to keep in mind is that your outfits should always communicate intention. Every piece you wear needs to make sense from head to toe. Do not just add accessories for the sake of adding accessories. Less is more. Keep colours exact and complementary. Whites are not all made the same. Polish is in the details.
Head to my Pinterest account for outfit ideas for your winter photo session
How to prepare for a snow session
So I've been getting this request a lot recently. Snow is absolutely STUNNING, but it introduces a whole host of logistical issues.
Timing of your winter snow session
First of all, snow is only pretty when it's freshly fallen. If you're in the city, you have to do the shoot when it's actively falling, or first thing in the morning before people trample the snow, the cars run over it and dogs pee all over it. Yellow snow does not evoke feelings of romance in my opinion. So you have to be flexible with your schedule. When planning your winter photo session, think if you want an urban look or a nature-y look. Snow allows dead trees to come alive again for one final session. Snow makes everything magical.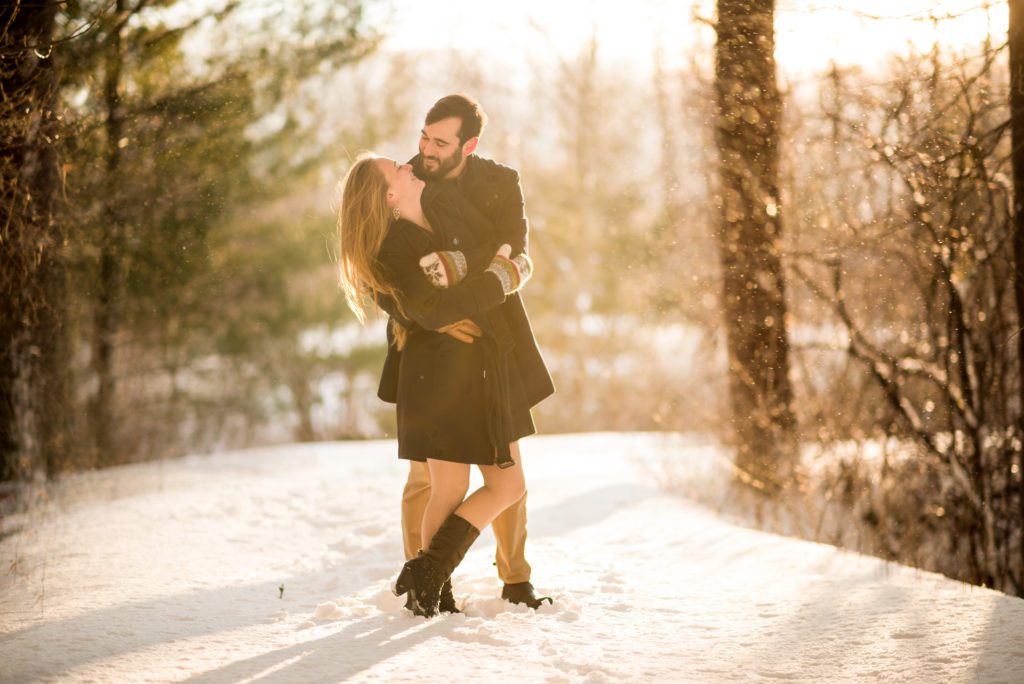 Light is another consideration with snow sessions. The above photo was taken when it had snowed previously but it was a clear day with sun streaming through. Oftentimes snow comes with overcast lighting. This makes it difficult to plan an exact time to start our session. I generally love sunset and sunrise sessions for outdoor photography, but if it's overcast, I need the extra light to make your skin-tones flattering. So we need to start about 1-2 hours after sunrise/before sunset.
If it's overcast, the light will be flatter and it won't have that golden look. But don't fret, it'll still look breathtaking. Below is an example of a session that took place at around 8:30am start time.

When to start checking the forecast for your winter session
So everyone asks me when to have the session and the true answer is I have no idea. Forecasts are notoriously inaccurate. When there is a large weather system moving in, those tend to be more accurate. I usually have a 3-5 day advance notice if a nor'easter is coming to town. This will give us enough time to get in touch and finalize details. This means you need your outfits ahead of time and locations determined. Contracts already need to have been signed before I even consider planning logistics and being on-call. If you wait to the last minute, it will only lead to failure. I cannot stress preparedness enough. When it's a normal snow system, you might get 1-2 days notice. Then it becomes a waiting game.
Fresh Falling Snow
With snow, fresh falling snow only looks pretty when there are large chunks coming down. High winds and small particles of snow look terrible and you'll just be fighting your hair the whole time. This is the trickiest condition to plan for (actively snowing conditions). This is an 'on-call' situation. This means you just have to be ready to go when this happens. I don't mind being on call but that means you have to be available at a moment's notice as well. Good snow conditions can change by the minute. We can check the cloud/storm system via radar and the forecasted wind conditions to make sure the variables are lined up for us. I cannot obviously guarantee pretty snowfall. If we go for it, we go for it. I'll always just do my best to make it work.
The Day After Snowfall
The more practical session is the day after a big storm. This way the ground is covered, but we don't have to plan for the falling snow aesthetic. This means an early morning session, or we head to the middle of nowhere/non-urban location where there isn't a lot of foot traffic and hope for the best and a later afternoon session.
If you have a good backyard with pretty backgrounds in all directions, then this will work all times of the day. Just don't trample it too much by letting the dog out before the session. If this is your plan, please send me photos of your yard ahead of time taken during daylight (either before 9am or after 2pm). High-noon photos tell me nothing about the direction of night. Also, sending photos taken from another time of the year also is not helpful as your greenery won't look the same in summer as it does in the winter. All of these will help me prepare for a winter photo session.
Other things to consider for your winter photo session
Hand Warmers
Hand and foot warmers are lifesavers for me when I hit the slopes. I also jam them into my pockets and mittens when headed out for photo sessions. I got a box on Amazon, but you can find them at local outdoor retailers too like REI
Invest in Hair and Makeup for your winter photo session
If you wear makeup normally, invest in hair and makeup as it makes a world of difference in the final product looking polished. Just like how you could ask uncle Bob to take your engagement photos, you've decided to hire a professional to take your photos instead. Professionals elevate the everyday and that goes for makeup and hair artists as well. There are apps where artists can come to you (like Glamsquad), or head to a trusted makeup counter. In times of COVID-19, I would hesitate to recommend going to the mall unless they have sanitation procedures in place. If you're doing your own hair and makeup, study the masters on youtube.
When planning for shooting in snow/winter conditions, light is very harsh in the winter sometimes. The snow reflects light back onto your face (which is lovely- but washes you out). So the main thing to consider for makeup is definition. Make sure you have a strong brow and lash-line. These will define your features. I personally don't have any brows/eyelashes so this is always my main concern. Play up your best features – just know that the snow will mute shadows/contouring. Another thing to note is waterproof mascara. When it gets cold and the wind whips, you don't want to tear up and look like a streaked raccoon.
Traffic, car and road conditions
Snow will bring yucky snow conditions and if you have street parking like me, you'll have to consider snow emergency parking and shoveling the snow off your car. All of this takes extra time. If you don't plan a buffer for these extra tasks, you will be late for the session. I cannot emphasize how much planning is needed for a snow session. Do not speed in snow goes without saying so you want to plan to get there with time to spare.
Being realistic
As long as you are realistic with what can be accomplished outdoors, in deep snow while you are frozen, you'll be so happy with the results. Before the session, it's best to organize some ideas of your goals and we can figure out if they're realistic given the location choice and amount of time in the location. Just know that you will be slower trekking in the snow. You will have a shorter window of comfort because of the cold. Things will not look necessarily like how you envision unless you scope it out before the session. Snow can be deep, it can be soft, it can be frozen over. We won't know until we get there and the snow has fallen.
Sample Galleries of winter photoshoots
Have a look at some sample galleries to inspire you for your outdoor winter session in the Boston area:
Boston Winter Maternity Photoshoot
Boston Winter Proposal Session
Boston Winter Engagement Session in the snow
I'll be adding more galleries here once they're uploaded. If you have any questions, never hesitate to reach out.