Fall Foliage Family Photographer
Fall is the craziest time if you're a Boston family photographer. If you are interested in a fall foliage family session please reach out in August to get on my waitlist. Even though I only open my sessions 1.5 months in advance of the month you are looking for, I open sessions to my waitlist and Baby 1 Year package families first. I am often booked up and have to turn away families so please plan accordingly. If not this year hopefully another year we can work together to create some beautiful fall family images with Boston as a backdrop!
Why Larz Anderson Park?
Classic Larz Anderson Park has always been a favourite of mine. You get a lovely mix of gorgeous fall foliage, natural green space, architectural elements (well, just one really – and it's always packed) and beautiful water. There's always a lot to fall back on in case one spot is being used by another photographer/family.
As a family photographer, I can assess the location's potential within seconds. I can move my families quickly in case someone comes into our background, or if a popular spot is being used. My clients trust me when I move them around and direct them to new spots. I just ask my families to be flexible too. It's about your beautiful family and the interactions between you guys rather than the background anyway! This is what I specialize in for my style of family photography. There is a link to some more family sessions at Larz at the end of this blog post.
The Wardrobe Choices
I provide tips for all of my clients in terms of the wardrobe in case they are struggling, but I never really give guidance to this stylish and fabulous mom. She did an unexpected rose pop of colour in her skirt to tie into the children's boots and I was tickled pink ( couldn't resist). The emerald sweater of the dad was perfectly contrasted to their outfits. All this while maintaining harmony with the colours of the season.
You always want your location to inspire your wardrobe and colour scheme. This is why I guide families to stay away from fluorescent colors as you will never see this in nature, nor in the city (unless we do a street art-inspired session, which I would LOVE to do). I couldn't be happier with the fall foliage during this day and also the quality of light we were getting. If you need guidance this can help (color wheel guys!).
Stormy weather
So you may be wondering why there are no other souls in the park. I like to shoot on weekdays for this particular reason. You are not fighting with a hundred other photographers for a prized location, nor are the kids being distracted by the million other kids in the vicinity. If you have kids, you know they will look everywhere if there's anything even remotely interesting off-camera.
Another thing to note is that it had been raining just minutes before and even during this session. I love how adaptable my clients are. We knew the odds of the weather and she was so flexible and wanted to just go for it. I am so pleased with how it all came together and this was only possible because I have the best clients. I give my clients the option to reschedule for rain, but sometimes the best light is just pre- or post-storm. High risks = high reward.
Larz Anderson Family Photos
Please enjoy the fall foliage family photos at Larz Anderson in Boston. If you're looking for a Boston family photographer, please reach out to me via my contact form to set up an appointment. I look forward to creating beautiful keepsake images for your family.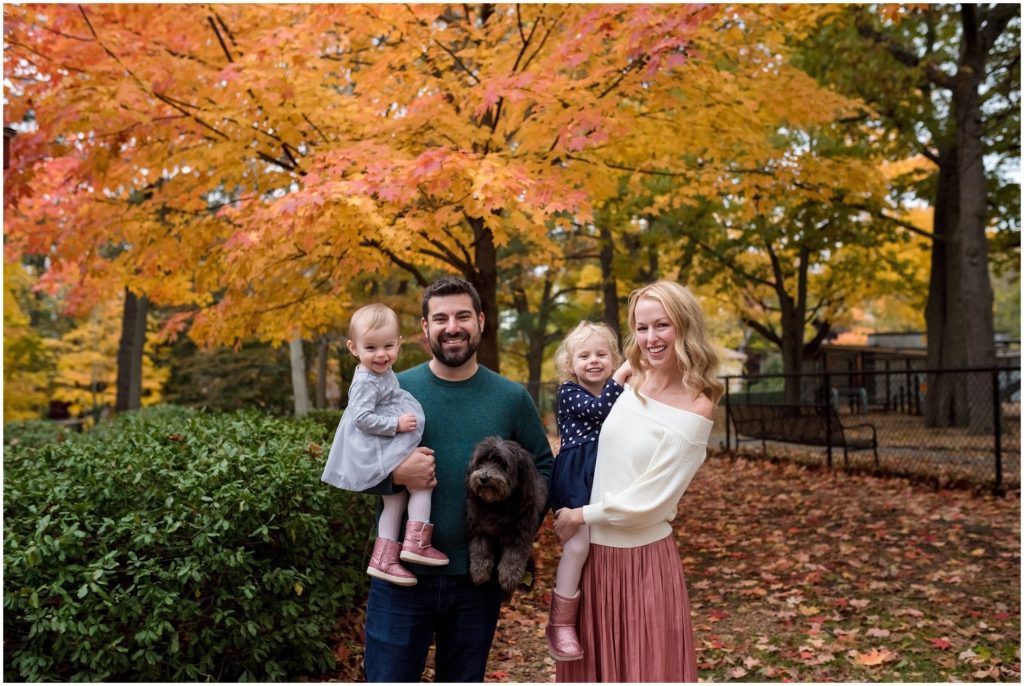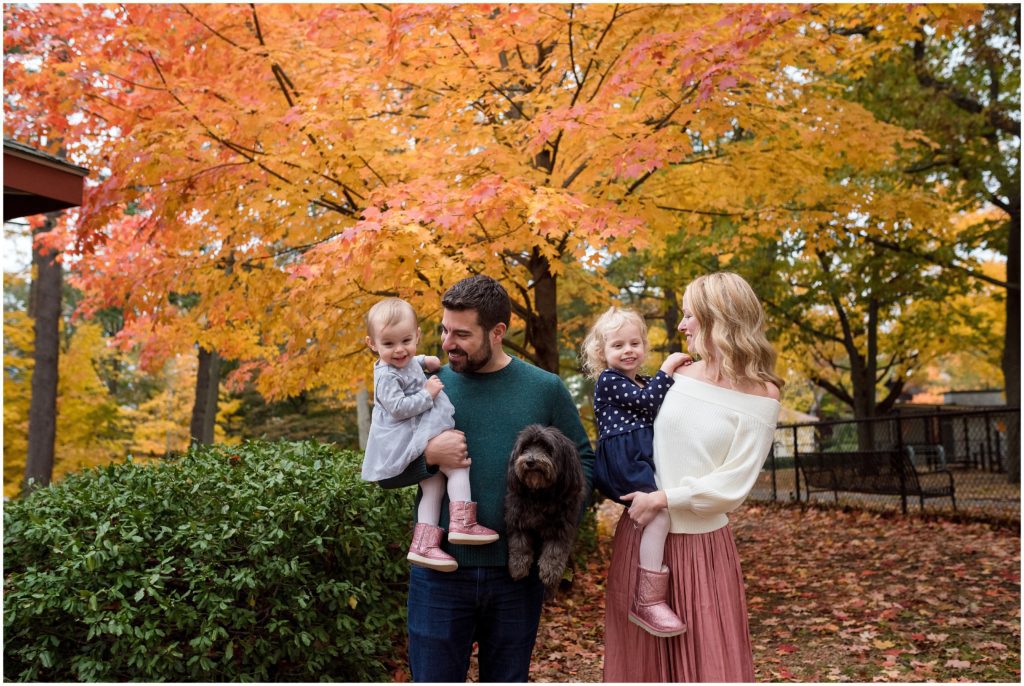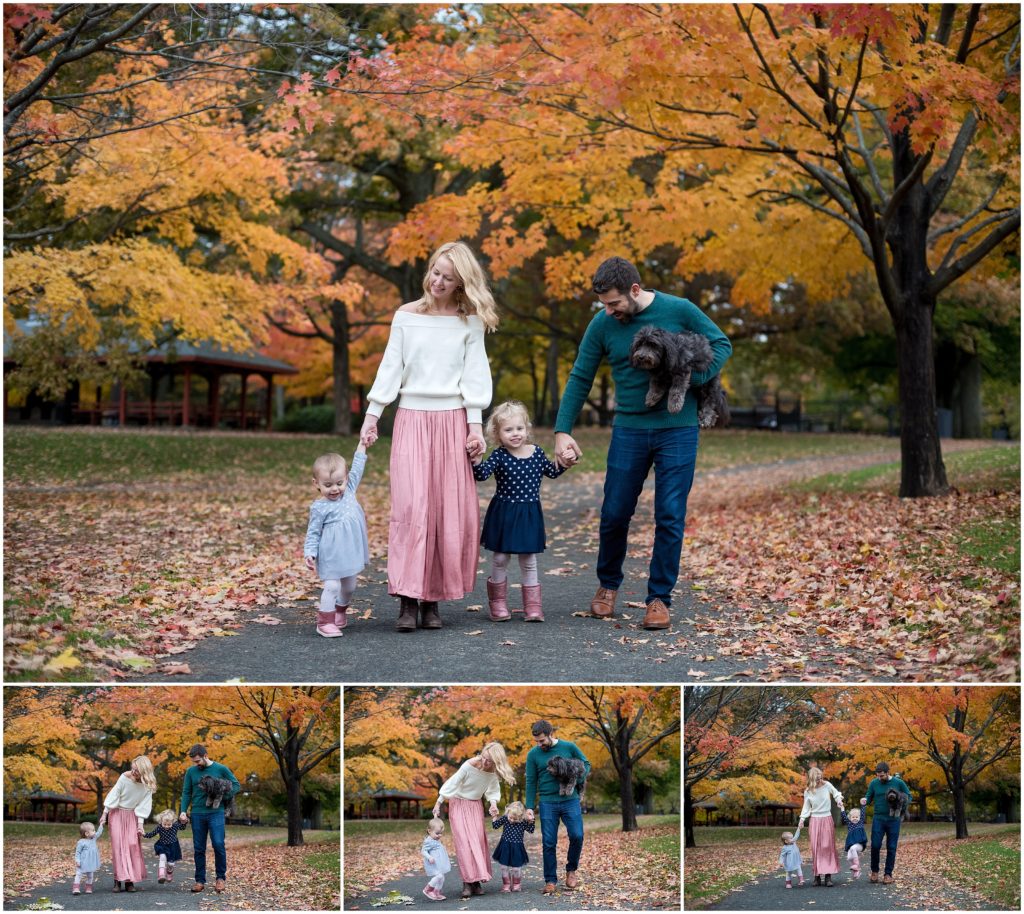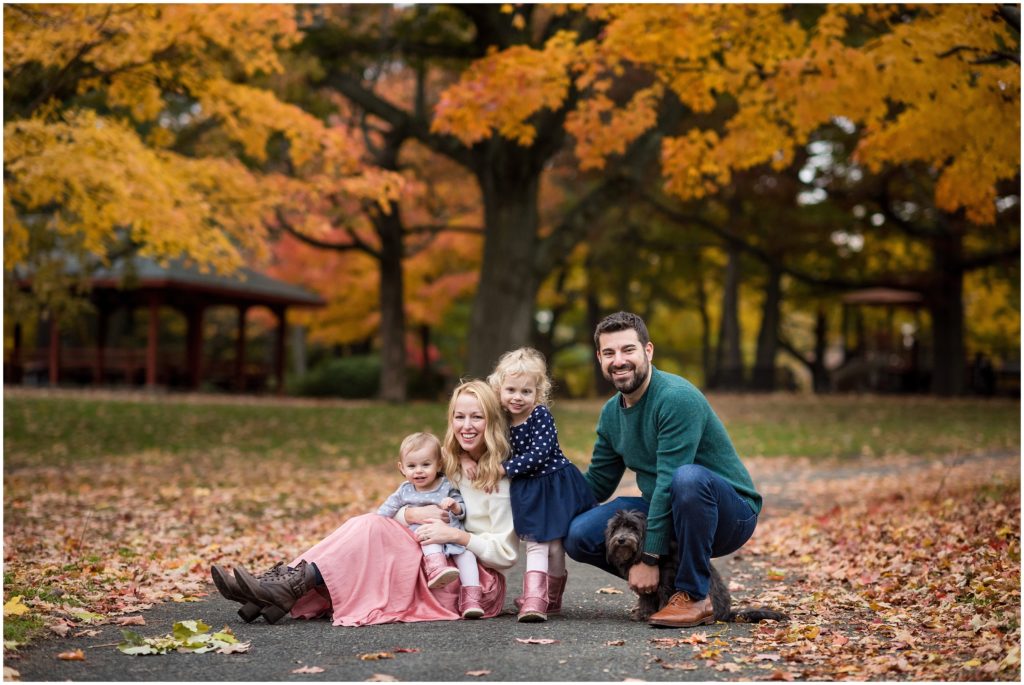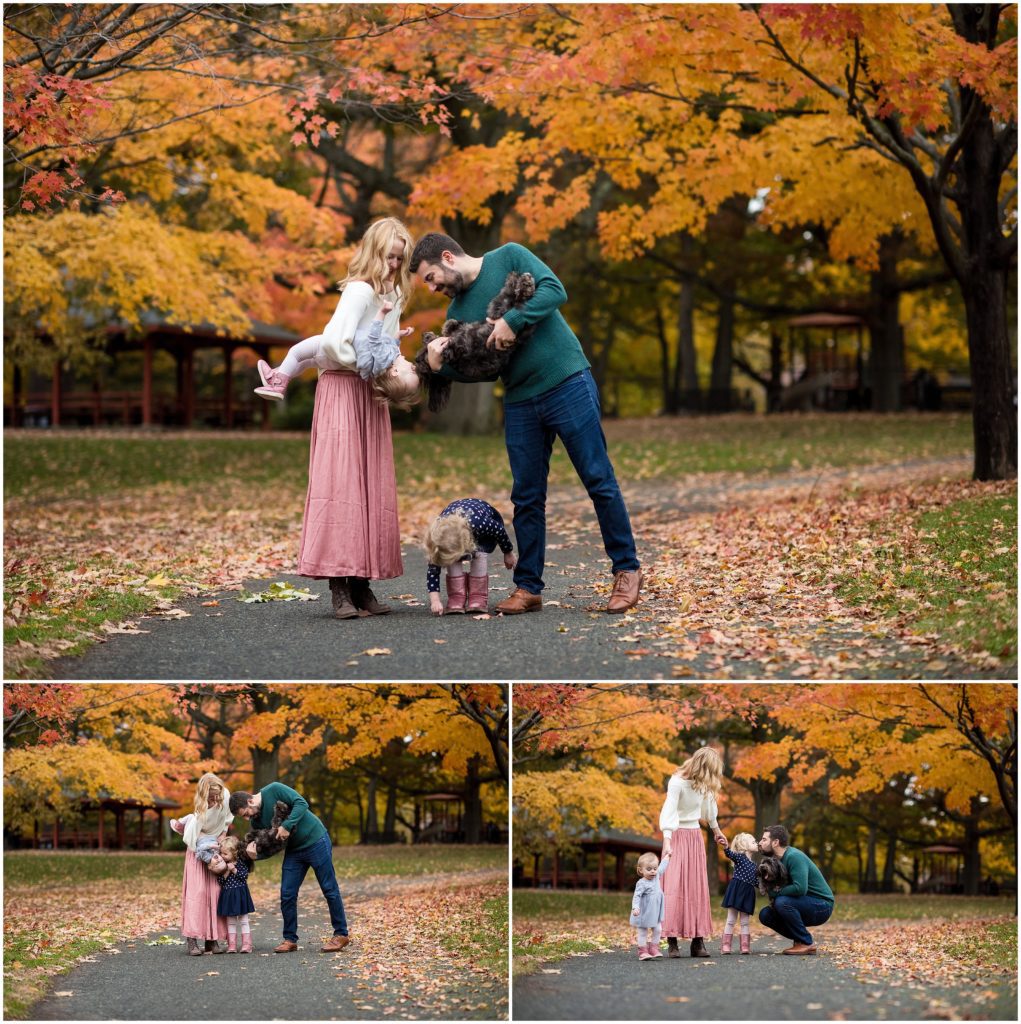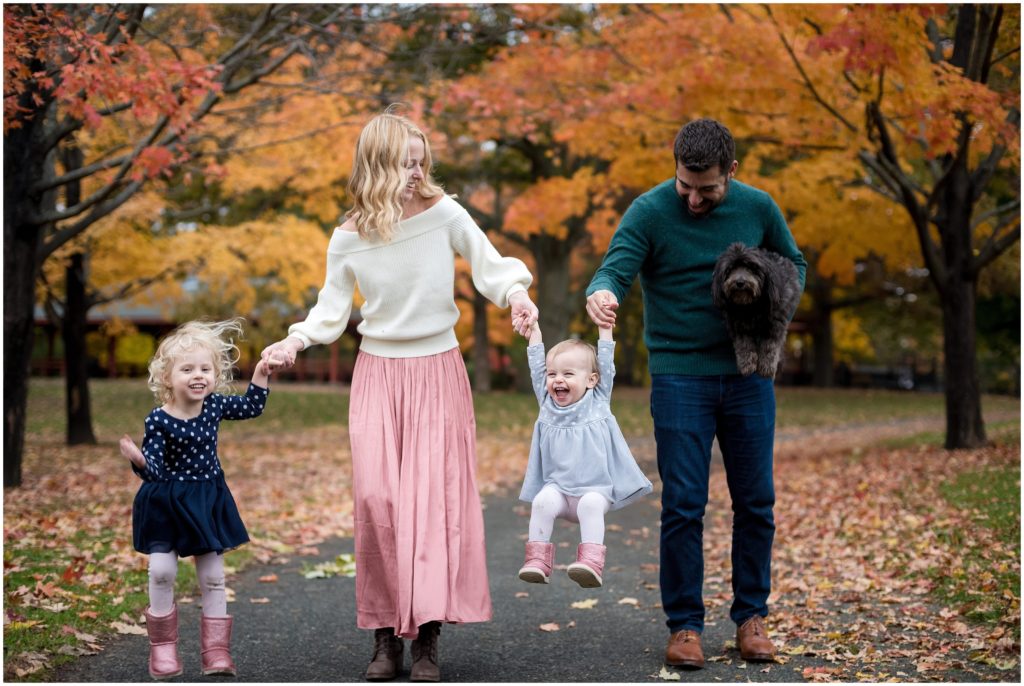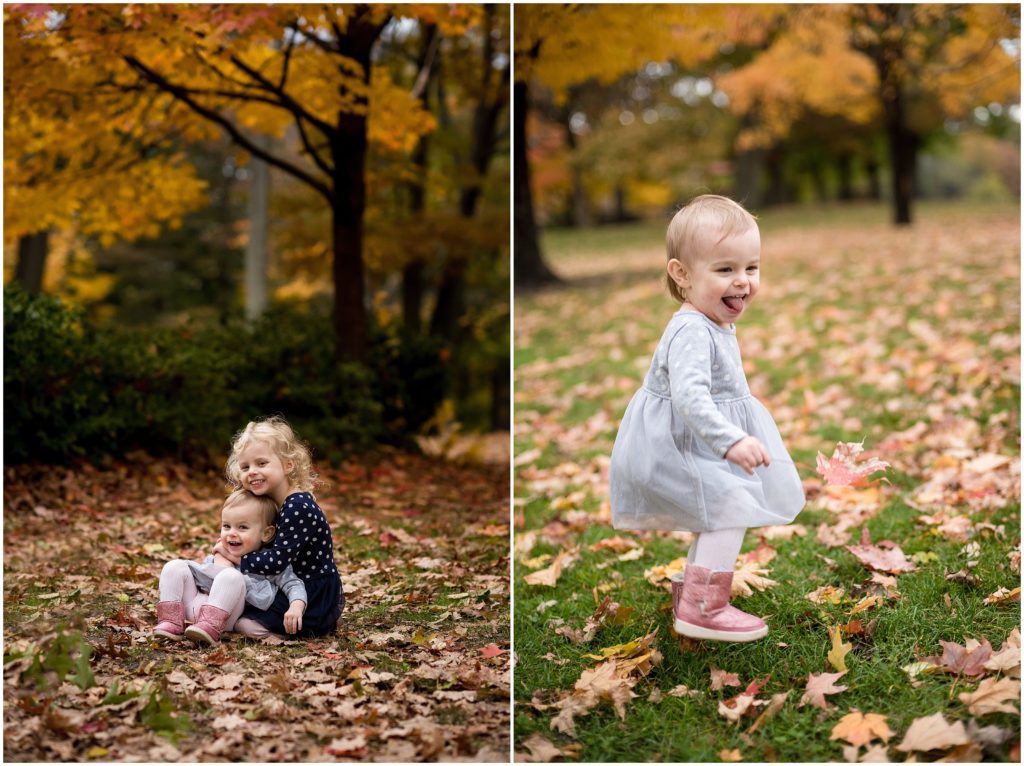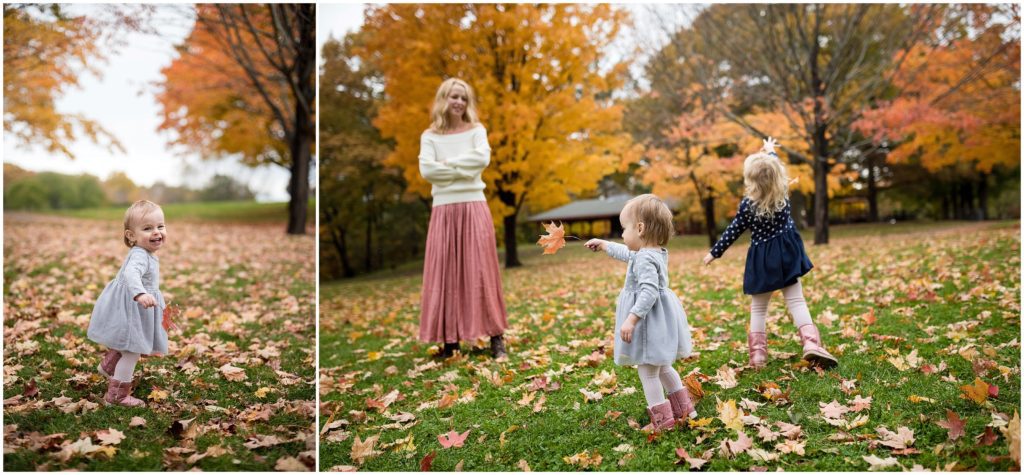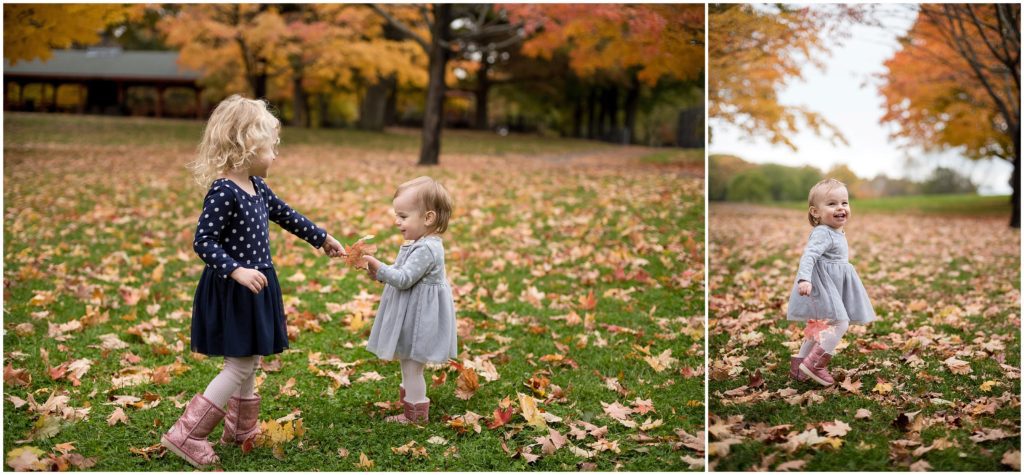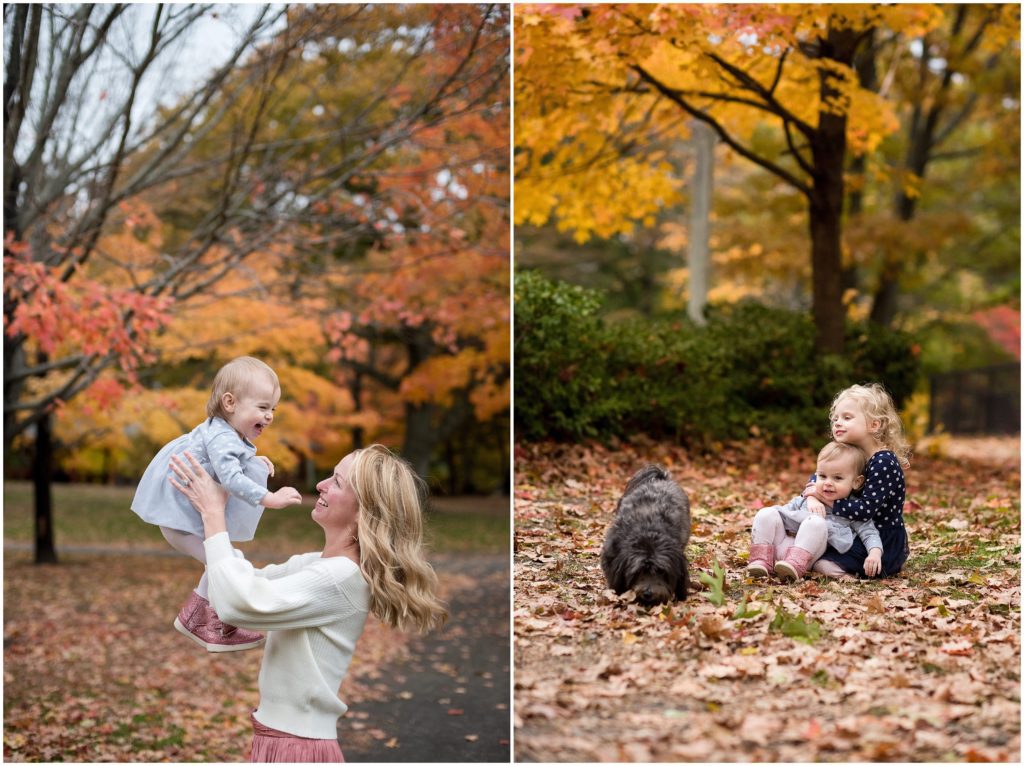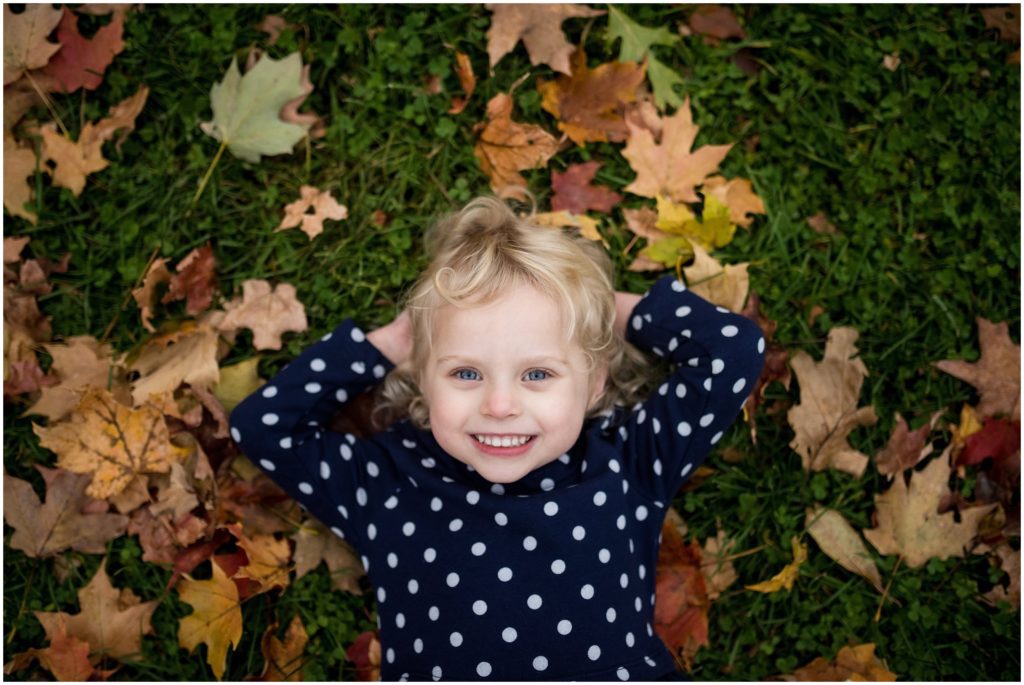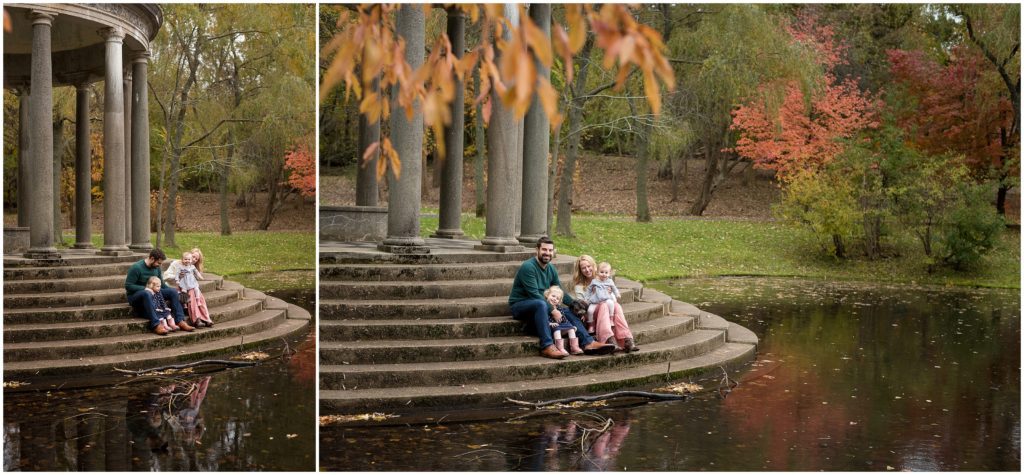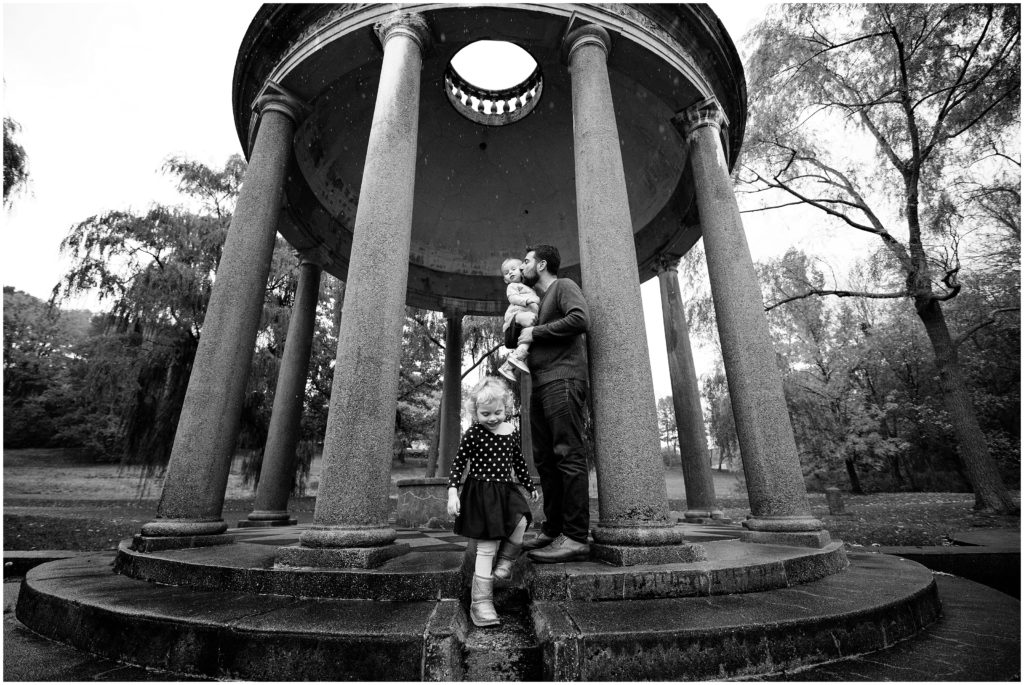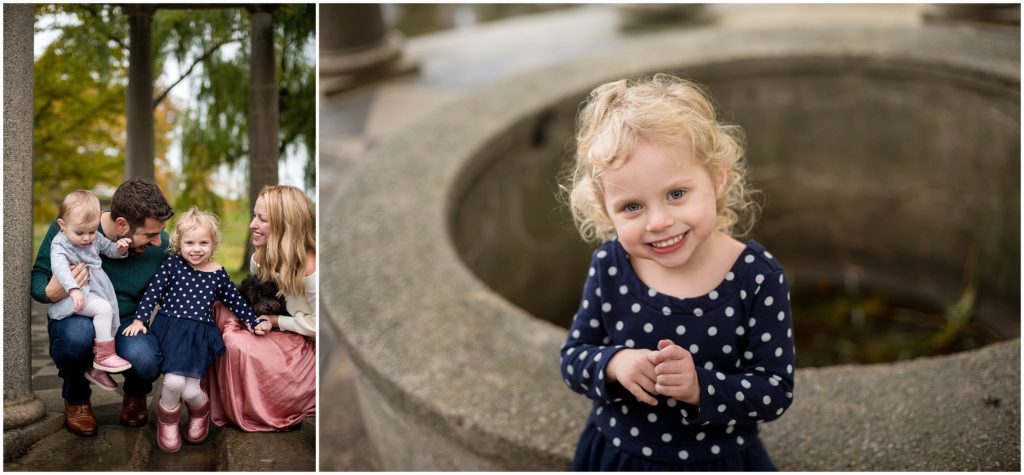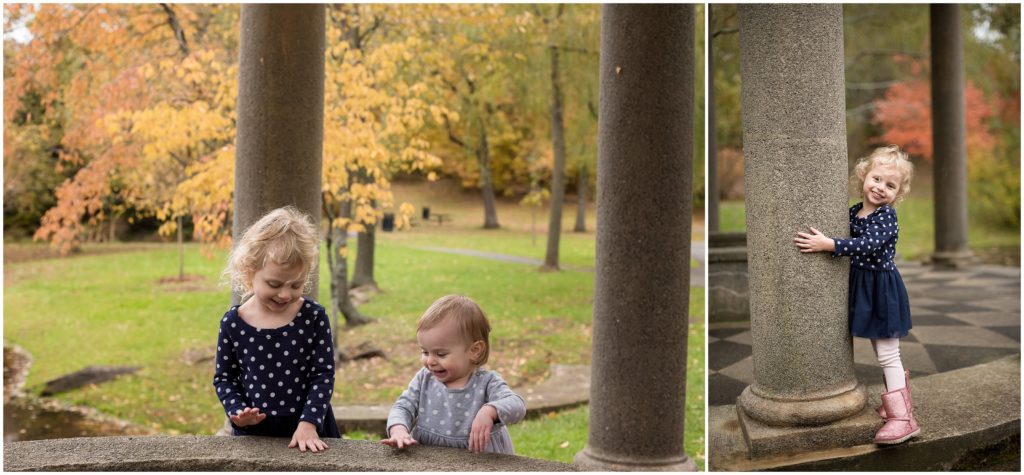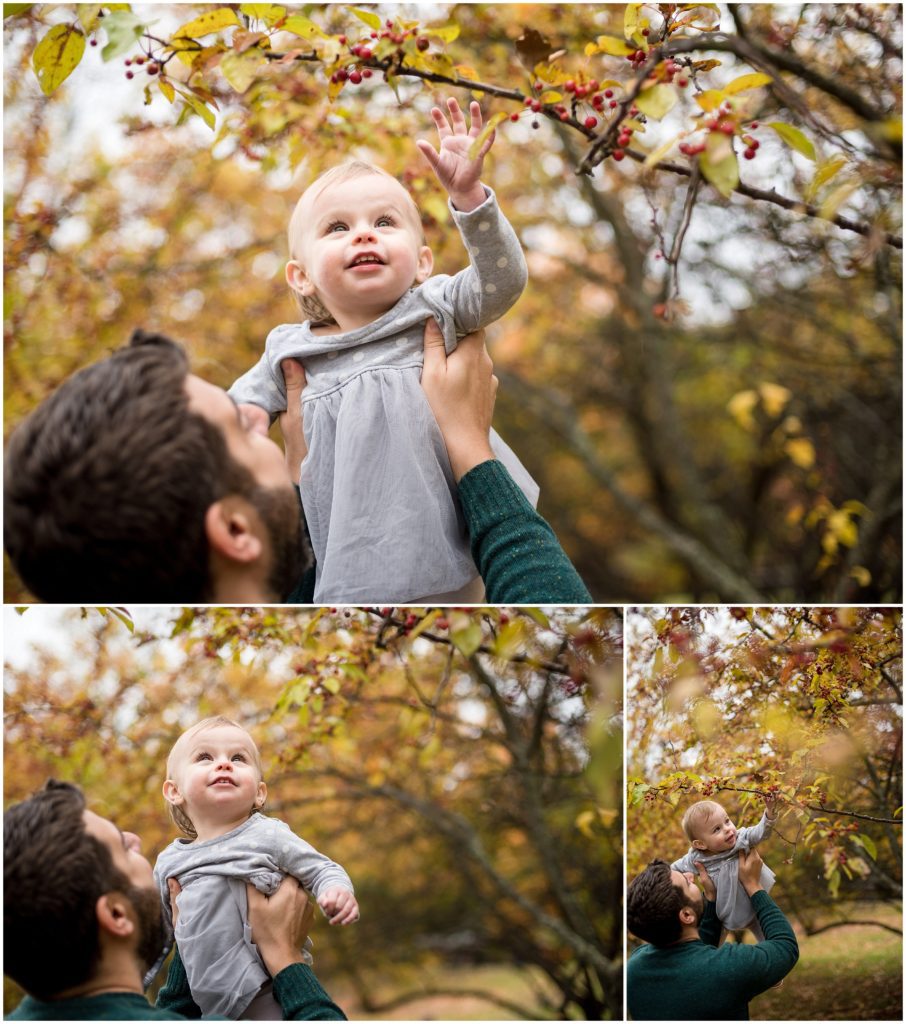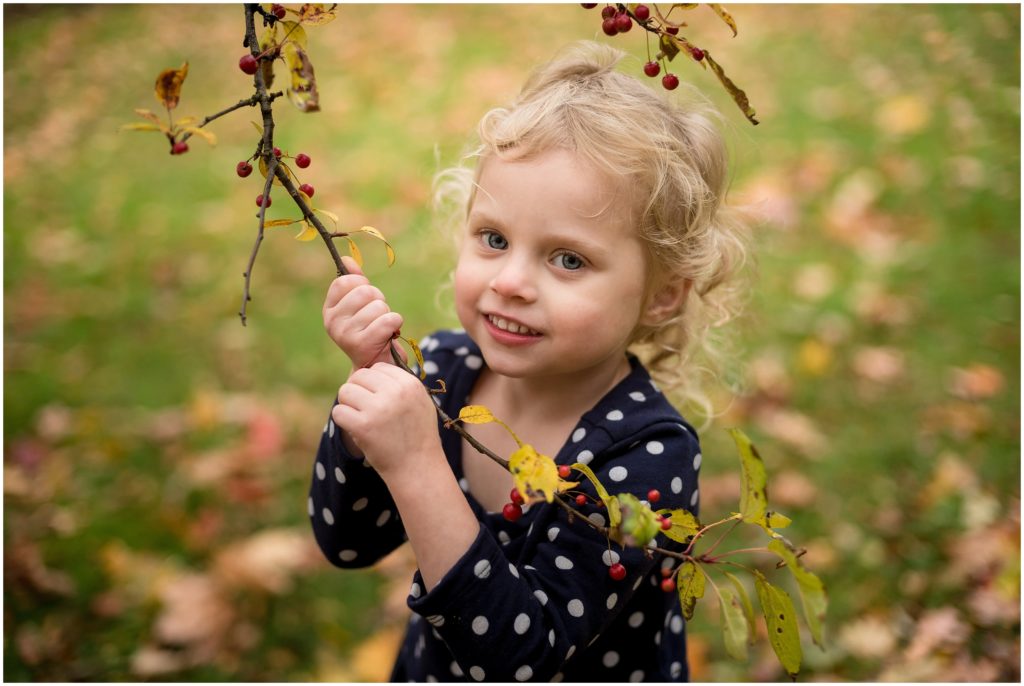 Slideshow video of Boston family Photos
Here's the slideshow of my favourite images created during this session. I hope you will love how this moment in time was captured for this family. I've seen them regularly and I am so thankful they've kept coming back each year, sometimes multiple times a year, for updated photos of their family.
Boston family photographer
When looking for a Boston Family photographer, you should consider a few factors. Make sure first of all you love their style. The style of a photographer comes in a few parts – the "look" of their photos (light and airy, dark and moody, vs natural), the "posing" of their families (classic more refined posing and styling, fun and playful, documentary and undirected), and the deliverables (a few choice images, a selection of images that tell the story of the family/session).
Another thing to consider would be the format of image delivery. I'm an all-inclusive photographer. This means that you pay one price and you get the images I've found to live up to my standard and I would be proud to showcase on my website. You can hire someone that does a sitting fee and then buy images after the fact. This can work well if you're good at editing and aren't swayed emotionally during the sales session. If you're a typical consumer, this will likely end up costing more. It's a very popular sales technique and there are photographers that are incredible with this model.
So find the best format for your family. Do your research. Ask your friends. Look up reviews. Here's a link to some reviews: Yelp, Google, Facebook, The Knot. You can also just google me. I'm 5 stars across the board for a reason.
To see another family session please click HERE
For another Larz Anderson session please click HERE
Bella Wang Photography: Boston Family Photographer