Timing of your spring photoshoot
The most important thing to consider when planning your outdoor spring photo session is determining what you want your session to look like. When helping families and couples decide, I first want to understand what they want out of the session. This means narrowing down a main them of the session. If the session is based around flowers and blossoms, then the timing of the session is paramount. Location is another important deciding factor when planning for a photoshoot. Not all flowers and landscapes are created equal. The best photo sessions don't happen by chance – they happen with planning.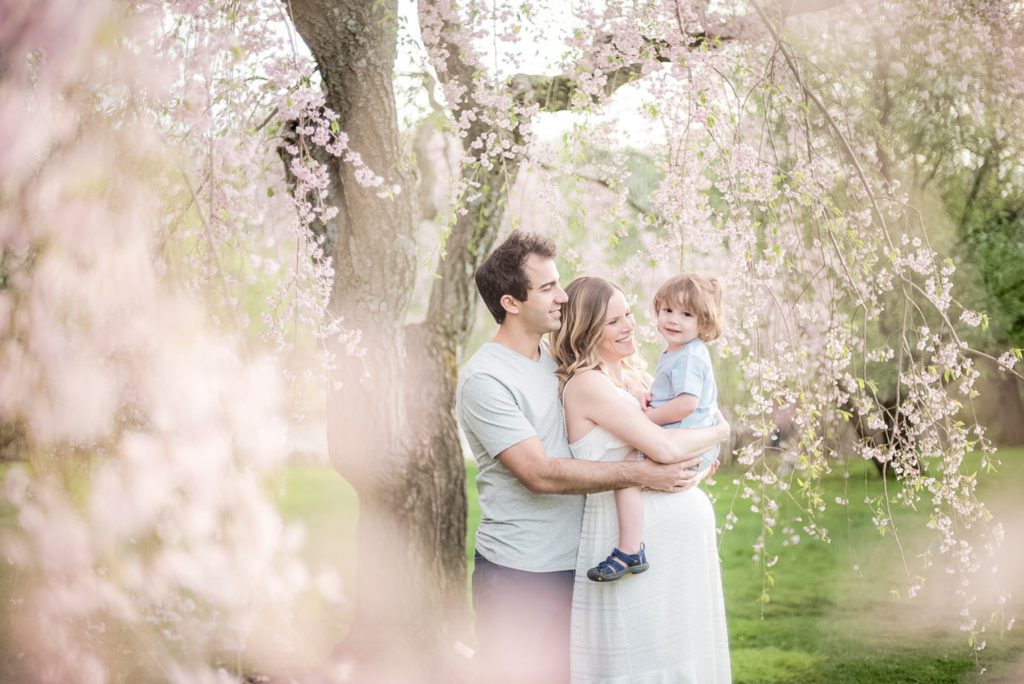 When to book your spring photo session
So many people ask me when they should book their spring session. The honest answer is that it depends.
Flowers come in many types. Some bloom earlier than others. To best understand what you want, visualize your dream outdoor photo session. What does it look like? Are there pink cherry blossoms in the trees? Is it in a manicured park with red tulips? Are the roses out? Or maybe you're more into hydrangeas or wisteria? Deciding on your bloom type will determine the timing of your spring session.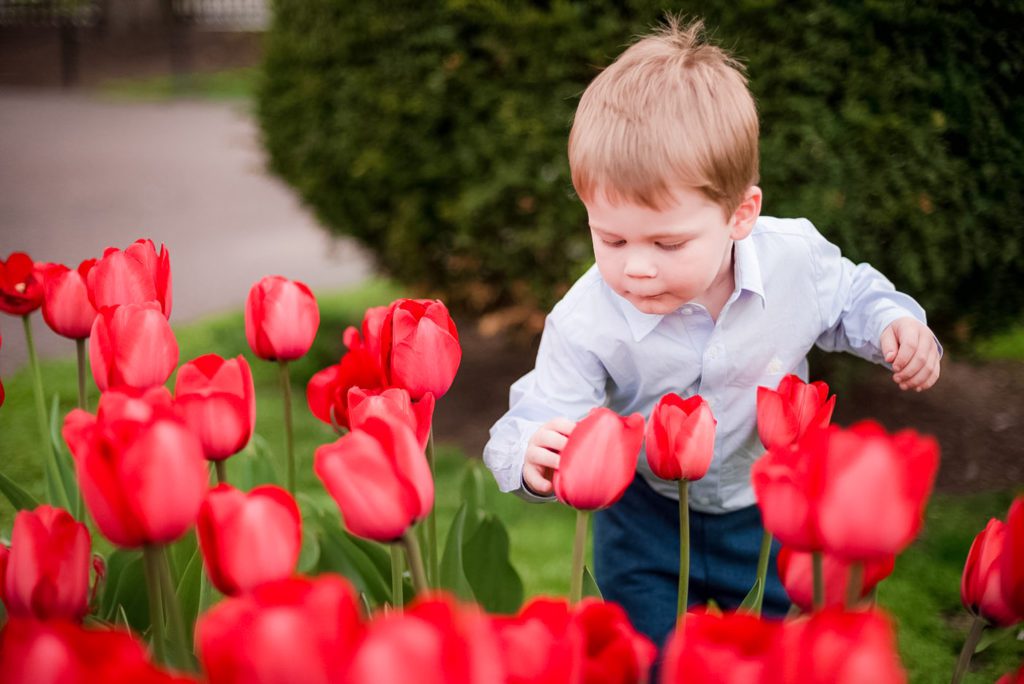 Here are some basic tips on when certain plants bloom:
Daffodils & Tulips – these are the early bloomers in the Boston area. The Boston Public Gardens usually has a landscaped exhibit of them in late March into mid-May
Cherry blossoms & Magnolias – typically blossoms bloom in Boston in late April and into early May. The season lasts for about 2 weeks. This very much depends on when the temperatures begin to warm up so it could start as early as late March if the weather becomes unseasonably warm earlier in the year. I recommend either the Arnold Arboretum or the Charles River if you want to find these blossoms.
Wisteria – typically blossom in May. You can find some beautiful specimens at the Arnold Arboretum.
Lilacs – a signature of Mother's Day. These usually blossom early to late May. There's a beautiful bunch of plants in the Lilac garden of the Arnold Arboretum
Peonies, Roses & Rhododendrons – Summer is here! These ones bloom toward the end of Spring and mark the onset of Summer. Look out for these around late May- early June.
Rainy Weather
Just know that nature is not an exact science. The main thing is to remain flexible if the blooms are important to you. An outdoor spring photo session takes place during a time when there is a lot of rain. This is something that should be planned for. I can always delay our session, but if there is no flexibility on your schedule, then it may cause you to miss the blossoms. If you don't have flexibility in your timing, then please have flexibility in your blossoms of choice. I just don't want you to be disappointed.
Weekday vs Weekend Session
I have the most flexibility in my schedule for a weekday session. Realistically, there are only a few days a year for a weekend photo session during the 3-week cherry blossom season and some of those days may have rain.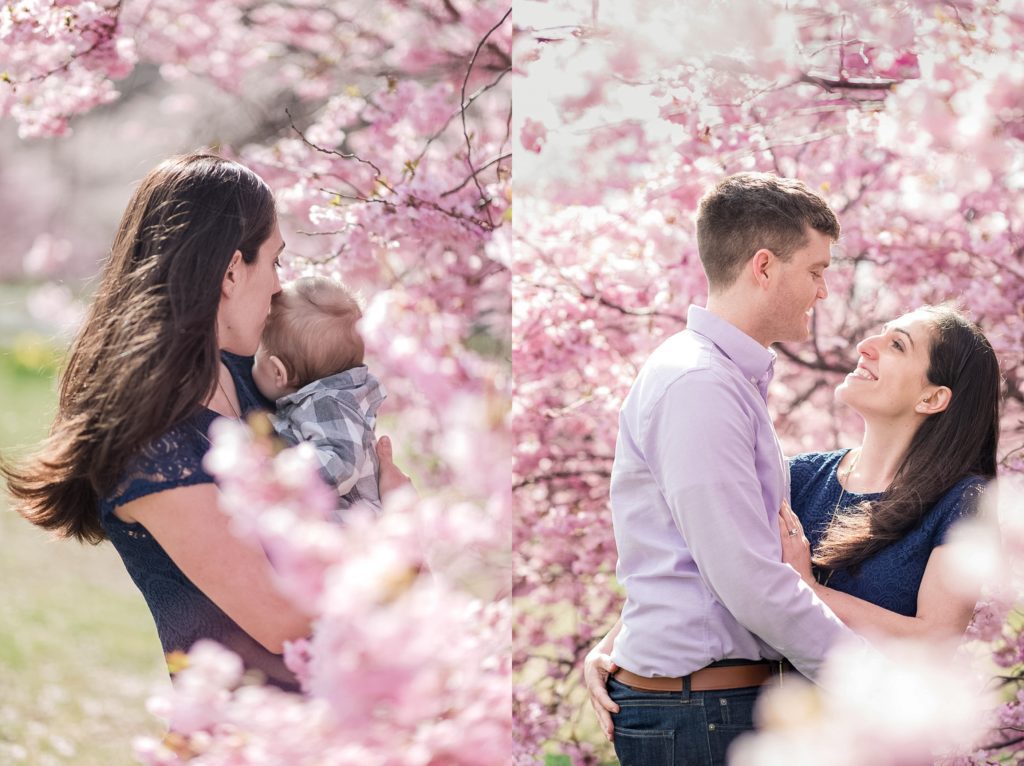 Weekends are also packed with tourists and other people enjoying the warm weather after the miserable winter we typically have in Boston. If you're planning on a session at the Charles River, just know that it is a very popular biking and jogging route. If you're looking for the Arnold Arboretum, there is limited parking at the park on weekends and it's always packed. People often picnic under the beautiful cherry trees so if you want the trees to be void of people, a weekday is your best bet.
If there are a tonne of people around, you might also get self-conscious. Or your child may be distracted by the many people around. Given that COVID is still a big concern in 2021, crowds are something I want to avoid.
I'm trying to be as communicative as possible so that we have the best chances for the best photoshoot possible!
Engagement sessions for save the dates
This is a popular time of year for save the date photos and engagement sessions. Use your session to communicate your sense of fashion and style! Turnaround for my images is typically 2-3 weeks. Engagement sessions are included as a complimentary sign-on bonus for my couples so that I can coach you on posing before your big day.
Doing the session at home in your backyard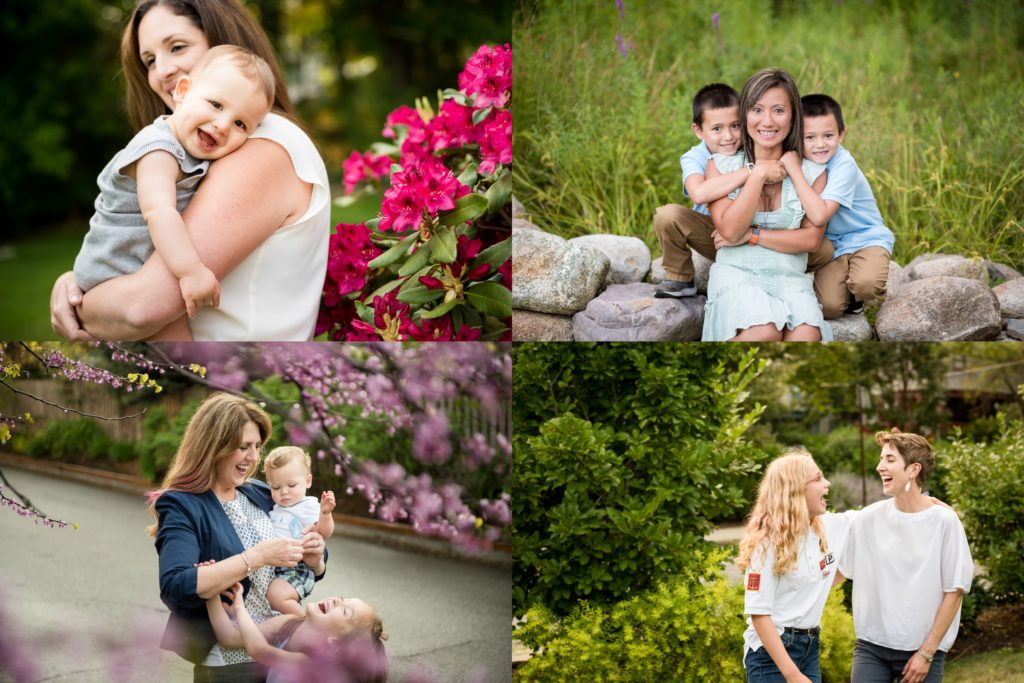 To avoid crowds all together or for an outdoor newborn session experience, consider having your session in your yard (front or back). You won't have to travel far or battle the crowds. All things you need will be right there at home and you don't have to worry about getting in the car and traveling.
To know the best time to photograph at home, know your garden. What flowers do you have? When do they bloom? When does your garden turn green and lush? Once you know that, you can better time your session at home.
Send photos of your yard in the early morning or sunset (don't take it at high noon and send a photo during the dead of winter and ask for advice. The sun moves throughout the year and is in a different spot at different points of the year.) during the pretty time of year and I can tell you if you should aim for a morning or sunset session.
Outfits for an outdoor Spring Photography Session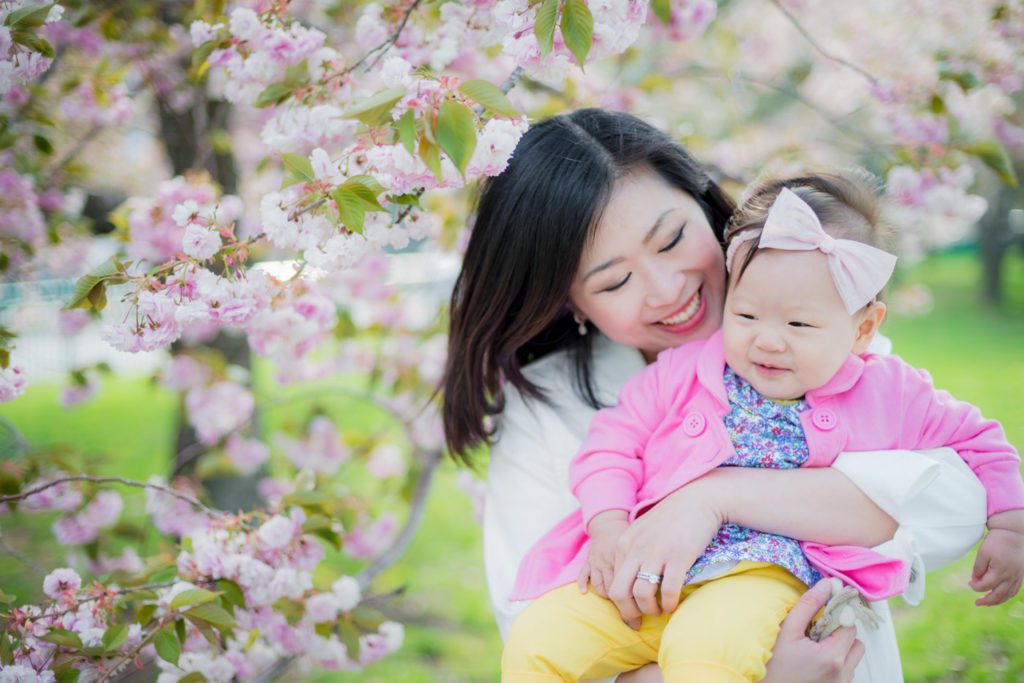 Outfits are the cherry on top. After deciding on location and your backdrop, what you wear will determine the overall look of your photo set. Your outfit should play off the background you chose and not compete with it.
I'm going to play the visualization game with you again. When picturing your photos on your wall, or in an album or as a wallpaper on your phone… what's the overall "feeling" of your photo? Is it light and white and airy? Is it bold and punchy with bright colours? It should be a vague colour pattern in your minds-eye and this will guide you to finding the right coordinated outfits for your photo shoot.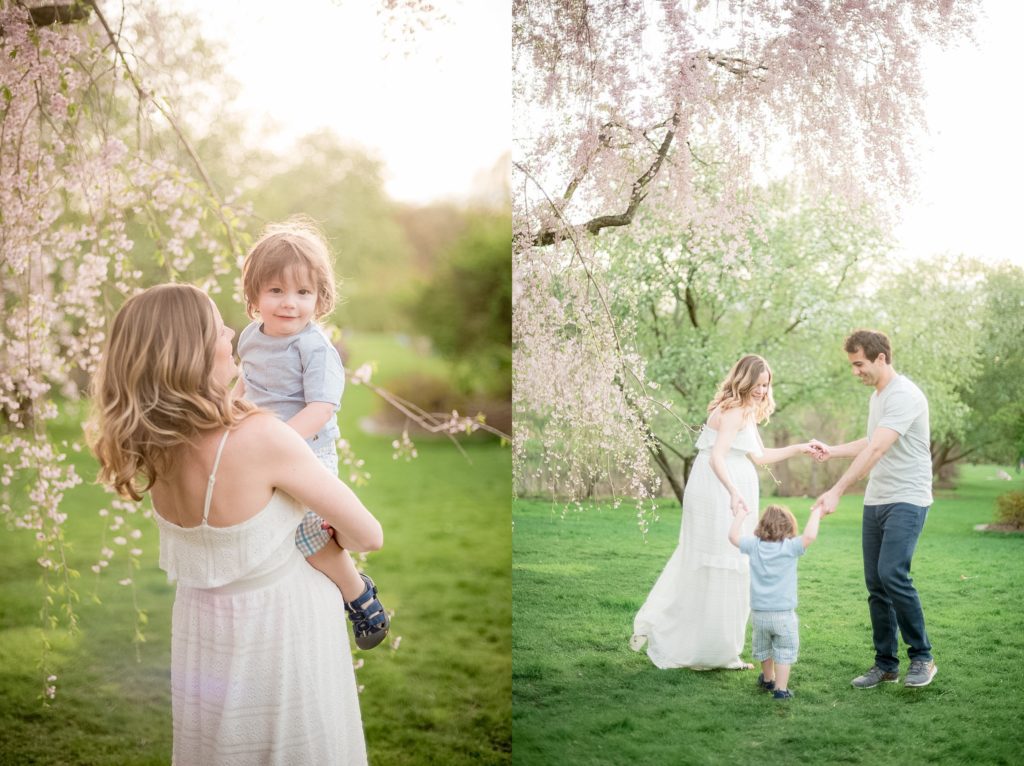 The most popular look for spring blossoms is the ever-classic white lace or linen outfit. You want to try and keep things as monochromatic and neutral as possible if you go for this look. This means styling from head to toe (don't forget footwear!). Dark jeans draw the eye for me personally away from the light and airy pastel look. So for minor feedback, I would go with linen slacks or khakis.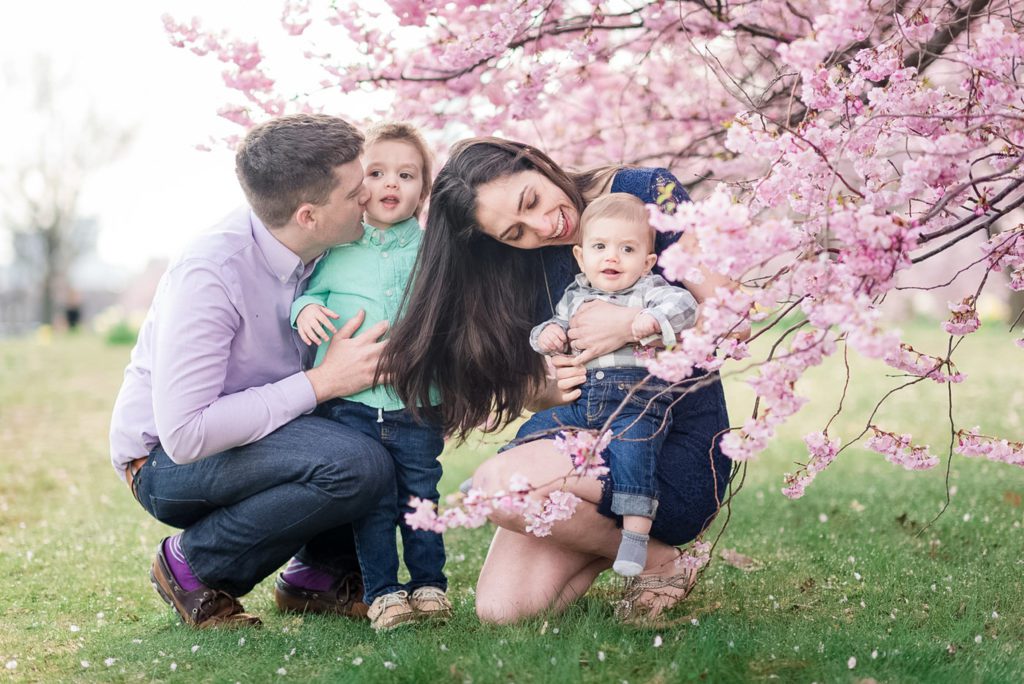 Another alternative is to go bold and punchy with pops of bright colour. You can have fun with this look and be as colourful as you want to be. Look to store website homepages as inspiration or store displays. They will always have a very put together look when they put out a marketing campaign. Look to them for inspiration. I love the family's bold choice for colours. I love how the dad's socks pull into the violet/pastel/blue look! If I were to give minor feedback, I would avoid the teal just because it really grabs my eye here and is a little different than the navy/purple/grey tones throughout the other outfits. But it does look like Easter and would be perfect for that occasion! In that case, I might bring in a bit more teal in someone else's outfit to make it look more tied in.
Another theme would be classic/traditional inspired by the English countryside like the boys below!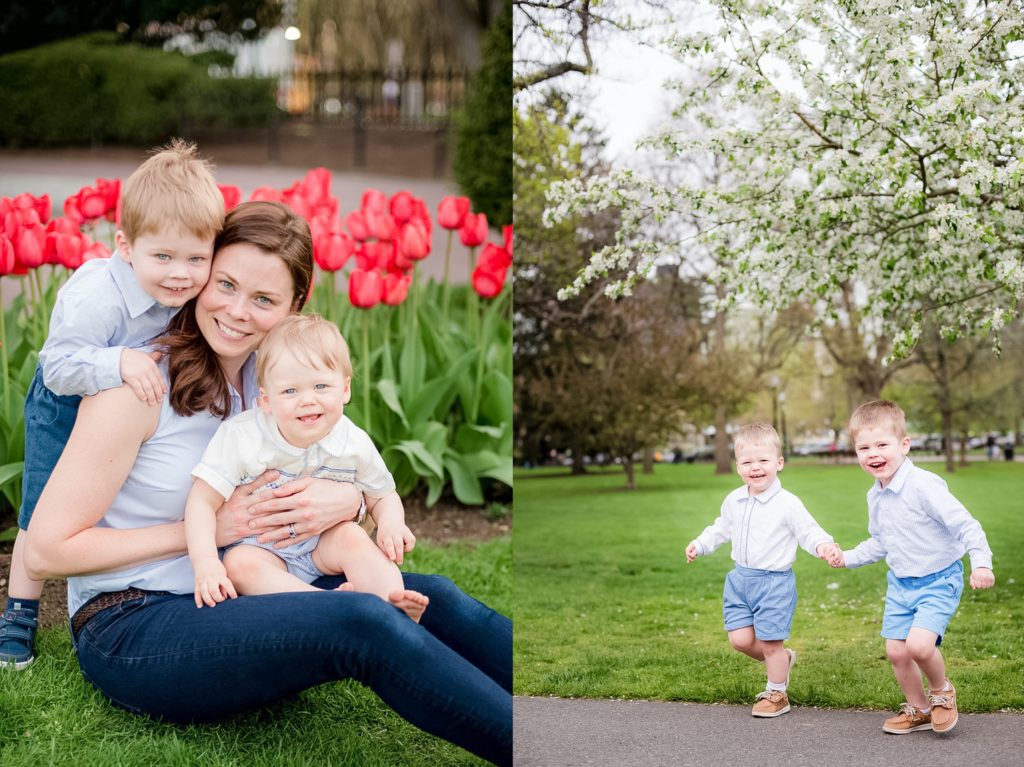 The main thing to remember is that everyone should be coordinated during your outdoor spring photo session. I do not like identical matching clothing as I love families to have children express their personalities through clothing choices, but you have to be true to yourself. I personally think that coordinated, rather than identical makes for a much more polished overall look.
For more tips on how to dress for your spring photo session, please click HERE.
To see my Client Closet, please click HERE. These outfits are free for you to borrow for your session.
Pinterest is a great resource for outfit planning as well. I love to find inspiration on Pinterest. Here is a link to my account: PINTEREST
What time should I book my photo session?
I get asked this all the time and not to worry. I have a long resource outlining what type of light I need to make the photos you see on my website and what I'm known for. Unfortunately 10am isn't sunrise and noon is the worst time for photos even though it may be convenient.
As an expert, I want to ensure you love your photos and how they turn out. With adult-only sessions, there can be some leeway in timing as I can control where you stand and how you pose. With kids, I have no control and they will inevitably run into bad light every time. So I need to control the time of day I photograph if I cannot control my subject.
Here is a link that goes into full detail: Best time to do photos
Oh no! I missed the spring blossoms! What do I do?
Don't despair! There's an alternative to Spring sessions and that's August wildflower season. I'll share a link to a photo session that took place in a wildflower field soon so you can see what that might look like. Here is a sample of what my August sessions looked like. You can apply the same outfit suggestions to both a Spring and a Summer floral session.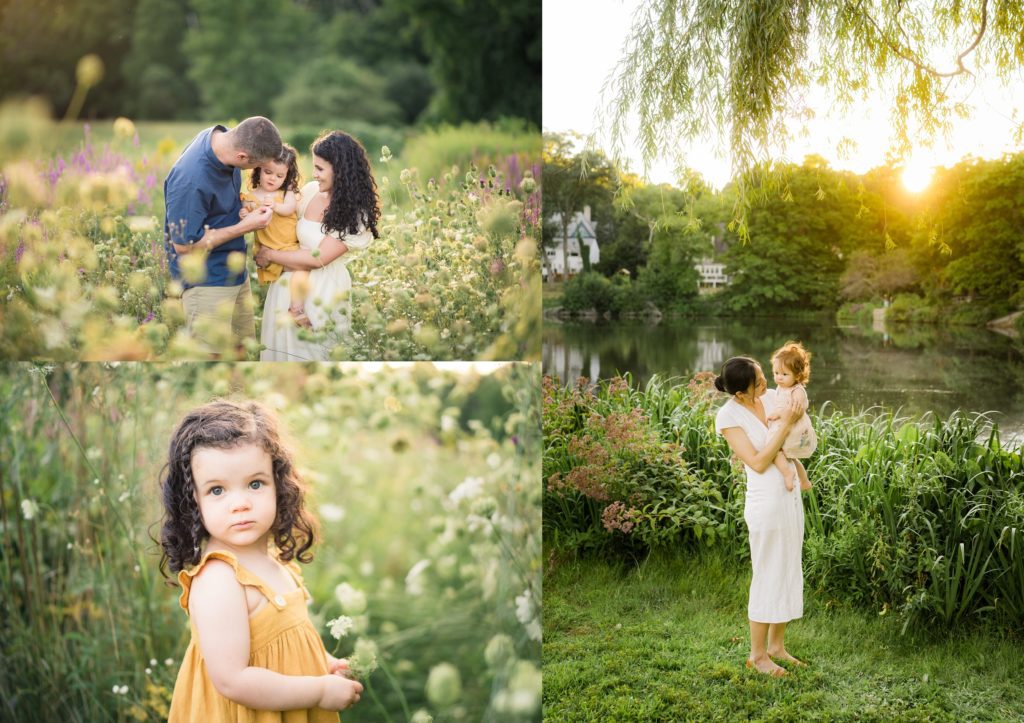 How to book a photography session
To stay organized, I am now announcing dates opening to my mailing list. Social media doesn't have the same reach it used to so oftentimes people miss my announcements. A paper list has been too cumbersome and I have lost people's contacts so that system was unsustainable. To sign up for a slot, please subscribe to my mailing list. I won't spam you and will only email you with tips to plan your photo session or to help you with outfits, etc.
Sign up below and don't forget to his confirm.