Our lives as we know it
Covid-19 / Coronavirus has severely impacted so many of us in unimaginable and numerous ways. I myself have closed my little business and will have to get used to having zero cash flow for my family for the foreseeable future. It was definitely not something I anticipated. I saw how hard hit the wedding photography industry was in China a couple of months ago and read how their industry was shuttering their studio doors. I should have better prepared. Their economy has been devastated by Covid-19. No weddings were permitted to take place, just as we are experiencing here. Since Spring is when so many new babies arrive, my first concern was how to serve my clients that I have had to postpone or cancel on. I immediately thought to write up some tips for newborn photos at home
For my self-isolated families
My hope is that it's not too late to do something here about it. I am doing my part to flatten the curve by staying at home. I do not want to put anyone in harm's way or take any unnecessary risks. This decision has unfortunately impacted my clients. I still want you to have the precious images of your newborn baby during this difficult time, so I am taking a moment to write some tips to get two images of your baby during the fresh newborn phase.
No baby is too old for "newborn" photos
Please know that it is NEVER too late to get newborn photos of your baby. I do not foresee this lasting more than 3-6 months. My hope is 1-2 months. Your newborn will grow and change so much in their first two years of life and every milestone and moment is worth capturing. When the stay at home request has been lifted and there is no longer a risk to my clients and healthcare workers, I will reopen for business and capture those precious little toes, delicate eyelashes, big eyes and round bellies. I've often photographed 3 month-olds using my newborn techniques because often times new parents are overwhelmed the first 3 months of dealing with their new roles. The first time they come up for air and think about photos is at the 3 month point.
100 day celebration
Not that I am necessarily saying our quarantine will last 3 months, but I wanted to give another perspective. A tradition for Asian families is to do a 100 day old photo session to show the strength and vitality of their new baby. Accordingly, this milestone is an important one. Many years ago, many childhood ailments affected newborn babies in their first months of life. Due to harsh winters, lack of medical care and knowledge, the survival rate of newborns was very low. Parents as a result kept their newborn home and away from large gatherings to ensure their baby's best chance for survival. Upon the 100th day of life, parents would invite family to celebrate with food and festivities as their child had reached this important milestone.
To read more, please read about the Korean tradition Baek-il. The Chinese celebrate the one month. One of the best newborns I have ever photographed (slept through his entire session) was almost 5 weeks old.
Newborn Photos At Home: Two Images
I have two goal images that are my two most requested newborn images. I will be offering video chats for the families that have already booked me for newborn sessions but I have not been able to meet in person due to the current situation. For other new parents, please feel free to read the following tips and I hope it can help you capture those important images of your newborn baby.
Side-lying or tummy pose on a bed
This is my first go-to image that I love to create when the baby is fast asleep in my newborn photos at home. You cannot attempt this image without a sleeping baby. The first thing to do is to pick a spot where you would like your baby to be posed. Often times, it's a show piece in your home like a favourite sofa, a master bed, or deep sitting chair. Please note that since you are not a professional, do not choose a surface that is not at least 3 feet deep and where you baby is placed at least 2 feet from the edge of the surface. Safety first.
What to look for when scouting for your newborn photos at home
When selecting a spot, please also check your background and the light source. Light is the first thing I see when I walk into a space. The spot you choose should be bathed in good light. The window should brightly light your baby when s/he is lying on the surface you have chosen. You do not want your baby to be in shadow. This will be challenging for an iphone to capture, or novice photographer.
The next thing I look for is clutter. You want to ensure that whatever fills the frame of your image looks good and looks like it's there intentionally. You want to remove anything that doesn't add to the image, such as laundry, sidetable clutter, power cables and toys in the background.
Examples
Here are some examples of the side-lying or tummy poses on beds, chairs or sofas. I will do my best to explain the light source direction so you know what to look for.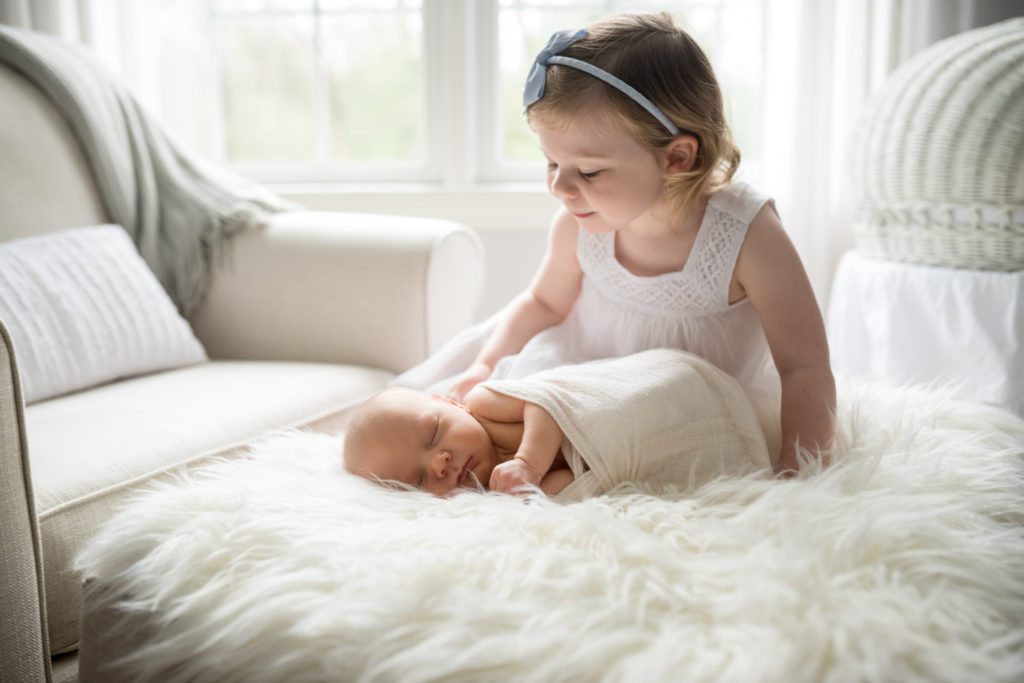 In summary, the key things I always look for when I create images | newborn photos at home:
a statement piece to pose your baby on
a window or doorway for natural light
lack of clutter in your background
How to prepare for your newborn photos at home
Preparation is the key to success. I cannot emphasize this enough. The reason why families hire me again and again is because I deliver the images they love and treasure for years. I have seen families every year since almost when I began because it brings them so much joy. The reason I am able to create beautiful images each and every time is not because of luck. It's because of the amount of preparation and knowledge I bring to each session.
Outfits
Decide on what you like best! This may be based on the location you have chosen. I tell parents to always keep things in the same colour scheme. You never want to introduce too many colours. You do not want too many competing patterns. Keep it simple. I love a white onesie or white wrap. That way you can let your newborn shine! Do not overcomplicate things by planning for three or more outfits. If you see my galleries, my newborns are kept in 1-2 different outfits for the entire 2.5-3 hour session. Babies HATE being changed. Don't do it.
Comfort of the baby
A full baby is a happy baby. Food coma is what you want for the duration of the photo session to make this as easy as possible for you. Also, HEAT is super important. If your baby will be swaddled, or in a onesie and you know your baby is nicely settled normally at regular temperature, then by all means… keep your regular temperature. If you find your baby has a tough time adjusting to your pose, you might want to turn up the heat, or use a space heater. 85F is what I do my newborn sessions at.
On the day of the photo session
Keep things as normal as possible. This photo session isn't about rushing and cleaning at the last minute. It's supposed to be fun and a time to enjoy together as a family! Have your outfit of choice laid out and make sure it's clean. I wouldn't worry too much if your baby poops during this process. Most kids don't care too much about a dirty diaper. You know your baby best. Just know that if baby wakes up because of a diaper change, you will likely have to start the process again from the beginning (feeding) or wait for the next sleep cycle. Choose wisely.
Have your baby dressed in your wrap or onesie of choice before you feed. The reason you want to do this is because changing the baby after they've fallen asleep will almost guarantee to wake them up. If you are using a wrap, please read below about posing * to properly have arms/hands out. Use a bib to ensure your baby's outfit doesn't get soiled during the process. If you need to do some last minute pillow fluffing, or removal of clutter, your partner should do this at this time. Once your baby falls asleep it's show time!
How to pose your baby
So this is the tricky part. You can't just plop the baby on the bed. There's a reason why home cell phone photos will look different than mine. The most important positioning that I focus on is hand position. * If you are using a swaddle, make sure you didn't wrap all arms into the swaddle. This is just for the side-lying pose. For the second setup, you can put arms/hands in the wrap.
I always ensure the hands are stacked on top of one another like they sleeping like in a cartoon. Head stacked on top of arm, on top of arm. Visually it will look like this (ignore the feet!):
Below is the same pose, just in dad's arms. See how the head is stacked directly over the arms which are wedged under the cheek? This is very important. If you do not have this stacked position, the baby's face will be blocked from the front by their hands.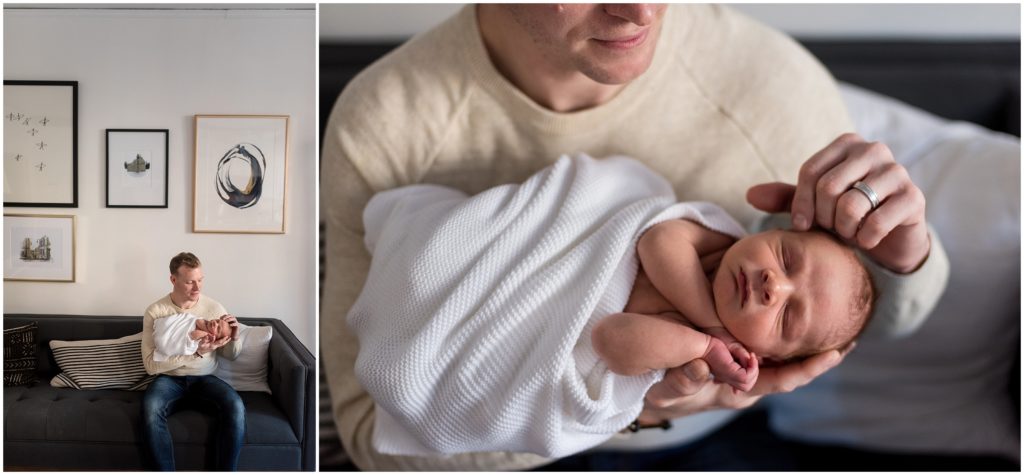 You want to either do this while you are still holding the baby (this is what I do) or if that's not as easy for you, then place the baby on the surface you've chosen and then gently tuck the hands into position. I have done this many times over for many years so it takes me only a few moments to get them into this pose if they are asleep. The tricky part is keeping them asleep or having them fall asleep if they are awake. Since you are at home, you can attempt this several times whenever the right time arises. I have a narrow 2.5 hour window to get 100 unique images created during my newborn photos at home!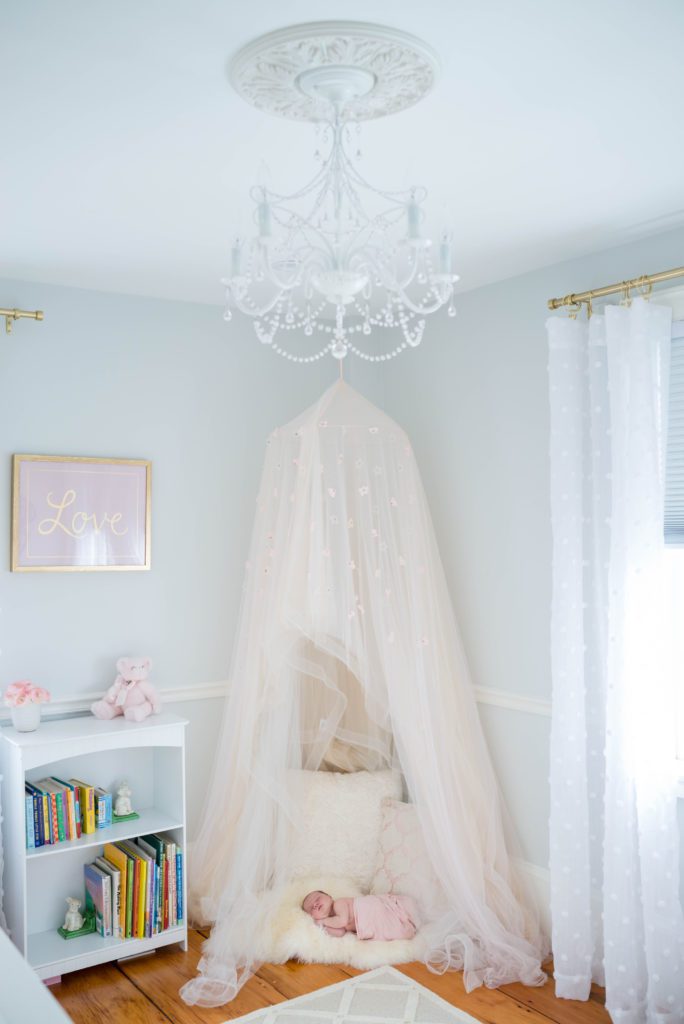 Now take the photo
Once baby is posed this way, get down to the level of your baby and photograph away! Do not stand over the baby. This variation can also be done, but it has to be intentional and photographing completely overhead of your baby. Do not just do an in-between angle. Basically I'm saying don't be lazy. Do it right. Focus on ensuring you squat/stoop down enough to get the front-on angle first. Once you have this photo, then feel free to move around and photograph eyelashes, lips, hair, and get the top-down eagle-eye angle!
Baby on Back
If the other pose is failing, this is a fail-safe pose. There are many variations of this pose. I love doing this pose on a bed, on a rug, or in a crib. You can either swaddle all the arms in for this photo, or have them out. It's up to you. Just ensure arms look posed and intentional, not just flailing about.
Examples
Here are some examples of baby on back.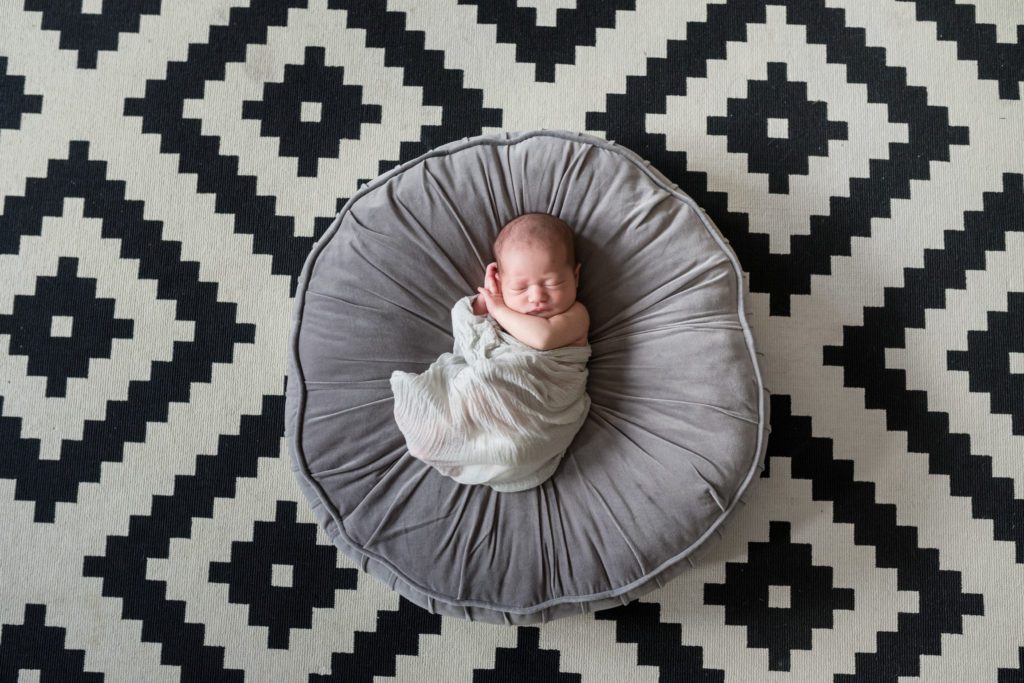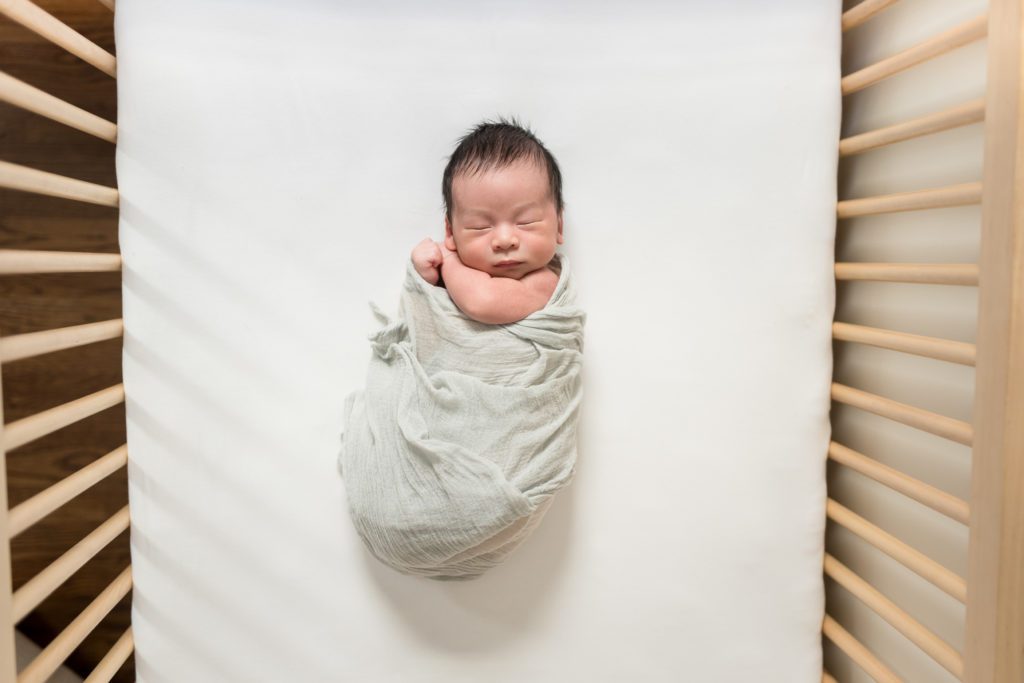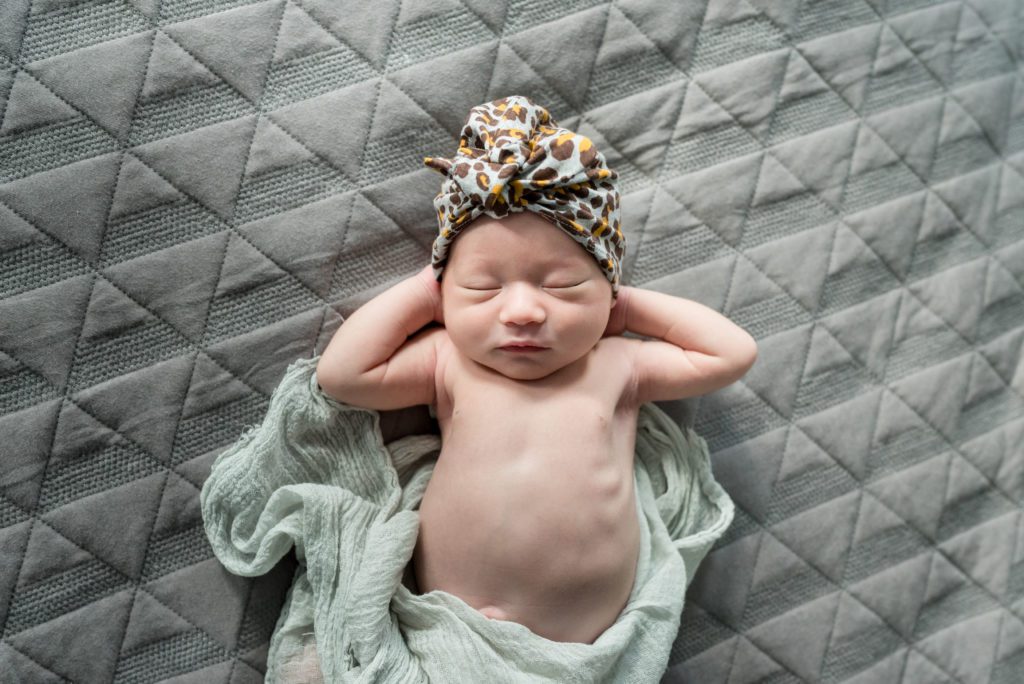 Variations
When you have a baby set up, make the most of it! Take another angle. Take a step back. Tell the story.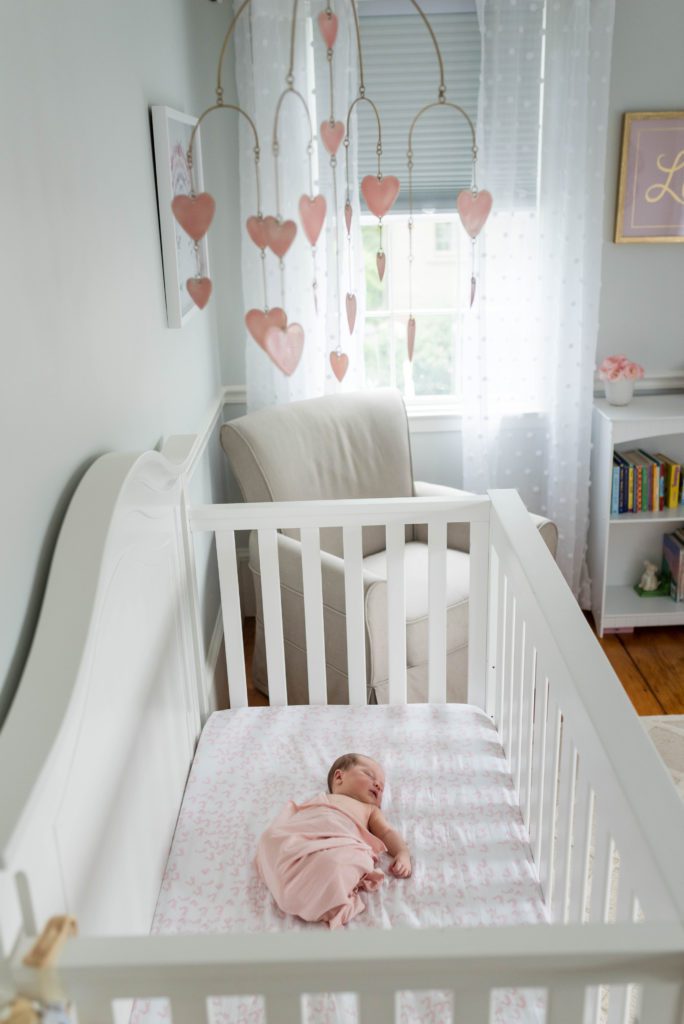 You can add mom, or dad, or a pup even.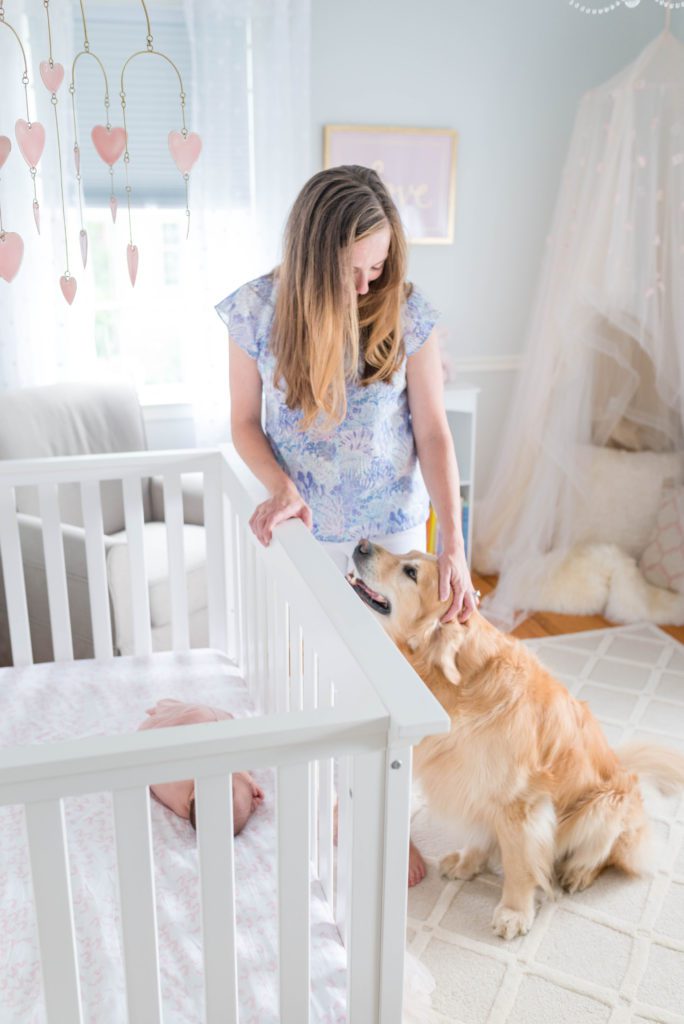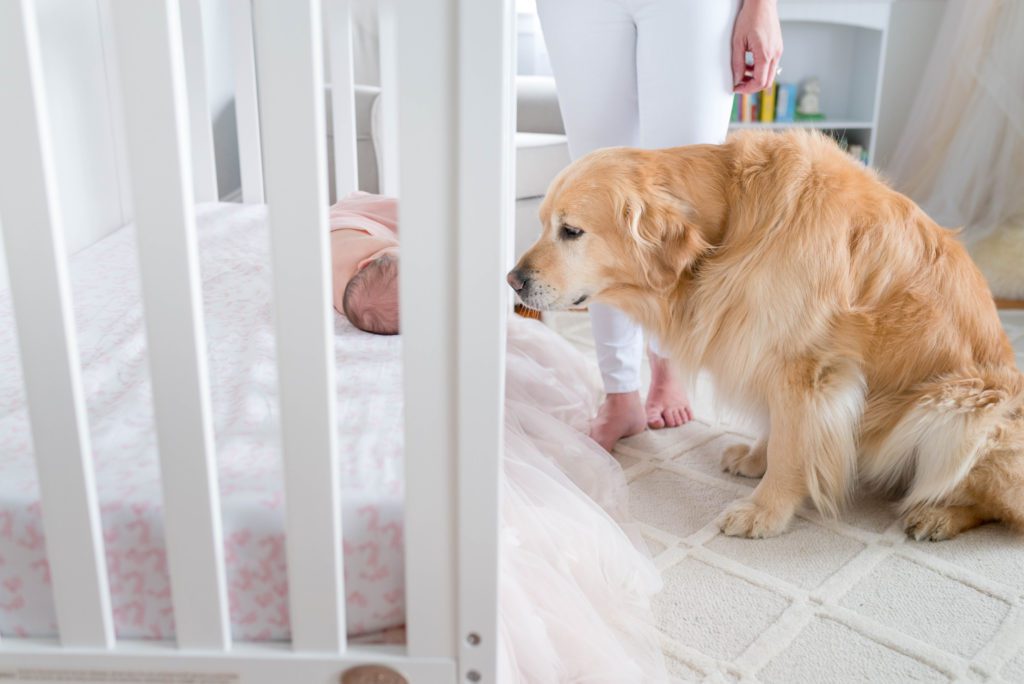 Take a moment to get the details. Convert the image to black and white for a more powerful image. I love juxtaposing the size of newborn's features against their parents. They'll never be this little ever again.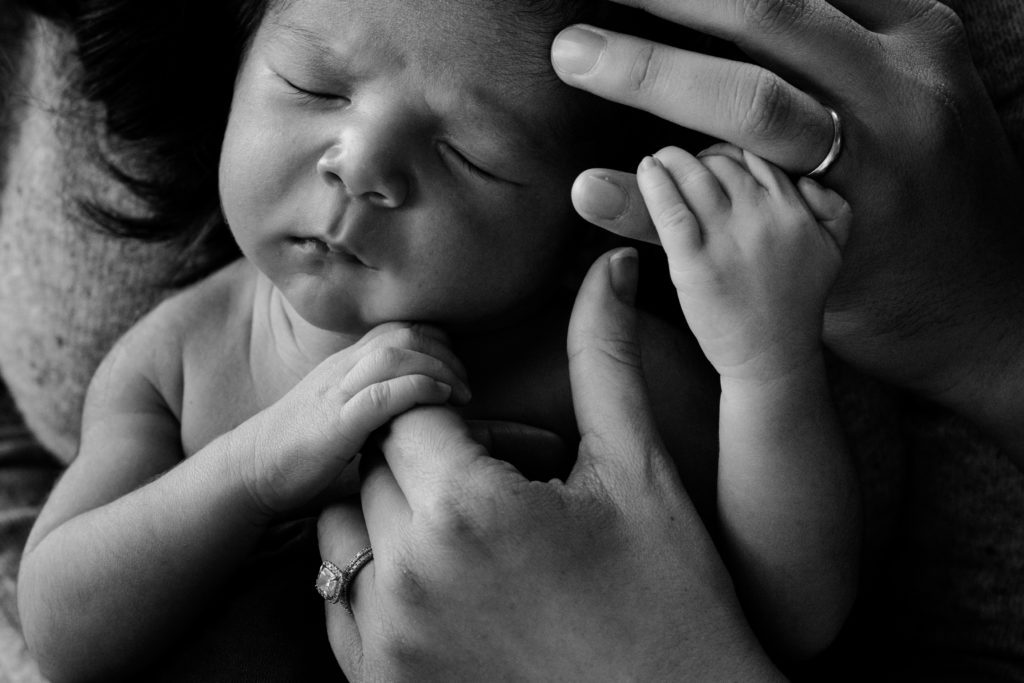 Summary for newborn photos at home
Those are my go-to poses for newborn sessions and most most requested poses. Have a read again on the day of your mini-shoot to make sure you know what to do. Babies sense if you're uneasy. Do it with secure hands and with intention and they will stay asleep. If you are nervous they will wake up. If you at any point feel unsafe doing this, please stop. It's not worth endangering your baby. The easiest pose is the baby on back pose (#2). I love the master bed for this pose. There is not risk of the baby falling anywhere.
Again, for my clients I am currently offering free mini video chats to walk you through this and to coach you. It should take about 15-20 minutes. It's a difficult time, and I don't want you to have regrets about missing out. I will be there to photograph your baby as soon as this stay at home request is lifted. Every phase should be treasured. Your baby will always be your baby.
Silver linings
To end, I want to leave you with a mini video I made of a 3 month old. Even if the quarantines lasts this long, don't you think the mom in this video will treasure this forever? Newborn photos are incredible and I am known for creating timeless and creative images. That doesn't mean I cannot also create beautiful images of your 3 or 6 month old. You will surely treasure those images for years to come.
I often tell parents of older 'newborns' that after 6 weeks the baby becomes more alert and their eyes open more regularly. This has its pros and cons. Cons are that you won't get those sleeping photos. The pros? They have more personality around the 2 or 3 month mark and that's when they start to smile. Don't be disappointed about missing out on the newborn photos. Focus instead on the excitement of capturing your little one's growing personality when that time comes.
When the world is allowed to come together again, I'll be there.
Please keep safe and stay healthy. I can't wait to meet you in person.
xoxo Bella
Gallery Examples | newborn photos at home
Examples of newborn galleries for inspiration:
Film and family example: Blog post 1
Single nursery room newborn example: Blog Post 2
Condo with single window example: Blog Post 3
If you have a newborn session booked with me
Lemonade out of lemons as they say. Good news for those that have already booked a session with me. I am offering 30-45 minute video calls for families that have been affected by the Coronavirus social distancing rules. To set up a chat, please reach out to me. These sessions are available M-F.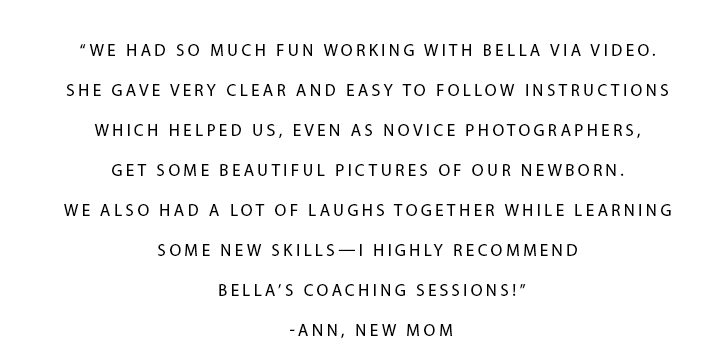 –
How to prepare
Things to have ready during your video call
Here is a list of things to have ready for our session. Please note that the best chance for success is to have a sleepy baby. Expect NOTHING will go to plan, but if you do feed your baby about an hour before this, we may have a good chance to catch your baby sleeping.
Please gather the following:
Your clean wrap / swaddle / onesie of choice
Two cell phones OR one cell phone + one DSLR (charged battery/memory cards)
Two locations of choice for your mini-session. Ensure the area is clear of clutter and looks the way you have intended. The best way to see if the background is clear is to actually just take a photo. Look at it and really analyze to see if there's anything bothering you (such as cables, junk, toys, dust, etc). If you have issues, please send a photo to me at least the day before so I can give you feedback. I can also tell you on the spot once I see your video feed
A small stack of face washcloths or diapers (about 2-5). These will be used just for adjusting the pose in case the baby isn't lifted high enough or is rolling backward/forwards.
An app for the call. I have an iphone so will default to Facetime. If you don't have an iphone let me know and we can set up a zoom conference call.
Your baby
Things not to do
Don't stress out. Babies sense stress. They won't sleep. Just be normal
Don't clean everything and run around the two hours before. It will be what it will be. This will affect your stress levels
Don't bathe the baby within 48 hours of the session if you can. It's a surefire way to get flaky, peeling skin. It might also overstimulate the baby if you do it the morning of. Babies are clean and don't need to be bathed regularly like us old fogies.
Now what?
The two cell phones or one phone + DSLR will be used for the actual photo session. One phone will be used to give me a live feed of how your set up is looking and to give you feedback on the location and pose. I will also give you tips on lighting during your session and how to improve it. The DSLR or second cell phone will be used to take the actual photo. If you have different models of phones, take the photo with your newer phone as it likely will have better capabilities and specs.
Do not add any filters or anything to your image. Adding filters will distort the image and will make it difficult for me to edit using my own presets. If you have a DSLR that is awesome! Shoot in RAW if you can. JPEG is a good second option. If you have a DSLR, please let me know what lens you are using. I recommend either a 50mm, 35mm or 24mm lens for these images.
Free editing service for my clients
Once you have had your coaching session, please review your images. Choose your favourite two images. I will be offering to edit two of your images for your usage for announcements. Please take the photo in JPEG format. Do not send iphone files to me via cloud in HEIC format, etc. as I am not tech-savvy and I don't know how to edit those files. By simply emailing me the files and they should be automatically converted to JPEG format. If not, please follow these steps.
Gifted Edit
If you are not a client, but you have followed the steps in this post, please reach out via my contact form and I will edit 1 complimentary image for you to keep as a memory of your newborn at this phase in their life! I want to make sure as many parents as possible are able to do their newborn photography at home
Addendum
Thank you to my families that have offered to pay upfront for sessions that are postponed! I super appreciate it. Even though I won't take you up on it, your commitment to me has truly lifted my spirits during this difficult time.
I am on the fence about adding the option to book a future session with me and receive this free video coaching call + free edits. If there is interest, I may offer this option starting the second week of April. The qualifications for this would be:
You are willing to sign a contract for a future session (when I open my business again. I am currently reassessing this every week. Currently I am closed until May 4 by law. I may be closed until July/August, but that is TBD. I will reopen again when it's safe for my clients and my family)
Pay a non-refundable $150 retainer.
Please contact me via my contact page to set this option up. I will only be offering limited spots to ensure that each family gets the necessary attention for this project.
Wraps
I was also asked about where to get wraps that are suitable. I love anything plain really. Even the hospital blanket you came home with. The only tricky thing is that it's pure cotton so there is no stretch (which makes it easier). The items that are bold/italics below are linked to websites as sources.
Look to your home for inspiration.
If you love bold colours, then go bold! If you like textures, then I would suggest a cheesecloth-type newborn wrap.
I usually source mine from Etsy (I've linked some random stores as examples), but I don't know the turnaround times in such unprecedented times. Make sure you have selected something labeled "RTS", not custom made. This means it's ready to ship. Something bigger box, I have purchased in the past things from Amazon or Aden & Anais. If you're sourcing from Amazon, I would NOT get this type since you aren't that familiar with wrapping techniques and it's tricky to use (also diaper shows through). I recommend a muslin swaddle type wrap or cheesecloth.
Practice makes perfect
The main thing to remember is that you should not be wrapping for the first time when we do our photoshoot. Make sure you practice a few times the day before. It's tricky and you will not get it secure the first several times. Ensure that sure you wash the wraps when you get them. Please let them hang dry as they are delicate.
Share!
And that's it! Please feel free to share this post about newborn photos at home with anyone who you think may benefit. Thank you again for understanding why my small business has to close during this time to keep us all safe. I will see you all again soon.