What to wear for outdoor family pictures can be a nerve-racking thought. In my work as a professional photographer, diversity and individuality are what I love to emphasize to families. You should be yourselves in your family photoshoot! A lot of the information out there on how to dress for success is pretty dated. They emphasize matching from head to toe. I don't subscribe to this way of thinking. Each family and each person should build towards a larger picture. Matching exactly creates sterility that can be quite jarring. Building a wardrobe can be tricky. But, read on for advice on how to dress for your outdoor family pictures. When you sign your contracts with me, my clients will also receive access to a wardrobe planning portal new for 2019. To make best use of the tool, please ensure you access it a couple of weeks before your session because shipping times vary for different online purveyors.
If you're on Pinterest, follow me under Bella Wang Photography.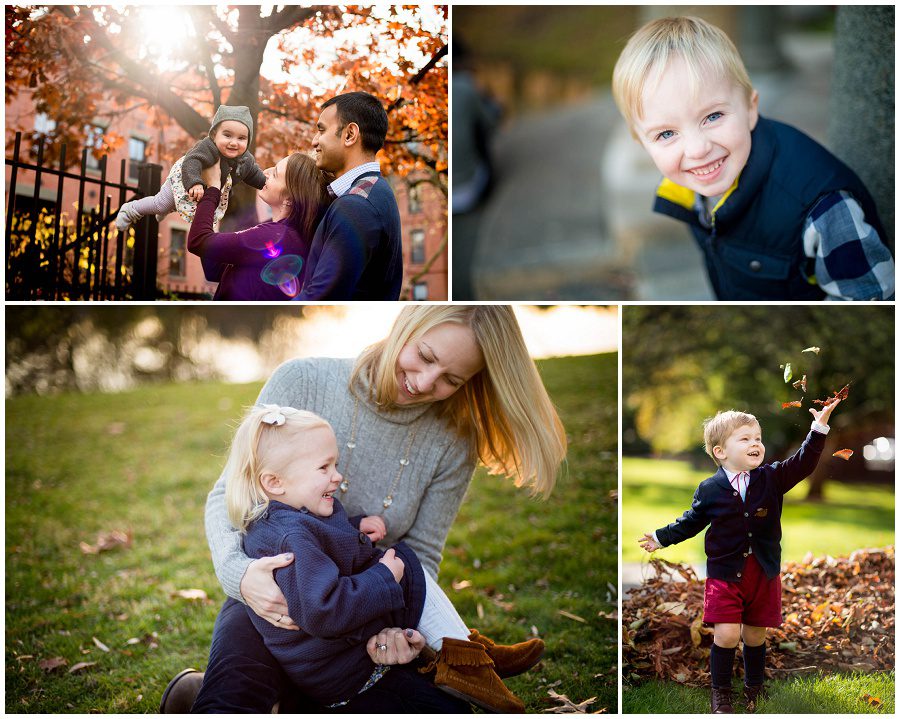 Boston Family Photographer tips on how to dress for outdoor family fall session
1. Dress for the season
Cooler temperatures are on the horizon. It's best to plan to layer the young ones in outfits that will keep them warm. A cold baby is a cranky baby. Pinterest misleads us all with their mild winters photographed in Charleston, South Carolina. New England gets cold as many of you have noticed. Mornings are much colder than the forecasted highs of the day. Check the weather by hour if you want to get a sense of actual temperatures for your session.
If you aren't a fan of chunky winter coats (and I am not a fan of fluorescent ski jackets), then layering is your friend. Build from the ground up with long underwear, shirts, sweaters and vests. The weather in New England is what I would call unpredictable. It could be balmy and warm one day in October, and really cold the next. Have the pieces ready to build your outfit! If we luck out with a warm spell, return any unused items you may have purchased for the session. You don't want to run out to buy things last minute.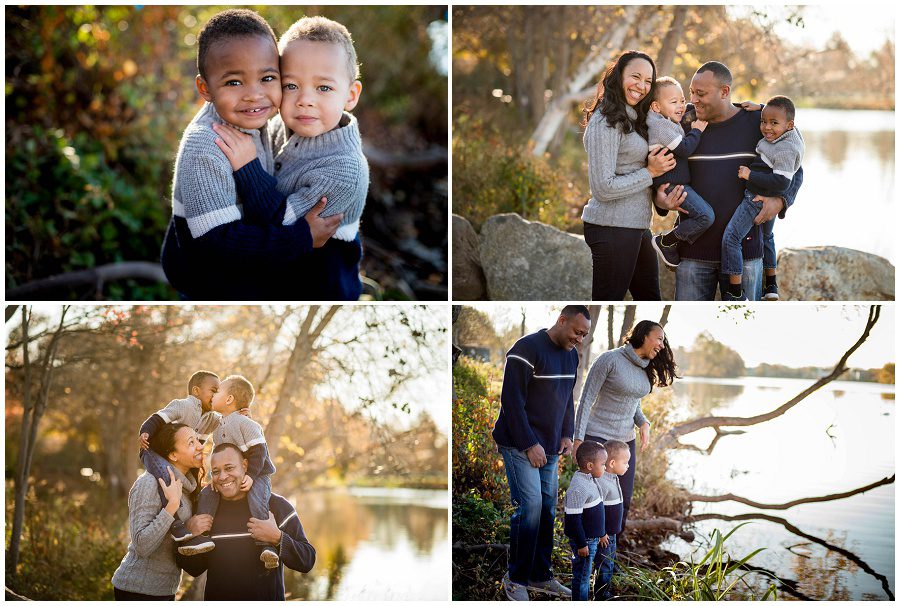 2. Define your color palette
Often times we're given inspiration by the places we're photographing in. It's pretty obvious when you have some fun street art. The family below nails it with the reds and blues seen in the mural. When in nature, try to choose colours you would find in nature. New England's signature colours are also red, white and blue if all else fails. In the layered outfits above, you can see tones of jewels and autumn peppered throughout. Nothing is artificial and jarring such as a misplaced coral, fluorescent orange, fuchsia, or bright teal.
The issue as well with fluorescent colours such as coral is they reflect tones into the skin that are very unflattering. To test, stand by the window and put the fabric by your child's face. If you are seeing ghastly shades of hot pink on their cheeks, it's best to avoid that article of clothing. My favourite colours for fall are colors like crimson. Aubergine (eggplant), emerald, navies, yellows, and rusty oranges work as well! Especially when they're mixed with neutrals such as greys and creams. Pick up to two colours unless you're an expert, and mix with neutrals for a put together look.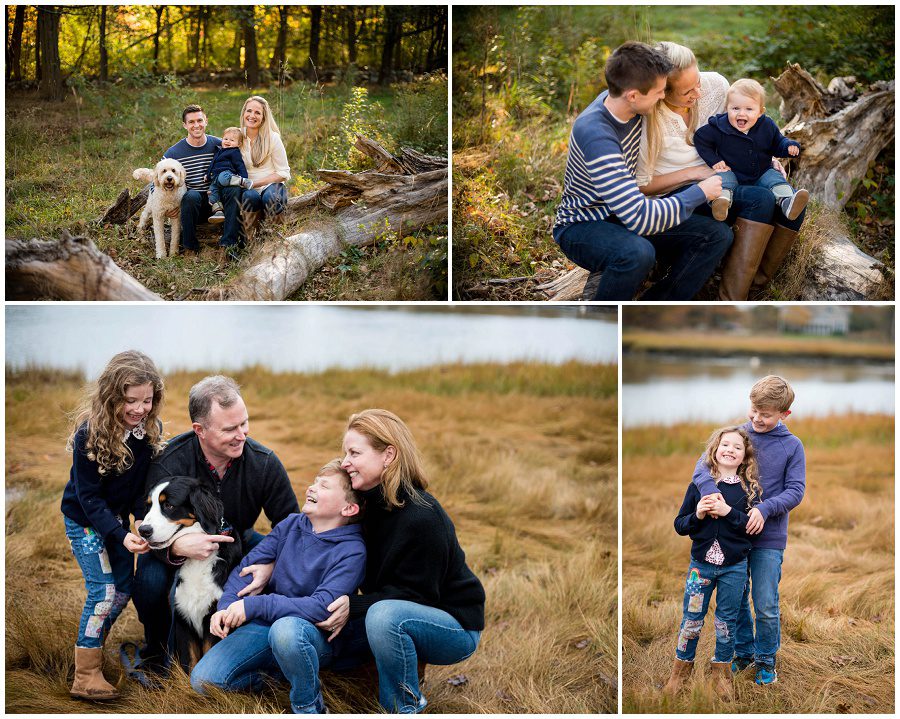 Changing The Mood with Colours
As you can see in the gallery above and below, families aren't too matching. They have a colour that runs through their outfits. This brings a coherent look to the final product. Each outfit has its own unique spin and interpretation. This unique element is key to pulling off the look. Something as simple as your child's favourite toy can define the look of your session. We can see it with the Elmo doll above.
If your colour is blue, you can express that in a sweater, a pair of long socks, or jeans. If red is your defining colour, then a bright bow on the baby's head can tie into a bright sweater of the exact same tone. Or, you can have the red of the father's plaid shirt. Make sure your reds match and your whites/creams match. There is a large difference between a warm/gold white and a cool/silver white. That is key to taking an outfit from 80% to the final 100% session ready status. If you have any questions, please feel free to send me a photo of your outfits! It makes it easy if they're laid out on the bed/floor taken using natural daylight and I can give you feedback.
An outdated tip: Black is minimizing. This is especially untrue if you've dressed the entire family in brighter colours and you're the only one in black. Your eye will go directly to the person that is different. Black works in that it hides shadows and highlights that show our shape. You can, however, use it to your advantage if you're self-conscious about your core. Add something fun and bright like a scarf or fun boots that will pull the look of the family all together. It will also draw the eye away from the wigglier bits.
The same location with different outfits will give completely different final looks to the session. These three sessions were basically within a few days of each other at the very same park. You could never tell that because each family expresses themselves in their own way. My sessions are always child led and are always evolving based on what children do.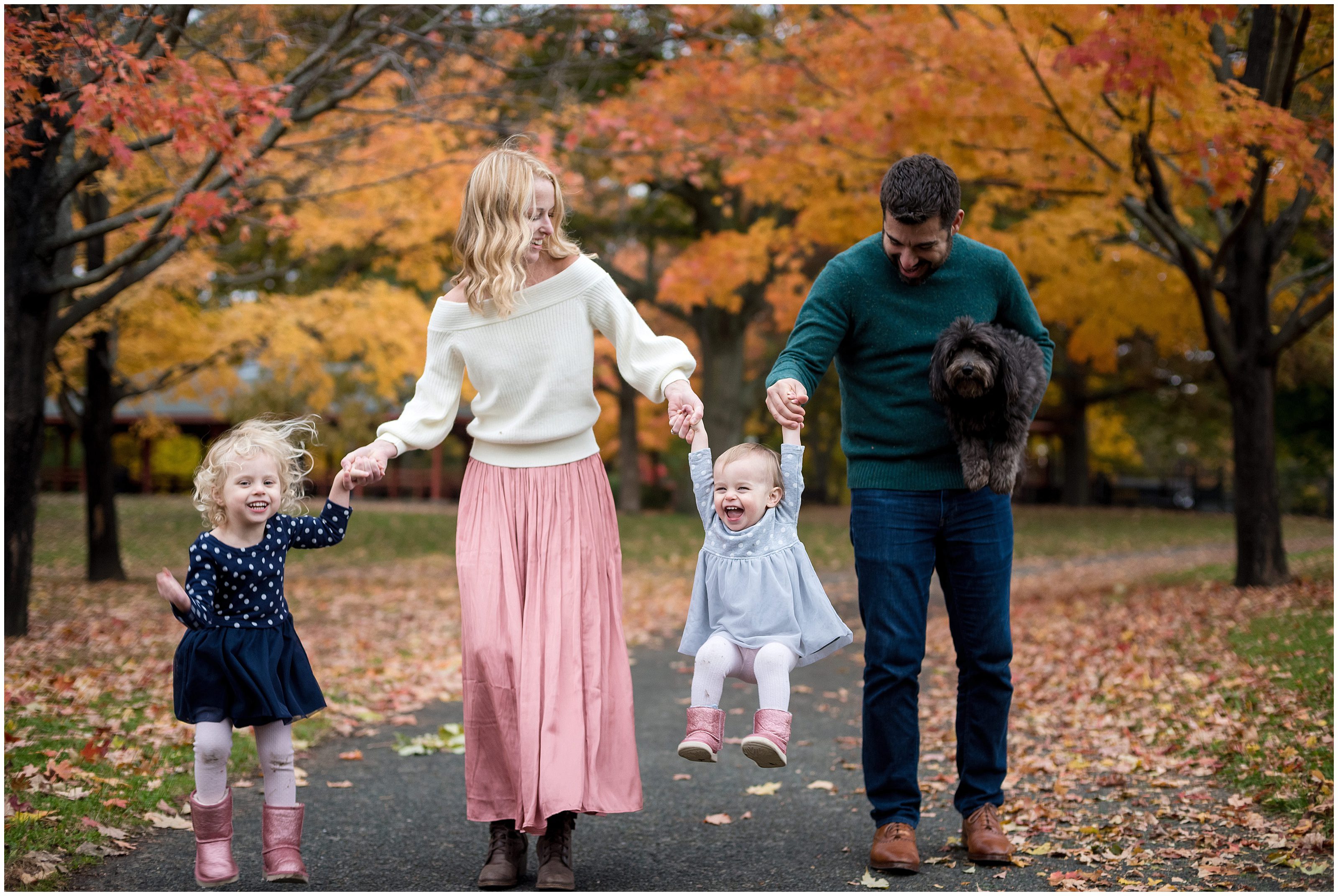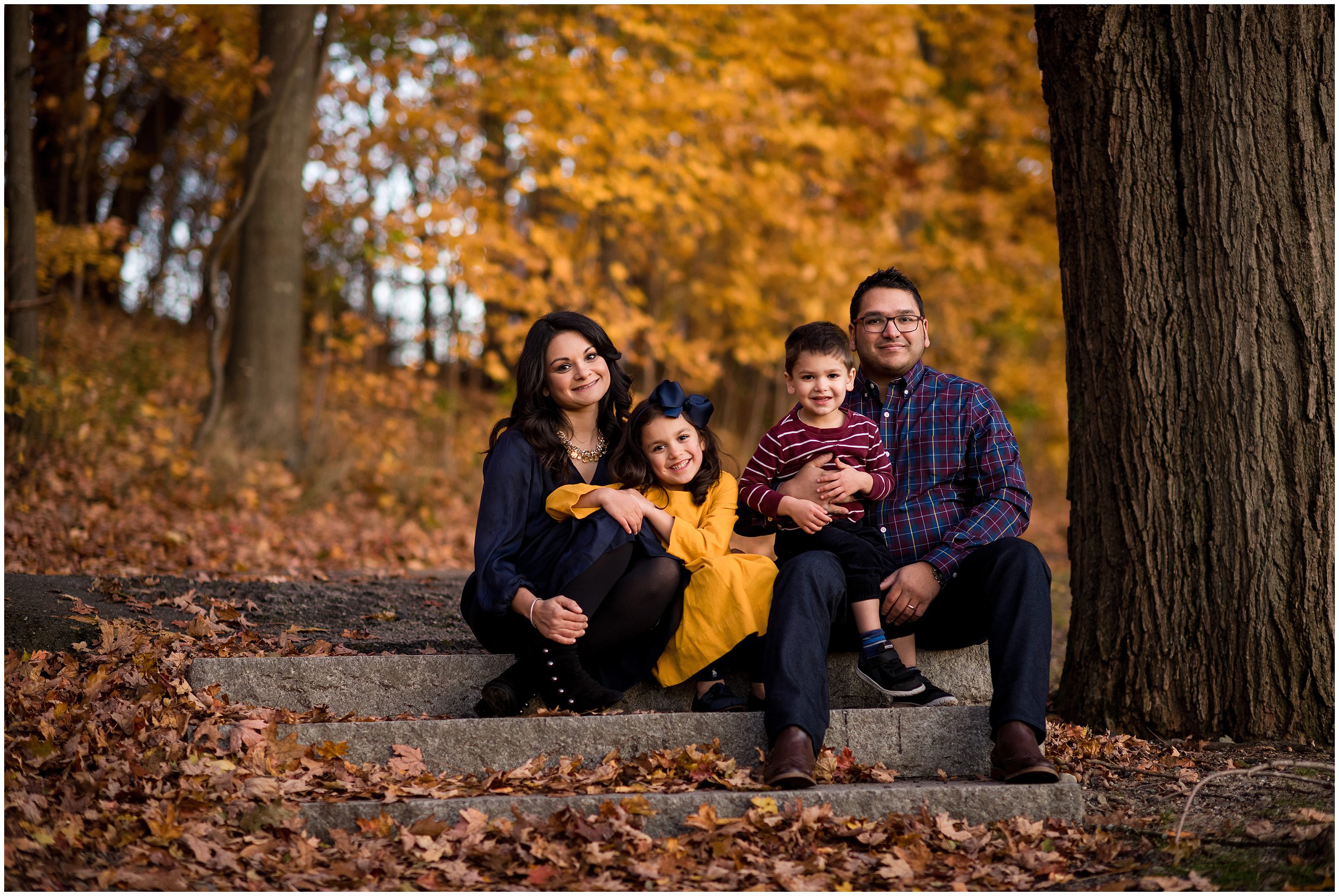 3. Texture + Shape
Texture is very important it's often overlooked. It communicates feeling through sensing. You want your family to be in matching textures in that one member cannot be in say a summery linen and the other members in warm flannel. Knits can easily pair with plaids and velvets because they all communicate warmth in their similarity of textures. Fabric textures also lend to draping and shape. If everyone is in something quite structured and one member goes for a bohemian and flowy vibe, then it won't look like a family unit. If you ever have issues with this, take a look at how mannequins are styled in front of stores when they're placed next to one another. Window displays are coordinated by professional stylists at the top of their game. Use it as inspiration to build your own coordinated outfits.
4. Know your child
If your daughter hates bows and won't leave them in her hair, then plan an outfit that doesn't need the bow. Let go of "perfection". Let her be who she is. 10 years from now, will you care she had the bow and spent half the session trying to rip it out?Or will you remember her smiling face looking at you? Make sure her hair is tidy and neat like how you want it to be. Same goes for stockings – will she immediately run for the dirt and turn them brown and black? Then, white stockings aren't a good foundation for her outfit.
5. Know yourself
Don't get your face done full of makeup if you've never done a test run. Make sure you love the final look because you want to be able to recognize yourself. If you are self conscious about any body parts, feel free to ask me about what would be flattering. This will also give me a heads-up when posing you for the session. I don't hide moms as I think everyone is beautiful and should be featured equally. But, if this is important to you, please say something so I will work this into our posing. There are simple things to think about. Like if you don't like your arms but love your legs, sleeveless is not a good option, but a dress with a slit is. It'd be awesome to draw attention to you and can make all the difference in how you feel.
6. Find Inspiration Online
Pinterest isn't just for finding poses or cute ideas for props. It can be a great resource as well for planning outfits and picking out themes. Some Instagram accounts I suggest following for children's wear include the following brands: @adenandanais , @tinycottons , @rocketsofawesome , @gapkids , @picklesnroses , @freshlypicked , @oeufnyc , @zarakids , @hm_kids , @mangokids , @cottononkidsua , @janieandjack , @mimiandlula . If you want to shop local, Kodomo has a couple of locations in town and worth checking out. I'm a sucker for a good TJ Maxx find, so it's worth digging through there as well. If you pick a big brand like Zara or H&M, there is a matching adult's line that will be easy to match. Try to find all outfits at one store or brand and it'll be that much easier. For adults there are cheaper lines out there, like ASOS or Lulu's where you can find statement pieces for under $50 that might be similar to beautiful gowns you may find at other popular stores like Free People or Anthropologie. There's a wealth of knowledge and inspiration out there. Happy hunting!
7. The Basics
4) Hair managed (whether that means up, in a barrette, styling products, blowout and flowing free.)
5) No late nights the night before
6) Shirts + pants should
be tested
for mobility. (No flashing, no diapers showing. Also, no shirts that get untucked every 3 seconds, no pants that keep falling off.)
7) No shoes that are too big and trip your child, no shoes that are too small that make them angry.
8) Make sure your skirts aren't too short. (Covered knees are generally a good length. Unless, the child knows how to cross legs and keep knees together.) 9) Avoid giant logos.
10) Avoid fluorescent colours/coral/hot pink. Have shorts under skirts.
11) There should be no bulky items in your pockets. 12) Avoid collars that block your child's face.
13) No short haircuts the day before the session.
14) No experimental makeup or false eyelashes unless you've done a test run.
The best thing to do is to put outfits on your child at least a week in advance. With a full-length mirror in front of you, hold them on your hip, lift them in the air and have them scuttle about. If you are struggling to fix collars, tucking in shirts, consider a change. An ounce of prevention is worth a pound of cure.
Know the limits of your expertise and know when to ask for help. I'm here to answer any questions you might have.
The preparation is what allows the success to happen naturally.
-Jake Arrieta

Sample Sesssions
For links to successful fall family sessions, please click through these posts to see What to Wear for Outdoor Family Pictures:
Family 1 <blog link
Family 2 <blog link
Family 3 <blog link
Updated for 2021 – New Blog Post
For additional tips, head over to my new post about coordinating and planning your family and headshot outfits. The most important tip may not be what you thought! BLOG POST